Brandon Horrocks opened Square Burger in McKinney in 2010, which he operated until his death last month. But the longtime restaurateur leaves a legacy that was more focused on building good people than just building good burgers.
He died February 19 after a fall at home. At a time when hardly a week goes by without us learning about yet another teacher, coach, or other trusted adult having failed the young people in their charge, Brandon is remembered by those who knew him as an inspirational example of what an adult friend and mentor can be.
"He was a gentleman in every regard and a role model for us. Brandon was devoted to Square Burger and to everyone who had the pleasure of working there," said Gina Atkinson, the first employee at Square Burger. She stayed on for a decade. "He was a delightful, endearing person, and he never embarrassed or shamed. If someone fell short, Brandon would simply invite them to go for a walk and, upon returning, all was right with the world."
That last point is especially important, considering the fast paced, high-pressure nature of restaurant work. I came to know Horrocks when my grandchildren, Tori and Sarah Martinez, got part time jobs working for him. Tori is now a housing case worker for the Veterans Administration in Austin, but she worked at the restaurant from the ages of 17 to 20.
"It probably says a lot that I, a vegan, spent my 21st birthday at a burger joint," Tori told me. "Brandon brought in vegan ravioli and served me my first legal drink, vodka and Framboise rimmed with sugar. I was far from the only ex-employee who came in to visit Brandon long after she stopped working there."
My stepdaughter, Kay Banner Martinez, also worked for Horrocks back when he was managing the fine dining restaurant Goodhues Wood Fired Grill.
"He was a good manager and a good friend. He knew restaurants and he loved people," Kay said. "The boss I knew in the 90's was already the man we mourn today."
That's not to say he wasn't focused on the quality of the food. Originally from Salt Lake City, Horrocks was a graduate of the respected Culinary Institute of America in Hyde Park, New York. He worked at La Valentina, the superb and well-known restaurant in the San Angel neighborhood of Mexico City. He was also a manager at Patrizio's in Highland Park Village. This training and experience showed in Horrocks' commitment to serving the highest quality product.
He insisted on grass-fed beef before it was a trend—especially before it was common in suburbs like McKinney. That could making sourcing difficult. In 2015, he told the newspaper Community Impact that the suppliers "had a set production style" that differed from what he and his partners expected. They wanted more control of what they were serving. Luckily, there was one man who raised his own cattle and sold the beef at a nearby farmer's market. That man, Matt Hamilton, now runs the beloved Local Yocal butcher shop and restaurant not far from Square Burger.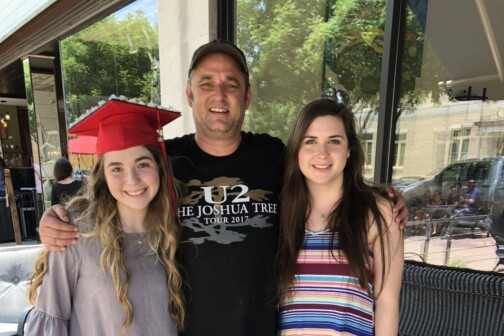 "We wanted our beef fresh—not frozen—every day. We wanted input on the cuts and grinding process and were even prepared to grind the meat ourselves,'' Horrocks told the paper. "The timing was just perfect because Matt Hamilton was just getting Local Yocal started, and he needed someone to consume all of the grinds from the prime cuts he was selling."
Quality product, quality people. That seemed to be his mantra. Mark Bond, who lived with Horrocks for 22 years, the last seven as his husband, put it this way: "He enjoyed mentorship, giving kids purpose and pride. He loved being in the moment and being with people of every kind. He was a cancer survivor and that surely influenced his love of life and of people."
"He was a grownup but a kid at heart," Sarah said. "I remember playing Ding Dong Ditch with him."
Brandon and Mark lived right on the McKinney square with their chocolate lab and an ever-changing number of chickens.
Ashley Thomas, who also worked at Goodhues from 1998 to 2008 as assistant manager and later replaced Brandon as manager, said he showed a level of respect to his employees that is sometimes difficult to find in restaurant settings.
"Brandon was fair and kind to everyone. This was unusual for a boss, especially in the hospitality industry. Sometimes there would be arguments—who remembers why—often with door slamming involved. Within five minutes he'd make peace. He was quick to right any wrong, a special person."
Shawn Scarbrough, who is now a manager at the Schulz Brau Brewing Company in Knoxville, Tennessee, also worked with Brandon at Goodhues. He joined the chorus. "If there was an argument, Brandon was usually the first to apologize. He was not only my mentor, but my best friend, and he taught me so much."
Funeral services were held in Salt Lake City, and a memorial service in McKinney is pending. A GoFundMe account has been set up in Brandon Horrock's name.
Get the SideDish Newsletter
Dallas' hottest dining news, recipes, and reviews served up fresh to your inbox each week.
Author