Almost 50 years after the 13th Amendment abolished slavery, Harvard-trained historian Carter G. Woodson and minister Jesse E. Moorland formed what would eventually become the Association for the Study of African American Life and History. That organization would in turn sponsor a national Negro History Week in the second week in February 1926, impart to coincide with the birthdays of Abraham Lincoln and Frederick Douglass. By 1976, it grew to encompass the entire month of February after President Gerald Ford's proclamation.
North Texas has plenty of opportunities to learn about the achievements of Black Americans past and present. Here are some ways to celebrate Black History Month:
Dallas' African American Museum will host "Black Cowboys: An American Story," an exhibition that tells the stories of the Black men, women, and children who worked on the ranches of Texas. See artifacts, photos, documents, and more. The exhibit runs from February 14 through April 15, and the museum is free to visit. Details here.
Author Ada Ari will visit Bookmarks in NorthPark Center on February 14, where she will share her book The Spider's Thin Legs, a West African folktale. Children will also color, engage in a counting lesson, and learn a traditional Ghanaian dance. Details here.
Saint Luke Productions will stage Tolton, the story of Augustus Tolton, who "defied the racial prejudice of his time" to become the first black priest in the U.S. Two separate stagings (one on February 15 and another on February 18) are open to the public. Details here.
The Martin Luther King Jr. Branch Library is hosting a series of films highlighting Black filmmakers, including Claudine on February 14, Malcolm X on February 21, and Judas and the Black Messiah on February 28. The screenings are free. Details here.
Dallas College will host a discussion of the book The Accommodation with Dallas County Commissioner John Wiley Price and the book's author, Jim Schutze, on February 15 at the Cedar Valley Campus's H Building. The conversation will be offered in-person and virtually, and copies of the book will be available for those attending in person. Details here.
Starting February 15, "Solidarity Now! 1968 Poor People's Campaign" will be on exhibit at the Sixth Floor Museum at Dealey Plaza. The special exhibition looks at the Civil Rights-era Poor People's Campaign, which culminated in a six-week demonstration on the National Mall in Washington D.C. It will remain on display through February 26, and is included with museum admission. Details here.
Students in eighth through twelfth grades can submit original artwork featuring the impact Black leaders have made as part of the Dallas Mavericks Black History art contest. Five winners will get to visit Memphis, Tennessee, in March and attend the Mavericks vs. Grizzlies game. They'll also get to watch the Mavs play the Indiana Pacers at American Airlines Center on February 28. The winning artwork will be displayed at the AAC during the game and at the African American Museum at Fair Park in March. Hurry though, the deadline to enter is February 16. Details here.
The UNT Dallas Rising Blazers will host a special viewing of the African American Pioneers in STEAM Museum Showcase February 16 and 17 at the UNT Dallas Innovation Center at 4315 S. Lancaster Road. The traveling exhibition showcases dozens of republicans and examples of items invented or improved by African Americans. Details here.
The Dallas Black Dance Theater will perform the works of three choreographers in its staging of Cultural Awareness at the Wyly Theater February 17 and 18. The shows will be offered in-person and streaming. Details here.
North Texas step teams will perform at DeSoto High School to celebrate Black history on February 18. The show, which is presented by Diligent Execution Steppers, will begin at 3 p.m. Details here.
Head to Fort Worth's Cowtown Coliseum February 18 for the Bill Pickett International Rodeo, which showcases Black cowboy and cowgirl culture with reenactments, history, and rodeo action. Details here.
GRIT Fitness will host two events in celebration of Black History Month. On February 20, Black Girl Magic Ride will feature two 60-minute spin classes at owner Brit Wold's design district studio, featuring Black musical artists. On February 25, GRIT Fitness will host Black-owned businesses in a Black Business Girl Boss Pop-Up Shop. Details here.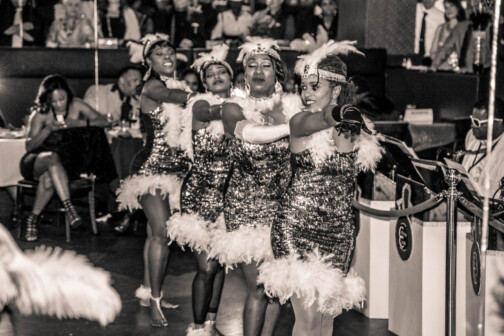 Dallas journalist Rodney Hawkins and his family took part in the Lone Star Slavery Project, which mines historical records to build an archive of enslaved people in Texas. That participation led to his family and volunteers spending two years restoring the family's nearly 200-year-old ancestral burial site, Old Mount Gillion Cemetery in East Texas. That work is featured in a display of immersive exhibits called "The Mount Experience" at AT&T headquarters in downtown Dallas through February 21. Details here.
The Irving Arts Center is hosting the Irving Black Arts Council's annual exhibition, which features Frank Frazier, Earline Green, John Johnson, Gerald Leavell, and Burl Washington this year. Their works will be exhibited through February 25. Details here.
The Atlanta Dance Connection will join students from Booker T. Washington High School for the Performing and Visual Arts' Dance Ensemble for two evenings of dance at Bruton Theater on February 24 and 25, thanks to the Black Academy of Arts and Letters. The two groups will also give a students-only show on February 24 and a Black Dance Master Class on February 26. Details here.
Also in Irving, the Cimarron Park Recreation Center will host a Taste of Black History on February 25. The event will not only offer food but also performances by Ranchview High School's African American dance club, saxophonist Sylvester Jones, and more. Details here.
Local businesses, chefs, and home cooks are invited to enter their best dishes in a Taste of Soul, a competition held at the Martin Luther King Jr. Community Center on February 25. Details here.
The 10th Annual Harlem Renaissance Performing Arts Gala Extravaganza will make a stop at Frisco Hall in Frisco February 25. The event will feature members of the Duke Ellington Orchestra, and will pay tribute to the Harlem Renaissance Era by celebrating the 100 year anniversary of the Harlem Cotton Club and the 100 year anniversary of the Duke Ellington Orchestra. Details here.
The City of Dallas' Office of Community Police Oversight, Office of Equity and Inclusion, and the Office of Arts and Culture will celebrate Black History Month on February 27 from 6 to 8 p.m. at the main lobby of Dallas City Hall. The event, From Civil Rights to Human Rights: Where Do We Go From Here? will feature live entertainment, food, and a keynote address by Opal Lee.
OCPO formed a relationship with Ms. Lee when she addressed a group of law enforcement oversight practitioners at the 2022 Annual National Association for Civilian Oversight of Law Enforcement (NACOLE) conference in Fort Worth. We are also excited that Mayor Pro Tem Carolyn King Arnold and City Manager T.C. Broadnaxwillgiveremarksattheevent.
Head to the Galleria Dallas, where the Girl Scouts celebrate Black History Month with an interactive gallery wall that showcases Black women and girls, including Opal Lee, the 96-year-old Fort Worth activist known as the "Grandmother of Juneteenth," and Plano teen Zara Jones, whose Gold Award project digitized her city's closed African American Museum. Details here.
Throughout the month of February, The Bishop Arts Theater will stage nine short plays by local and national writers that are based on chapters of Nikole Hannah-Jones' Pulitzer Prize-winning 1619 Project. Read more about the one-act plays here, and get tickets here.
Through February, Frontiers of Flight Museum will feature a temporary display "Black History in Aerospace," both in-person and virtually. The exhibit is included in museum admission, and the virtual version is free. Details here.
Smokey John's Bar-B-Que & Home Cooking will offer its 2023 Shoebox Lunches in honor of Black History Month through Tuesday, February 28. This year, the restaurant will use the lunches to pay homage to North Texas' Black media pioneers, including Chris Arnold, Joe Bell, Rochelle Brown, Dewayne Dancer, Iola Johnson, John McCaa, and Jean-Jacques Taylor. The outside of each shoebox will feature a statement on the importance of Black media professionals, and inside, the box contains a sandwich, chips, a cookie, pickles, barbecue sauce, and an insert highlighting each individual. Details here.
Winners of the 27th Best in Show: Carroll Harris Simms National Black Art Competition and Exhibition will be displayed through March 21 at Dallas' African American Museum in Fair Park. Winners include Steve Prince's Hallelujah Anyhow, which won Best of Show, and best in printmaking by jurors of the biennial competition. Details here.
Get the FrontRow Newsletter
Get a front row seat to the best shows, arts, and things to do across North Texas. Never miss a beat.
Author
Bethany Erickson is the senior digital editor for D Magazine. She's written about real estate, education policy, the stock market, and crime throughout her career, and sometimes all at the same time. She hates lima beans and 5 a.m. and takes SAT practice tests for fun.