As communities in North Texas kick off celebrations to honor Dr. Martin Luther King Jr. for Monday's MLK Day, many are making a point of saying that King's legacy requires more than parades. King's work, they say, should spur more community engagement and more efforts toward racial reconciliation.
As part of the Dallas Institute of Humanities and Culture's 16th annual MLK Day Symposium on January 13, Dr. Lerone A. Martin, director of the Martin Luther King, Jr. Research and Education Institute at Stanford University, will pose the question: "Do we have the spiritual depth, what Dr. King called 'soul force,' to meet his challenge today?"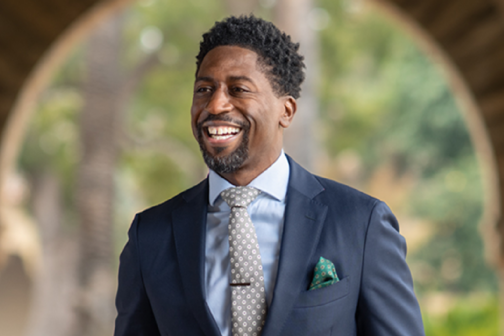 Making the discussion even more meaningful is the setting. St. Paul United Methodist Church was built by formerly enslaved people under a brush arbor in Dallas' Freedman's Town 150 years ago this year, and later restored by Dallas' first practicing Black architect, Sidney Pittman. Dallas civil rights leader Rev. Peter Johnson will present opening remarks.
Considered an authority on King and his legacy, Martin's upcoming book, The Gospel of J. Edgar Hoover, examines the role religion played in politics during the Civil Rights era.
This summer, he discussed the lessons from King's legacy, especially as it relates to his "I Have a Dream" speech at the March on Washington for Jobs and Freedom.
"I think, it wasn't until later in his life that Martin Luther King, Jr. came to appreciate the importance of local organizing for sustained movements," he said. "He would offer us a lesson in that regard. That it is important for local communities to organize for change and to recognize the gifts and talents local people have to bring about change in their own communities."
The symposium begins at 6 p.m. on January 13 and is free, but registration is required.
Dallas Truth, Racial Healing & Transformation executive director Jerry Hawkins says his organization's observation of the National Day of Racial Healing on January 17 is also important.
"We learn how to talk to each other in regards to race and racism, but we also learn the definition of racial healing, which is to bring ourselves to wholeness," he explained. "The mere definition of racism is to dehumanize us, to make us feel less than. Our goal is to dismantle the hierarchy of human values and to bring ourselves into community with each other."
DTRHT will recognize the 2023 National Day of Racial Healing with a series of events on January 17, starting with a discussion over coffee starting at 7:30 a.m. at DTRHT offices at 1349 Empire Central Drive, Suite 400. At 11:30 a.m., the organization will host Dr. Michael Phillips, the author of White Metropolis: Race, Ethnicity, and Religion in Dallas, 1841-2001, who will discuss his book and more. Lunch and a copy of Phillips' book will be provided to everyone who registers and attends.
That evening, Hawkins will speak with civil rights legend Dr. Angela Davis at Moody Performance Hall at SMU. The two will discuss relationship building and how to bridge divides. Davis has been deeply involved in social justice movements globally and domestically. As an educator, she has placed importance on building "communities of struggle for economic, racial, and gender justice."
While the event is free, donations are also accepted. Registration is required for entry. Following the discussion, the Pan-African Connection will be on-site selling a variety of books authored by Davis, who will sign books purchased that night.
The doors open at 6:30 p.m., and the discussion begins at 7 p.m.
Other events in North Texas include:
The city of Dallas has been celebrating King's birthday this week with a series of events that includes its annual Equity Indicators symposium at Paul Quinn College Friday. The event will run from 9 a.m. to 3 p.m., and you can register here.
Additional events include a Youth Summit at Dallas City Hall at noon on January 12, a Day of Prayer with Faith Forward Dallas at the Latino Cultural Center at 2 p.m. on January 12, a candle-lighting ceremony at the MLK Recreation Center at 7 p.m. on January 13, the Keep Up the Dream MLK Fest at the MLK Recreation Center from 9 a.m. to 2 p.m. on January 14, and the MLK Scholarship and Awards Gala at the Hyatt Regency Dallas at 6 p.m. on January 14. On January 16, a parade honoring King will start at 10 a.m. at Holmes Street and Martin Luther King Jr. Boulevard, with the Realizing the Dream Healthy Living Expo following at the African American Museum at Fair Park.
On January 14, the Prairie Creek Branch Library at 9609 Lake June Road will celebrate King's birthday with an interactive wall of MLK's "I Have a Dream" speech, and music by Kamica King.
The Meyerson Symphony Center will host the 40th annual Black Music and the Civil Rights Movement concert on January 15 at 7:30 p.m. Produced by Curtis King, artists LeAndria Johnson and Avery Wilson will be joined by The Black Academy of Arts and Letters concert ensemble for an event that includes music, dance, and spoken word performances.
Eight fourth-and-fifth graders from Dallas ISD will compete in the final round of the district's 31st annual MLK Jr. Oratory Competition Friday, starting at 11 a.m. at W.H. Adamson High School.
You can also visit the ongoing exhibition in the lobby of Fair Park Music Hall, "South Dallas Stories: Fair Park Uprooted." The exhibition delves into the personal histories of families and individuals who live in the Fair Park area.
The Dallas Black Dance Theater will headline DeSoto's MLK Performing Arts Show on January 13, with the DeSoto High School Choir opening. The show begins at 7 p.m. at DeSoto High School, 600 Eagle Drive.
Lancaster's MLK Day Parade will feature marching bands, dancers, car clubs, and more. It will begin at 11 a.m. at the Lancaster Town Square on North Dallas Avenue.
The Garland NAACP will sponsor its 34th annual parade on January 14. The parade route will start at Dairy Road and Garden Drive, heading north on Dairy to downtown Garland. A performance of Lift Every Voice and Sing: The Musical will be staged by students at the Granville Arts center after the parade.
The Mesquite NAACP and the city of Mesquite will present a parade and celebration on January 14. The parade will kick off from Mesquite High School at 10 a.m., and end in downtown Mesquite. A program at the Mesquite Arts Center showcasing student dance, music, and spoken word performances will follow.
The city of Arlington will kick off its MLK observances with the Advancing the Dream Gala on January 13 at 6 p.m. at the University of Texas at Arlington. Other events include a Step Show and Talent Showcase at Bowie High School on January 14, a service at Cornerstone Baptist Church on January 15, and an MLK Day of Service Festival at Arlington City Center Plaza on January 16.
On January 16, Grand Prairie's parade will begin in front of its City Hall and proceed down Main Street and Martin Luther King Jr. Boulevard, wrapping up at Daniels Elementary. A program at Dalworth Recreation Center will follow.
Singer Kamica King and the Dallas Black Dance Theater, along with Irving students who wrote about King's legacy, will be on hand to observe King's birthday at the Irving Arts Center on January 15 at 6 p.m.
In Fort Worth, a community-based parade and festival will feature high school bands, dance teams, and more on January 14, starting at 11 a.m. at the Walmart at 2900 Renaissance Square and ending at Village Creek Park. On January 16, the 38th Annual MLK Jr. Holiday Parade begins at 11 a.m. at the Convention Center, ending at Sundance Square with a rally.
Get the D Brief Newsletter
Dallas' most important news stories of the week, delivered to your inbox each Sunday.
Author
Bethany Erickson is the senior digital editor for D Magazine. She's written about real estate, education policy, the stock market, and crime throughout her career, and sometimes all at the same time. She hates lima beans and 5 a.m. and takes SAT practice tests for fun.