A few weeks ago, Gov. Greg Abbott said a pair of controversial new Texas laws restricting abortions and voting, respectively, were "accelerating" business relocations to the state. He cited conversations with newly minted Texas resident Elon Musk, although the Tesla CEO subsequently kinda-sorta distanced himself from supporting the conservative social policies in a wishy-washy tweet.
That's not much to go on, evidence-wise, and only time can deliver a verdict on what these policies mean for Texas business. Most corporations are, however, keeping quiet on the abortion law. Compare today's silence to 2017, when big business mobilized in opposition to the "bathroom bill" that was then being considered in Austin. A few CEOs and business leaders have made symbolic gestures and pledges to support employees in Texas. But none of them are packing up and moving out.
Chicago, at least, is betting that it can lure in some Texas businesses and residents dissatisfied with the politicians running the state. The city's economic development arm—a public-private agency of the sort that Dallas is itself trying to create—took out a full-page ad in Sunday's Dallas Morning News.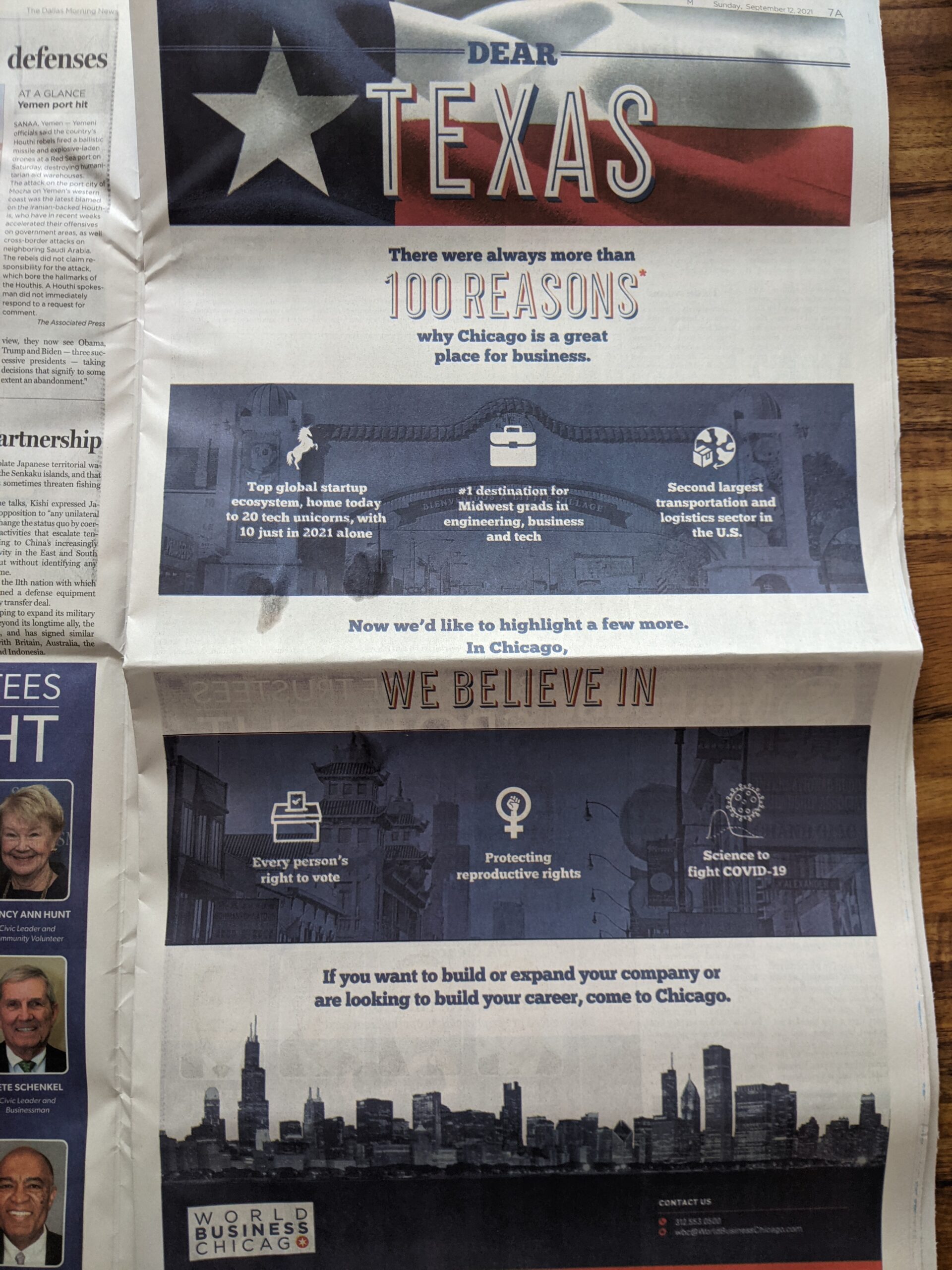 The ad goes to the usual economic development talking points: tech startups, a highly trained workforce, logistics hub. Then, echoing those social justice yard signs I see all over the place here, the ad tells you what "we believe in" in Chicago: "Every person's right to vote," "Protecting reproductive rights," and "Science to fight COVID-19."
A more savvy Chicago advertising pro might have added, "A power grid that continues to function amid severe winter weather."
Here's the Chicago Tribune, spelling it out:
World Business Chicago spokesman Andrew Hayes calls the ad "a bold step" on the city's part, explaining that it's an invitation to "Texans and Texas-based companies, challenged by recent controversial state laws and policies, to consider relocating to Chicago."

The ad sets the stage for a new round of Democrats vs. Republicans. No doubt Texas GOP officials will fire back at Chicago and Democratic Mayor Lori Lightfoot, the chair of World Business Chicago, over soaring crime here — and as the reason Texas businesses should stay put.

Asked about the forthcoming ad, Gov. Abbott's press secretary Renae Eze said in a statement: "The Texas economy is booming. People and businesses vote with their feet, and month after month they are choosing to move to Texas more than any other state in the country. Businesses are relocating to and investing in the Lone Star State at a record pace because we've built a framework that allows free enterprise to flourish and hardworking Texans to prosper."
Meanwhile, at least one large company isn't wasting time on acting. Salesforce has offered to relocate employees to another state should they "have concerns about access to reproductive healthcare."
Get the D Brief Newsletter
Dallas' most important news stories of the week, delivered to your inbox each Sunday.