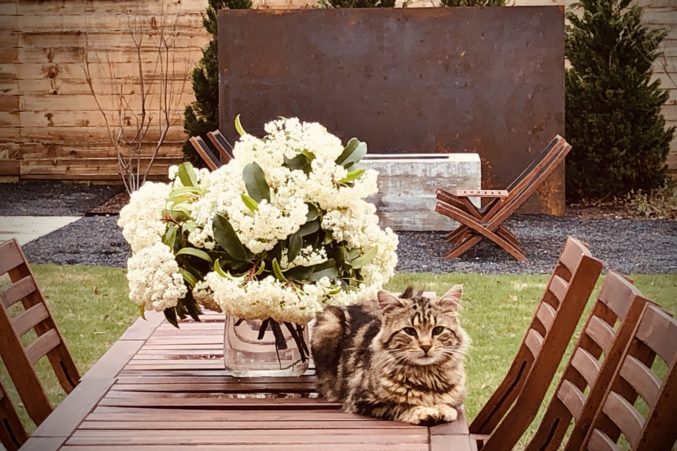 Create an Emergency Plan for Your Pets Now
I know, this is somewhat horrifying. But it is best to heed the Scout motto and be prepared.
I used to be a crazy cat lady. Now I just feed and somewhat care for an outdoor cat named Phyllis, whom I managed to get spayed after she showed up pregnant and single and eventually had a litter of kittens on the back porch (all of which went to good homes). But I never could convince her to move indoors. And then RuPaul started coming around a couple of weeks ago. But she keeps her hair so pretty that I find it hard to believe that she doesn't belong to someone.
I generally feed Phyllis a certain type of dried food two times a day, and I usually keep an ample supply. But when I went on Amazon to order some more last week, I was actually a little surprised to find it was sold out. I mean, it's not toilet paper. So I had to take a chance on something called Taste of the Wild. It has a bobcat on the bag. Phyllis seems OK with it.
But I just got this press release from the City of Dallas, and I found it very eye-opening. Being prepared for your pets no longer means remembering to place an Amazon Prime delivery order. It means making sure you have a plan in case you and and any other responsible adults in your household become incapacitated and/or hospitalized. Please read:
Dallas Animal Services (DAS), Fort Worth Animal Care and Control (FWACC), the Humane Society of North Texas (HSNT), Irving Animal Services (IAS), SPCA of Texas (SPCA) and Tri-City Animal Services have banded together to urge the public to include pets in their COVID-19 emergency plan.

"Your family must have a plan in place to ensure your pets receive proper care if you were to fall ill with COVID-19 or unable to visit the store for an extended period of time," said DAS Director Ed Jamison. "The past few weeks have shown us just how quickly this situation can change and it's important to prepare for any possibility."

The shelters recommend staying up to date on COVID-19 facts from sources like the Center for Disease Control (CDC), World Health Organization (WHO) and the American Veterinary Medicine Association (AVMA). Be sure to prepare a supply kit for your pet as a backup plan for pet care or boarding if you become hospitalized.

"If admitted to the hospital, the ideal plan is for your pet to stay at home and receive care from another family member," said FWACC Assistant Code Compliance Director of Animal Welfare Dr. Tim Morton. "However, it's important to  prepare for all possible scenarios, so we recommend requesting help from a friend or neighbor."

In addition to considering emergency boarding, shelters recommend updating your pet's microchip information and preparing an emergency supply kit for your pet which should include:

Two-weeks' worth of food and medication
Vaccination records and your veterinarian's contact information
Collar with ID tags
Daily pet care instructions
A crate, leash, carrier and toys or treats

Many community organizations are also assisting pet owners in need during the COVID-19 crisis.

"The SPCA of Texas' Pet Resource Center is here to assist pet owners who are struggling due to illness or financial challenges related to COVID-19," said President and CEO of the SPCA of Texas Karen Froehlich.

For assistance obtaining pet food or medical care for pets, the public should visit the SPCA of Texas' Pet Resource Center online at www.spca.org/prc.

For Fort Worth- pet owners in need, pet food is available through Don't Forget to Feed Me (5825 E Rosedale St.) as well as the Community Food Bank (3000 Galvez Ave.).

National organizations, such as RedRover, are also offering financial assistance for pet owners hospitalized for COVID-19.

Visit www.dallasanimalservices.org for additional resources and information about pet disaster preparedness, adjustments to DAS operations and to view available pets to adopt or foster.