Victory Park Is Getting Yet Another Above-Ground Parking Garage
One of the city's tallest new buildings gets a street-hogging monstrosity to leave your car in. Thing is, that's not exactly out of vogue in this neighborhood.
On Wednesday, both Paper City and the Dallas Morning News trumpeted the latest addition to Dallas' luxe housing charge – Houston-based Hines' Munoz + Albin-designed apartment high-rise named The Victor. The PR spin talks about how the 39-story, 344-apartment, 453-foot tower will be one of the tallest buildings outside downtown. Picking nuance out of pepper, Hines clarifies it will be the tallest residential tower outside downtown—because you have to be the "est" of something.
But, geez, despite being called out by D Magazine not once, but twice in this summer's "Dallas and the New Urbanism" special issue, the ugly streetscape continues. I suppose the development team thinks an eight-story blank wall—that fools no one by its ugliness—is OK so long as there's a restaurant on the ground floor?
Looking around Victory, the only winner is the automobile.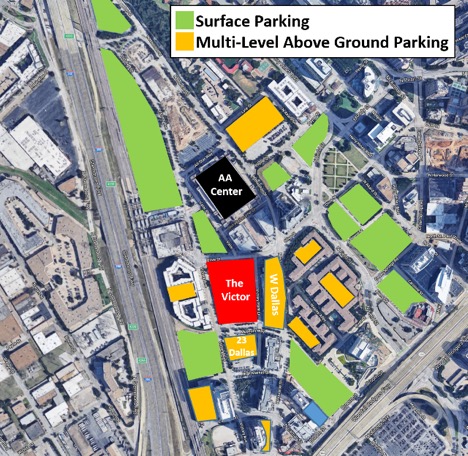 The map above paints the picture. While you can argue that some of those surface lots will be developed, it's also safe to say that the multi-level above-ground parking garages will last as long as the buildings they service. While other parts of the city within the Oak Lawn Committee's sphere of influence are often burying all or part of their parking, this is not happening in Victory.
Beginning at the Continental and Victory intersection, just north of Woodall Rodgers, The House Condos of Dallas is literally "back of the house" with an exposed parking garage. Why don't you see a single pedestrian on this July 2018 day? Well, there's no reason to walk here. That shouldn't be the Hard Rock Café sign behind that lonely tree, it should be the Hardscape Café. Is that really the best Philippe Starck could muster?
Continuing up Victory is the EY building. It's all glass facing the street, but it hides an ugly secret in the back. A completely exposed six-level parking garage. The company's tagline is "Building a better working world" – apparently it's a car-based world.
Caddy-corner from EY is The 23 Dallas apartment building and its lovely multi-level parking garage, which has the distinction of blighting Victory Avenue, Museum Way, and Victory Park Lane. Same old story here: ground floor retail and restaurants are supposed to mask the ugliness above. While this one is more screened, it's still painfully obvious what it really is.
Across Victory Avenue from The 23 Dallas is this surface lot. The signs are for another Hines project called Victory Center, which shows another enormous, lot-hogging, above-ground parking garage under a glass high-rise.
Above is South Garage which has long been a placeholder for development. It extends from Museum Way north to Olive.
This is the full rendering of Hines' The Victor. It's not a bad building per-se, but what would it look like with that parking temple buried underground? Imagine the better, more engaging urban streetscape. As it is, it's a destination you go to because you have to. The same as the rest of Victory.
But The Victor hardly had anything worth emulating. This is its across-the-street neighbor, The W Hotel and Residences. Two high-rises growing out of a butt-ugly parking garage and an ever-changing set of starry-eyed retailers trying (usually unsuccessfully) to make a buck.
Isn't it always the case where those who need help are the least likely to seek it? Obviously, Victory Park doesn't really care about creating an urban village that people would want to live in and recreate in. Not being a sports fan, if I'm in the area once a year, it's a good year. Contrast that with Uptown a few blocks away that I frequent with almost alarming regularity.
All I see in The Victor are 344 apartments I'd be saddened to live in each time I walked home from the vibrancy of Uptown.