Third place in a game in which the first and second finishers got the top prize: that's how close Dallas came to winning the historic relocation of Amazon's HQ2. But now that the online retail giant has announced it will instead split its second headquarters between New York City's Long Island City and northern Virginia's Crystal City neighborhood, we can all breathe a sigh of relief. Dallas dodged a bullet, and the process provides a rare opportunity for the city to reevaluate the type of growth and development it should pursue.
Sure, every civic booster in Dallas was rooting for HQ2. It would have brought with it a projected 50,000 jobs paying a median salary of $100,000, not to mention billions of dollars in new construction. The presence of one of the world's largest corporations and one of its most pioneering tech companies—run by Jeff Bezos, the world's richest man—promised to transform Dallas' reputation into a hub for technology business. In addition to the Amazon jobs, analysts suspect, HQ2 will generate thousands of additional jobs at companies and start-ups that desire to be located near the tech giant. In other words, Amazon HQ2 is not simply another major corporate relocation; it is more like an industry relocation.
And that was the problem. HQ2 was just too big. The corporation is so large and influential and yet still growing so rapidly that it could have become the singular force in shaping an uncertain future for our city. Amazon's HQ2 would have exacerbated existing issues of inequality; warped the housing market; transformed Dallas' political, social, and economic cultures; and remade Dallas into an image of Amazon's own dominant corporate identity.
How do we know this? Because that is exactly what has happened in Seattle, and it is one of the reasons why Bezos decided the company's needed a new city—or, as it turned out, cities—to accommodate its growth. In Seattle, the corporation's outsized influence on development has created an economic windfall, but it has also caused many growing pains.
In October, when it still looked like Dallas might win the relocation, I headed northwest to understand how the mega-corporation has affected Seattle. Those city's troubles now read like a vision of a future that could have been Dallas' own—but which Dallas narrowly avoided.
---
Standing amid a cluster of brand-new, black-tinted office towers on Amazon's corporate campus that sits on the edge of downtown Seattle, the first thing you notice are the dogs. They sit on street corners waiting for traffic lights to change. One curly-haired dog with floppy ears sits cradled in the arms of her owner like a newborn baby. A small chihuahua pup patters cheerfully along the asphalt wearing a tiny, smart blue sweater. They follow a stream of people in t-shirts or button-down oxfords, jeans, and backpacks who file into the towers. The workers swipe their blue badges to enter the buildings. The dogs have badges, too.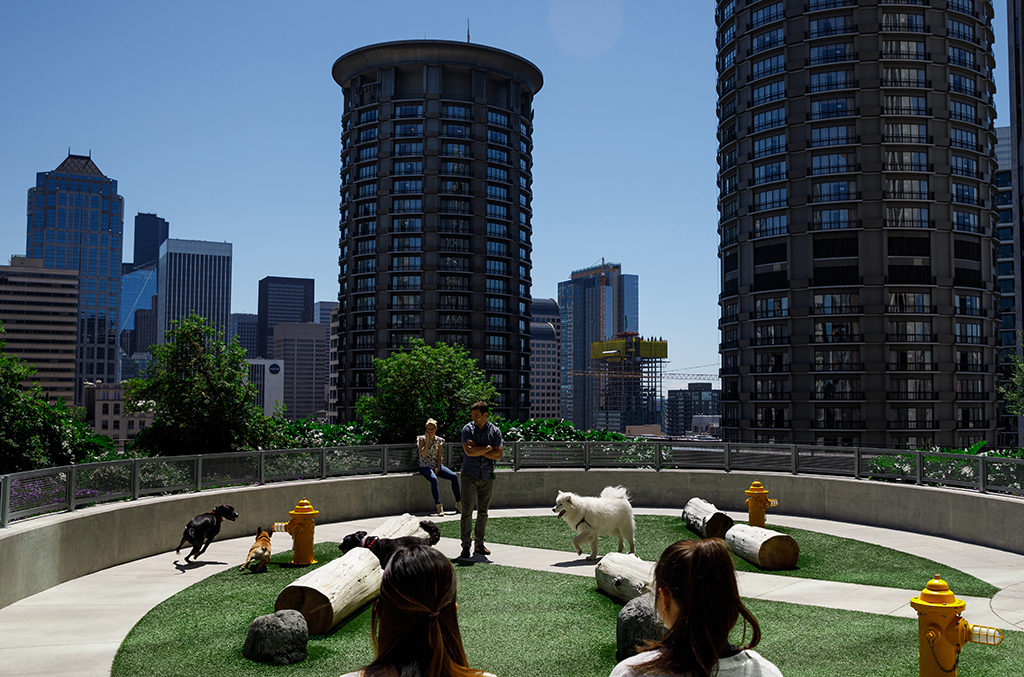 At Amazon's headquarters in Seattle, more than 7,000 dogs accompany their owners to work on the urban campus that employs upwards of 50,000 people. Their presence tells a story about the kind of company that Amazon imagines itself to be and the kind of environment it creates for its employees. Bezos has said that he doesn't like the phrase "work life balance," arguing that it implies a trade-off between private and professional life. Instead he strives to create a work environment at Amazon that blurs the boundaries between employees' private and professional lives—like allowing them to bring their dogs to work all day. Similarly, the company has tried in Seattle to blur the line between its corporate campus and life in the city around it.
In 2007, Amazon moved its headquarters from an old art deco hospital building on the fringe of central Seattle to a neighborhood called South Lake Union, which sits north of downtown. In four years, the company built an 11-building campus that is woven through the neighborhood in a way that makes it difficult to tell what is public space and what is Amazon's headquarters. The dogs are only one visible representation of this blur. During the lunch hours, the workers pour out into the streets, where they grab curry, noodles, or tacos from dozens of food trucks that line the curbs. Amazon employees participate in conference calls or hold informal meetings in the alley-breezeways between the company's office buildings. An Amazon-sponsored banana stand offers free fruit to anyone who passes by on the street. After 5 p.m. on a Monday in October, a South Lake Union sports grill called the Brave Horse Tavern hosted at least two happy hour meetings for Amazon workgroups.
This continual interfacing between company and neighborhood is by design. The cafeterias inside Amazon's buildings are too small to accommodate all the company's employees, forcing workers to leave the office at lunch and head onto the streets. Unlike some of the other large tech giants, which have built insular corporate campuses, Amazon wants its campus to be a part of the city. It acquired the rights to build over existing public rights-of-way in exchange for turning those spaces into semi-public-private plazas adorned with peppy sculptures or enlivened with man-made streams of recycled water. The bottom floor retail spaces in Amazon's office buildings are stocked with coffee shops, restaurants, clothing boutiques, and bicycle shops that cater to an employment base that skews young, male, and white (the median age of Amazon employees is 31, 63 percent are male, and 60 percent are Caucasian).
There is an economic principle that underpins the design of Amazon's corporate campus qua neighborhood. Andy Yan, director of The City Program at Vancouver's Simon Fraser University, calls it "agglomerative economics." The company wants to take advantage of the way urban spaces generate economic activity, social interaction, and new ideas through proximity.
"It is the idea that location and the buzz of a place matter," Yan says. "It's about culture. It's about an educated workforce. It is about educational institutions that can generate or attract that type of educated workforce. It is about Amazon being able to plug in and remain plugged into where they are."
This idea of a company moving to Dallas to use its relocation to generate more investment in the urban core was part of what was appealing about HQ2. Because of Amazon, South Lake Union checks all the urbanism boxes: walkable streets, bike lanes, a streetcar, buses in dedicated lanes, local businesses, and ample public space that is shared by banana-munching Amazonians and yoga-practicing homeless men alike. But when Amazon located in that neighborhood, that neighborhood became Amazon.
It looks like the image of a city neighborhood as it might appear in a contemporary urban planning textbook. And yet there is also something anodyne and antiseptic about it—a neighborhood that feels so dizzyingly new and deliberately conceived that it can't help but come across as scrubbed, managed, and overtly intentional.
For many Seattle residents who don't work for Amazon, South Lake Union isn't representative of Seattle's success, but rather of the way the city's new identity is eroding away the city Seattle once was.
Yan sees this tension as a flip side of the agglomerative economics equation. On the one hand, Amazon has helped revitalize neighborhoods like South Lake Union, as well as other areas of Seattle that had previously not seen much investment. But that investment has now exacerbated preexisting challenges with housing, affordability, and economic inequality. That doesn't only make it more expensive to live in Seattle; it dampens the very cultural vibrancy that made the city attractive to tech companies in the first place.
"The overall culture [in Seattle], from Jimi Hendrix to Grunge, was symbiotic with this idea of engaging new and bold innovations," Yan says. "Then it goes into an uneven economic development and there is a concern of inequality, of losing or displacing what has made all this possible."
The fear is that Seattle is transforming into a monoculture, a generic pseudo-urbanism made up of neighborhoods that exist as an extension of corporate marketing. Yan wonders if Amazon's new home city will suffer the same fate.
"That's the interesting question: are they trying to replicate what they are doing in Seattle?" Yan asks. "Is it a colonization, or is it an ability to expand and extend, connecting to what local conditions offer? I think that is going to be the interesting question—its ability to interface with the local culture as opposed to being a monolith."
---
The newest buildings in Amazon's Seattle headquarters are towering skyscrapers encased in tinted black glass that are remarkably reminiscent of the black rectangular monolith in Stanley Kubrick's 2001: A Space Odyssey. In only a matter of months, these buildings have materialized, as if by magic, on the edge of Seattle's downtown. They are the latest—and likely last major—additions to an estimated $4.5 billion investment in new infrastructure in Seattle. That huge number still only represents a fraction of Amazon's total economic impact on the city. Seattle has the fastest growing urban core in the nation. At the height of the development, there were more construction cranes in downtown Seattle than in any other city in America. These new black office towers are now flanked by brand new or under-construction luxury apartment high-rises to house all the employees with six-figure salaries.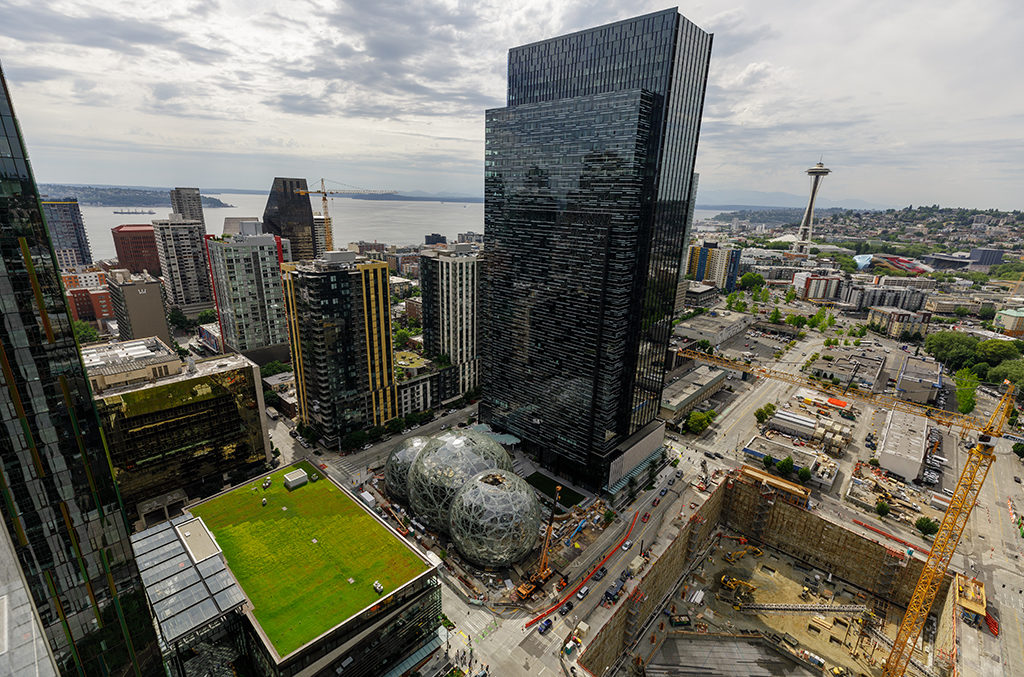 Amazon's office towers are totems to the kind of massive economic impact Amazon will have on its new host cities, but their massive scale, architectural opacity, and speed with which they have sprouted up are also symbolic of the way Amazon's profile in its hometown has rapidly changed. What was once a relatively benign agent of neighborhood revitalization is now a domineering corporate power that drives social, political, and cultural displacement and disruption. Not everyone has been enthusiastic about Amazon's rapid expansion. Precisely because of its visibility at the center of the city, the company has become something of a lightning rod for all of Seattle's frustrations with affordability, economic inequality, and homelessness.
Seattle has always been shaped by booms and busts, going all the way back to the Alaskan gold rush. But this latest Amazon-driven boom has been most associated in many people's minds not merely with economic success, but also economic vulnerability, says Ben Anderstone, a Seattle-based political consultant.
"There is a big distinction between this and first tech wave," Anderstone says. "Microsoft is suburban—the kind of impact the tech industry had was more decentralized. The new wave of tech employee hires has been much more urban. It has generated a lot of growth. It is big boom numerically, but also a very concentrated boom in a way that leaves its mark."
Over the past decades, Seattle has seen median home prices rise to $700,000, and rents have risen from around 23 percent of median area income to 30 percent. Median income in Seattle sits around $80,000, and the average tech worker in Seattle makes $132,000 a year. But according to a 2017 Seattle Times story, half of Seattle residents reported incomes of $50,000 or less on their tax returns. The city now has rates of income inequality on par with San Francisco's. King County has the third-largest homeless population in the country, and Seattle's concentration of homelessness is higher than in New York, Los Angeles, and Washington, D.C.
As the boom enriched some and displaced others, two economic castes have emerged in the city: the tech world and everyone else. And, over the past year, the rapid rise in housing prices—driven in no small part by Amazon's growth and complimentary speculation, particularly from Chinese investors—has given rise to the fear that as Amazon cools its Seattle expansion, there will be a crash.
"It has reframed a lot of the debates we have had as a city," Anderstone says. "Is it something to scorn, or is having this influx of educated young workers a big asset to the city?"
Earlier this year, frustration over economic hardship boiled over into political backlash directed at Amazon. City Councilwoman Kshama Sawant introduced what she still refers to as the "Amazon tax," although it is now known under the toned-down moniker of the "head tax." The idea was to levy a $275 tax on each employee of the largest 3 percent of Seattle's companies and use that money to create affordable housing and combat homelessness. The tax drew all of Seattle's simmering social tension to the surface. Residents took to the streets demanding the passing of the tax. Amazon threatened to halt all its construction projects in the city. Construction workers and labor unions then marched to protest the tax. After a unanimous City Council passed a pared down version of the head tax, Amazon and Starbucks launched a public relations campaign to push for a referendum to overturn the tax. The Council eventually buckled and repealed the tax.
When all was said and done, the battle over the head tax didn't only showcase frustration over the way Amazon's presence in Seattle has irritated socioeconomic tension, it demonstrated how dysfunctional and codependent the relationship between a city and a large and powerful global corporation can become.
Dallas was likely a finalist for HQ2 because Amazon saw in its local leadership a "business friendly" mindset, a group of public officials unlikely to put up the same opposition to the company that Seattle has. But that might not have been a good thing for Dallas in the long run. Councilwoman Sawant argues there is a deeper, more philosophical question at play with regards to Amazon's influence on shaping its city. By its very presence, Amazon exerts an outsized influence on urban economics. If they are not managed or held in check, the functioning of these economics essentially predetermines answers to questions about who gets to live in or shape a city.
"Who gets the right to live in urban spaces?" Sawant asks. "If working people don't get out in front and fight for it, Amazon's sheer scale will inevitably employ all these problems. Whoever has Amazon, working people will have to fight for their right to live in that city."
---
Amazon is aware of the impact it will have on its new hometown, which could be part of why it split HQ2 in New York and Virginia. Those cities will have an easier time absorbing a large number of highly paid workers into existing housing stock without driving up prices exorbitantly or overcrowding transit. Too, the talent is already there. Both the cities that won the beauty contest offer a pool of highly educated East Coast graduates to wear those Amazon badges.
However, Dallas' inability to absorb the shock of HQ2 was likely not the only thing standing between this city and Amazon. When the HQ2's RFP was released, it was obvious that Dallas was always going to score high marks on some of Amazon's criteria. We check the boxes for low taxes, low cost of living, access to a major airport, a central location, our role as logistics hub, the availability of space near downtown for an urban-style corporate campus, and Dallas' reputation as a city that could "think big and creatively when considering locations and real estate options," as the Amazon RFP put it.
But the fact that Amazon passed on Dallas in favor of New York and Northern Virginia suggests that the company's analysis did not reveal an optimistic outlook for Dallas on a few key criteria, including the city's ability to attract a highly skilled technical workforce, adequately fund and deliver quality secondary and public education, and improve its public transit system. In this regard, Dallas' near-miss of HQ2 should serve as a wake-up call for civic leaders. Amazon has essentially gifted this city's leadership a laundry list of the kinds of things Dallas needs to invest in to stay competitive in the coming decades.
One missed opportunity of the relocation is that it would have sent Dallas' urbanization efforts into hyperdrive. Based on how Amazon established its footprint in South Lake Union, it's easy to imagine a rising network of mid-rise office buildings threaded together by pedestrian-friendly streets and plazas. The company's insistence on investing in urban spaces would've led to more shops, housing, transit modes, walkability, and density—all the things downtown boosters have been pushing for for decades.
But I'm not entirely convinced that an Amazon-led development of these urban attributes would have been the best way for Dallas to pursue reinvestment and revitalization of its urban core. In Seattle, a friend offered to introduce me to "Amazonia," as locals call the corporation's urban campus, by bringing me to a bar in a restaurant on the ground floor of one of Amazon's newest office towers. It was a place he believed epitomized the kind of plastic, corporate aesthetic that so many Seattle residents have come to negatively associate with Amazon's influence on their city. The space was light and airy, with plenty of steel, glass, and wood, and open views to the street as well as the kitchen. In the early evening, it was jammed with Amazon employees. The menu features an up-and-coming local chef's Latin-influenced take on regionally sourced ingredients. The bartenders grabbed bottles from racks of artisanal gins and whiskeys and shook up drinks on the restaurant's extensive craft cocktail program.
What most struck me was my complete lack of culture shock. Rather than a jarring confrontation with Amazonia's lack of authenticity, the bar felt uncannily identical to so many of the new concepts that have popped up recently in Trinity Groves or in the new Deep Ellum. If anything, the bar epitomized a familiar new brand of "urban" aesthetic, a replicable and pre-packaged form of polished, considered, and decidedly generic cosmopolitanism.
When I asked my friend to describe the Seattle that is disappearing, he told me to imagine the best dive bar I've ever been to and then picture 30 just like it all on a single street. In the coming days, I would find traces of these kinds of places in the city's fading rougher edges in neighborhoods like Belltown and Capitol Hill. At the time Amazon was founded, some of these remaining gritty, working-class bars were the haunts of members of Pearl Jam, Nirvana, and Soundgarden. Now they rub shoulders with condo towers, townhomes, and bottle-service lounges.
Amazon's urban project has drawn criticism in Seattle precisely because it isn't so much participating in a natural evolution of the city as it is driving a whole-scale reconstruction of it. Perhaps one of the appeals of Dallas in the eyes of Amazon was that that our culture has long demonstrated a willingness to submit itself to the promise of the new. But in Dallas, Amazon would have exaggerated the worst tendencies of re-urbanization to drive out locally nurtured, bottom-up drivers of urban culture and replace them with a monoculture.
And neighborhoods like the Cedars, the Dallas location Amazon is said to have been eying, would have offered Amazon even more of a blank slate than Seattle, with lots of empty lots, slouching early-2oth-century bungalows, and a peppering of townhomes, new developments, and industrial spaces, some of which have been adopted and repurposed by artists, coffee roasters, and other urban pioneers. Those adapters would have offered little resistance to the massive disruptive and displacing force Amazon represents.
Now that Amazon isn't coming to Dallas, the city has an opportunity to both recognize the need to continue and extend its efforts to build more dynamic urban neighborhoods, and to do so in a more incremental way, incubating a home-grown urban character and identity rather than importing one in the form of an Amazonian urban campus.
---
Most of the people I spoke to in Seattle about Amazon were ambivalent about the company. There is nostalgia for old Seattle, but also some enthusiasm for the new city Seattle is becoming. People are distrustful and disgruntled over how Amazon has changed the city, but they also acknowledge how important it has become to the local economy. Even though the company's employees are often disparaged as tech bros who are overrunning the city, the ones I met don't come across as the overworked, backstabbing, Asperger-y automatons depicted in a scathing 2015 New York Times exposé about working at Amazon. Although none would speak on the record, most said they enjoyed both the energy of the city, as well as the satisfaction of working in a challenging environment at a company that is always pushing the cutting edge. None said they wished to leave Seattle for Dallas, but a few said they would consider New York.
When the HQ2 competition was announced in September 2017, the entire stunt appeared like a way to manipulate public opinion around the online retailer that has enjoyed no shortage of controversy. Like most of the monopolistic tech companies that have changed how we live and the way the world works, Amazon has sometimes done its business with damaging and unforeseen consequences. The relocation beauty pageant also looked like a less than thinly veiled attempt to juice-up a tax incentives bidding war—a familiar game of public investment that rarely pans out as a net benefit for taxpayers.
Now that the game is over, and having seen how Amazon has impacted Seattle, I tend to agree with what Mayor Mike Rawlings said at this year's Downtown Dallas Inc. luncheon: Dallas is a better city for having gone through the process. Dallas has been given an opportunity to reevaluate the kind of city it is and the kind of city it can become. The HQ2 process should help reinforce to Dallas' business, political, and civic leadership the value in investing in things like affordable housing, more walkable urban infrastructure, more functional public transportation, and our educational institutions—from public elementary schools to research universities. These things will position cities to compete for the next generation of workers.
A source at Dallas City Hall who was involved in both the drafting of our new housing policy as well as the Amazon bid preparation says this has already had an effect here. This person said the HQ2 negotiations provided an impetus to drive the new housing policy toward completion and adaptation. The plan requires the addition of thousands of new units of affordable housing and changes the criteria for spending public dollars on housing to ensure that new affordable housing projects are spread throughout the city, instead of concentrating poverty in a few blighted and racially segregated parts of town. The housing policy, combined with Dallas' relatively low cost of living, was an attempt to convince Amazon that their arrival in Big D would not spark an affordability crisis.
Dallas should harness this momentum. It should see combating its deeply engrained socio-economic challenges as a way of ensuring the city's long-term competitiveness. Similarly, the HQ2 process has shown the potential of neighborhoods that have been historically dismissed and underinvested—like the southern edge and neighborhoods south of Interstate 30. These places are attractive locations for future investment, development, corporate relocation, and job centers.
The prospect of Dallas becoming Amazon's new home—and it was a prospect that Dallas missed by only the slightest of margins—also offers the city a chance to really look at what would have been gained, and what would have been lost, by the thrust of such a large new influence into the city. There are political, economic, and social battles that Dallas will not have to fight because it didn't get HQ2. There are displacements and disruptions to neighborhoods and communities that will not occur. There is now a chance for new energy around incubating a more organic, broadly beneficial urban and neighborhood revitalization. Dallas comes away from the experience forced to tackle many of these challenges without the intervention of a corporate behemoth that might have tempted us to turn over much of that complicated work and let Bezos' minions handle it.
Instead, Dallas will have to do the work itself. In the long run, we will be a better city for it.
Get the D CEO Newsletter
Stay up to speed on DFW's fast-moving business community with weekly news reports, interviews, and insights.