Felecia Epps, UNT Dallas' New Law School Dean, Is Ready to Move
She loves everything about her new home in the century-old Dallas Municipal Courts building. Except the paint color.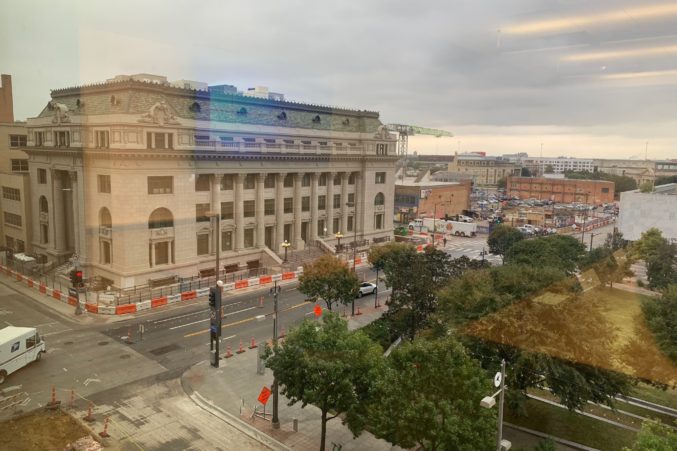 Felecia Epps has only been the dean of the UNT Dallas College of Law for a matter of months, but it was clear at a luncheon she hosted yesterday that the former marine and dean of Florida A&M University College of Law already feels a sense of ownership and pride. She's itching to move into the school's new home in the Dallas Municipal Courts building after construction is completed, hopefully in June. Although, she points out with a shudder, there's a certain unfortunate shade of historic green that she will be required to maintain.
Epps came on board after the retirement of the school's founding dean, Royal Furgeson, in June. Furgeson's mission was to create a workable model for a new kind of law school, one that was inclusive, affordable, and stressed experiential learning. The thinking was that by equipping graduates to start their own small practices, they could in turn provide affordable legal representation to others, not saddled by law school debt. Epps' mission, seemingly, is simpler: to get final ABA accreditation before the clock runs out in 2022. But in many ways, that easily measurable goal is much harder to reach.
The ABA granted provisional accreditation in June 2017, with the understanding that all requirements needed to be met within five years, allowing the first graduating class (which started in 2014) to sit for the bar exam. The school's next scheduled review takes place in March, and Epps appears optimistic. The first graduating class had a 59 percent bar passage rate for first-time takers in July 2017. This past July, that number had inched up to 61.18 percent. That's enough to put them within 15 points of the state average, which satisfies the ABA bar passage rate requirements. And it puts them ahead of the already accredited Texas Southern University's Thurgood Marshal College of Law in Houston, which dropped to an abysmal 44.52 percent pass rate for first-timers this year.
A sign that passage rates may continue to climb for UNT Dallas is the increased application rate. In 2017, the school received 500 applications. In 2018, they received 997. Their total enrollment this year was 389, with 211 full-time and 178 part-time students.
It's an important effort, because no one else is doing it. Not like this. Not by giving a chance to those who couldn't otherwise get into, or travel to, or afford law school. Not by giving them the real-world courtroom experience and law practice management skills they'll need to make it on their own. Not by giving them professors who were actual practitioners. Not by breaking down the assumptions of what has long been an exclusive fraternity and taking it back to its practical, apprenticeship roots. Not by paying it forward and creating an affordable class of lawyers.
But the proof will be in the graduates. There will be an induction ceremony in Austin on November 18 for all students who passed the bar in July, including 52 first-time takers from UNT Dallas. I'm curious to see what they decide to do with their degrees.
Sadly for them, they will have missed out on the new digs. Epps says they are working with the Sixth Floor Museum to create an exhibit commemorating the spot where Jack Ruby killed Lee Harvey Oswald in the basement. There may even be a line on the floor so you can follow in Oswald's final footsteps. And if you are really having trouble focusing on International Shoe Co. v. Washington because you'd much rather be throwing Frisbees to your labradoodle in Main Street Garden Park, you might try shutting yourself up in one of the old holding cells, like Senator Royce West did on a recent tour (see: following video). But then you'd be surrounded by that dreaded pea soup green.