Dallas ISD has about 80 students that are both homeless and unaccompanied by an adult. That's according to the district's data, which could be on the low side, considering it's reported by the students themselves, and this is the sort of thing a kid wouldn't necessarily want to talk about. These are students who continue to go to school despite sleeping in vehicles or under bridges or on park benches. And soon, the district will take an important step toward making sure they get some much-needed support.
"We hope to make Dallas the example in the nation for how to deal with the youth homeless population," said Jorge Baldor on Monday afternoon, as dust and fumes circulated and extension cords slid across concrete floors at the new Fannie C. Harris Youth Center near Fair Park.
Tuesday, the fumes gone, Dallas-area leaders joined Baldor and others during an unveiling of phase one, a "drop-in" center geared for ages 14 to 21. Next door to a 35-bed overnight shelter—phase two—that officials say will open in the spring, the drop-in center will provide homeless teens and young adults with a place to eat, shower, wash their clothes. They can trade-in garments for ones that are in better shape or a better fit. There's a computer lab, and there will be counselors to equip teens with mentorship and provide housing, medical, or mental health referrals as needed.
Baldor was a partner at Dallas-based Social Venture Partners when he founded After8toEducate, working with the school district as well as nonprofits CitySquare and Promise House on a partnership that is, he says, unlike any other in the country. For DISD, which provided the building that was previously Fannie C. Harris Elementary School, it represents a progressive look outside of the classroom. "The old way of thinking is, 'We only have to educate them during the day,'" Baldor says.
It represents a first step. DISD currently has 2,500 students coded as homeless, a number expected to increase as the winter months hit and more families self-identify, according to a district spokesperson. That number includes accompanied youth. "This is an important but small step in trying to address where kids go at night if they don't have a home," says Larry James, CEO at CitySquare.
The space at Fannie C. Harris is modern and reminiscent of a Starbucks. A flatscreen sits in front of a rusted metal backsplash. High-top tables mingle with lower pod and couch seating. There's an industrial ceiling and diagonal strips of LED lighting. "A lot of the places that offer support services are super well-meaning," says Baldor, "but when you walk in, it's somewhere you wouldn't want to spend your time."
There's also a mural, painted by Cuban-born Dallas artist Rolando Diaz with the help of some students from Booker T Washington High School. The mural contains the word "unwind"—another point of the center. "When they're used to being on the street, they're on guard 24/7," says Baldor. That makes it hard to plan for the next step.
The next step for the collaborative project, Baldor says, is to raise the $1 million needed to turn the space next door into a shelter. It's currently a gutted old elementary school, mostly concrete floors and walls, one broken window, and an old chalkboard that will be incorporated into the design once contractors are allowed to enter.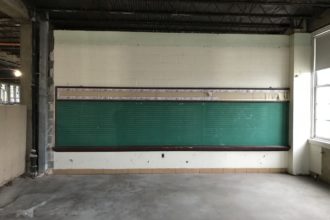 The shelter will have 35 beds in all, nine of them denoted for more long-term "transitional living." The other 26 are for "crisis situations," shorter- term stays while staff figure out a longer-term solution. The center will need permission from a parent or guardian or from Child Protective Services to house a child longer than 24 hours. It's possible that a kid could start in a short-term crisis room and move into a long-term stay, and those could span an entire school year or even longer. Officials expect referrals from DISD to account for a significant portion of the tenants, but they could also come from the crisis hotline, hospitals, or police. Tenants either have to be currently enrolled in a DISD school or eligible to enroll.
On the tenants: all 35 will have their own key fobs and the free will to come and go as they please. With only so many slots available, Baldor says, the goal is to incentivize students toward good behavior. "We're going to create an environment where they want to be here," he says. "They're going to mess up, that's just part of being an adolescent. … But there's a built-in incentive for them to want to perform well."
Save for a few double rooms, all of the beds will be enclosed in four walls, with a window, a closet, and a desk. It's dorm-style living. Beyond the shelter, Baldor says there will be free tickets to Dallas events and museums, plus field trips. Above-and-beyond behavior—helping a peer study, for instance—will be rewarded through a point system. On the other end are incentives like driving lessons. "This is a home," Baldor says. "We're providing a home for them."
Whether its scalable beyond the 35 beds—which will accommodate an estimated 200 students per school year—remains to be seen. DISD Superintendent Michael Hinojosa said Tuesday that vacant former schools like Pearl C. Anderson Middle Learning Center and Billy Earl Dade Middle School could potentially fit the bill to house similar youth centers, but both sit relatively close to Fannie C. Harris. The district will need to assess greatest areas of need. Many of the schools that could be considered for this use are in disrepair, Hinojosa said. "To replicate this all over the district would be a significant cost," he said.
That hasn't kept Baldor from dreaming about the next stages. On Monday, as he stood inside the second floor of the vacant shelter, he looked out toward a field the youth center owns. Phase three will include flipping most of it so that kids will have somewhere to play sports and do other recreational activities. After that? Baldor pointed to a piece of the land that could help take the shelter from a 35-student capacity to 135 students.
"Let's use the economies of scale," he said, "and build another building."
Get the D Brief Newsletter
Dallas' most important news stories of the week, delivered to your inbox each Sunday.