City Council member Rickey Callahan, whose District 5 is set in Pleasant Grove, will not seek re-election this spring. He tells Robert Wilonsky at the Dallas Morning News that he will step back to focus on his job in real estate. He also notes that the Council needs more minorities and women, and that several folks in his district have talked to him about running.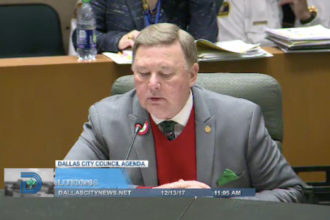 Callahan, a pro-business guy first elected in 2013, could've served one more term under Dallas' four-term limit. He'll be fondly remembered for comparing QuikTrip to Gucci, for chucking a "dramatic histrionics" accusation Scott Griggs' way, and for some other stuff that Wilonsky gets into, like his ardent support of the Trinity Tollroad and keeping the Confederate statues up.
The Dallas City Council will look quite different come June. We'll have a new mayor, for one—a handful of candidates are still mulling over a run there. Oak Cliff's Scott Griggs and North Dallas' Sandy Greyson will be term limited out. All that will come after a runoff next month for the seat vacated by Dwaine Caraway amid his pleading guilty to accepting kickbacks in return for his vote. That race is down to activist Keyaira Saunders and former Council member Carolyn King Arnold.
We've reached out to Callahan and will update this story when we hear from him.

Update: Callahan called back. He says that he contemplated stepping away from the Council in 2015, but he was not pleased with the D5 candidates who at that time were contemplating a run. This time around, it's different. He spilled the beans on potential D5 candidates Terrence Perkins, who runs a foster care agency in Pleasant Grove; Yolanda Williams, his park board representative, one of two of its members who did not recommend Fair Park's privatization plan; and DISD Trustee Jaime Resendez. He has a meeting with another potential later today. It's all given him confidence that the district will be left in fine hands.
He's hopeful that whoever it is will continue his legacy, which he says includes being tough on code violations and panhandlers and good for the development of Pleasant Grove. He's proud of the amount of bond dollars he's been able to funnel into his neighborhoods. "We'll have about $100 million spent in Southeast Dallas, which is unprecedented," says Callahan.
He also does not plan to entirely disappear. A spot on a board or commission—the State Fair of Texas board, perhaps—could be in his future. "All of that is really about getting support and people to select me," he says.