Adrian Beltre Retires
The Rangers third baseman will go to the Hall of Fame soon, where I hope someone touches his head.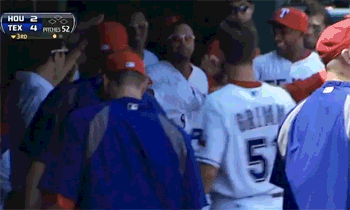 Do I follow baseball? No, not usually, or not regularly. I have gone entire seasons — such as this most recent one — where I don't see one inning. I like basketball and soccer and is walking a sport? I like walking. ANYWAY. I did always enjoy the work of Adrian Beltre, the Rangers third baseman who was great in the field and at the plate and an absolute goofball who hated having his head touched. And I guess I can relate to all of that. We are very similar, in many respects, Adrian and I — Hall of Fame-level athletes with odd personal quirks. Luckily for everyone, I haven't retired.
Here is a fun thread collecting many of Beltre's finest, weirdest moments.