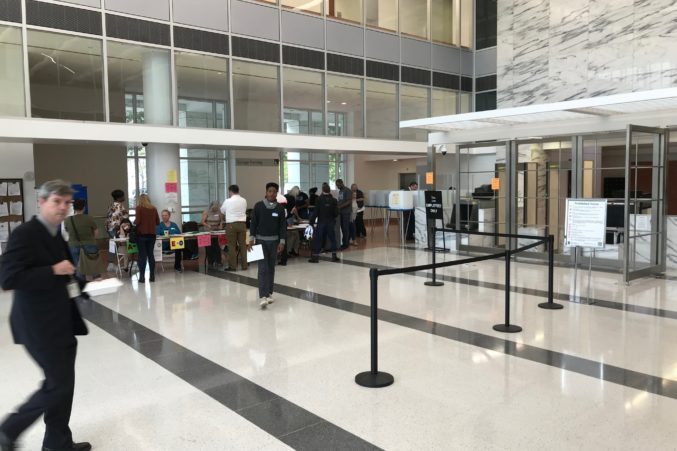 A PSA for Those Yet to Vote: Check Your Voting Location
One Dallas County spot says they've had to turn away as many as three out of four would-be voters. Plus, a jaunt around to a few polling locations on Election Day.
At Our Redeemer Lutheran Church, near NorthPark Center, a woman came briskly down the front stairs to greet a man with a walker about to make his ascent. "Are you sure this is your precinct?" she asked.
After a morning filled with turning people away, Our Redeemer's election staff had started to be proactive this Election Day, as a few polling locations across Dallas County experienced confusion from voters about where they were supposed to be casting their ballots. Unlike early voting, where registered voters can head to any location within their county, today requires that you vote within your precinct.
That point was lost on a not-insignificant number of people: Our Redeemer's election judge, Pamela Brice, told me 75 percent of the people who came through weren't eligible to vote at the location.
Aside from the confusion, the polls were generally quiet during a lunch-time jaunt through a handful of them. At the George L. Allen Sr. Courts Building, where a line horseshoe'd around the lobby on day one of early voting, only about 10 people were at a booth or in line at 12:15 p.m. Election judge Pamela Curry said it had been a little slower than the presidential election day in 2016, but nevertheless described it as a busy day.
At Grauwyler Recreation Center, just south of Love Field Airport, Election Judge Miriam Dominguez said turnout stacked up favorably compared to past election days. About 20 people were awaiting her when she arrived at 7 a.m. to open the polls. But when we spoke, at about 12:40 p.m., just one person was in the booths behind her. Meanwhile, Brice said her location had been slow—at least when it came to people actually able to vote there—which she surmised could have something to do with the record turnout during early voting.
Dominguez said she'd also had to turn people away. And I'd seen Curry pleading with a voter to make a trip to cast her vote at her actual location rather than submitting a provisional ballot—which, Curry told the woman, will be reviewed and often goes uncounted.
Dominguez and Brice told me they'd had voters operating under the assumption that things worked the same way on election day as during early voting. Not the case. For a super simple way to figure out where your polls are located before heading out after work, go here.