The map above this post shows household income for adults who grew up poor, separated down to the census tract. After years of research, the Census Bureau, in tandem with a couple experts at Harvard and Brown, put out the data today. The results show just how important a specific neighborhood can be to a child's chance to succeed. And there's no denying that the map reveals the deep challenges here in Dallas.
Here's what you're looking at: A pale yellow color represents a median household income of $34,000. Moving into the pinker and deeper red areas, you're getting into lower and lower household incomes; we see them dip as low as $17,000 in southern portions of the county. Blue is good, meaning kids who grew up poor in those neighborhoods were able to reach livable median household incomes, as high as $66,000 around University Park.
You compare Dallas to other cities, and you start to see the abysmal social mobility of the region, how many Dallasites grew up poor and remain poor.
Here is Austin, for comparison: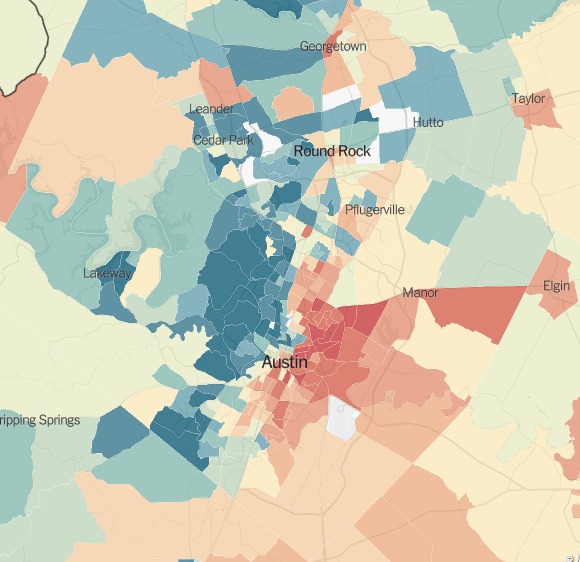 And Houston: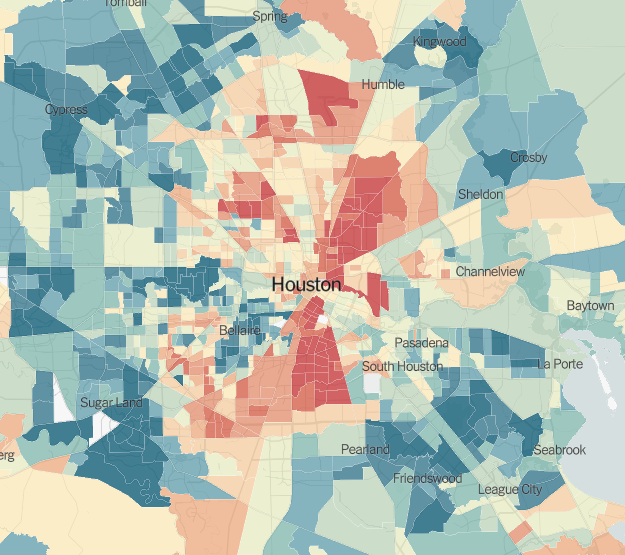 And a selection of other cities, taken from the New York Times' story on the data: 
The Times offers hope that this sort of granular data will make an impact on these neighborhoods, as smart people get to study what makes two neighborhoods with seemingly similar attributes produce significantly different outcomes.
You can zoom in closer and play around with the Census maps here—there's plenty to see. Not only can you look at our region by household income, but there are options to break it down by outcomes such as incarceration rate, teenage birth rate, individual income, hourly wage, and more.
Get the D Brief Newsletter
Dallas' most important news stories of the week, delivered to your inbox each Sunday.