Patricia Baghboud is fully disabled and has custody of her two-year-old grandson. She lives in the Ridgecrest Terrace Apartments, a dilapidated complex just west of Oak Cliff that's desperate for fixes. Last Wednesday, having stuck around until late in the afternoon for an item that was on the morning agenda, Baghboud stepped to the podium and implored the City Council to push through the owner's request for housing dollars to fix up the complex. But the request would've required an amendment to Dallas' first-ever Comprehensive Housing Policy. "You all do not know what it's like to live in poverty," she said between sobs.
The pleas of Baghboud underscored just how difficult a task lies ahead of the City Council, as it takes a first swipe at modifying the much-needed policy it passed in May. Council is being asked to determine how much—if any—of the document it's willing to concede when presented with opportunities to immediately aid people in dire situations. The implications of the tweak are murky, and some council members' understandings of it murkier still, but any amendment has a way of representing a step back to the city's old approach to housing, a broad giveaway of tax credits and other incentives that has contributed to
concentrated poverty
by stacking low-income residences in parts of town that lack adequate city services and economic opportunities. Councilman Scott Griggs, of North Oak Cliff, called last week a "litmus test." Meanwhile, the city is still short of 20,000 affordable units.
One thing that became clear as eyes drooped and patience wore thin late Wednesday in the Council chambers: it will be difficult to address the city's short-term needs while taking a long-term approach to changing the system. City Manager TC Broadnax said that most definitively. "We will never be able to produce an outcome for everybody because we feel a certain way," he said. It's hard to face that reality with Baghboud and so many of her neighbors present, pleading for help.
Ultimately, the amendment didn't pass. The council instead directed staff to take a broader look at possible tweaks over the next six months. "This whole conversation has been a conversation between the heart and the brain," said North Dallas Councilman Lee Kleinman.
At the center of the discussion is the way the housing policy directs the city to handle applications from developers who ask for federal tax credits. The city doesn't outright distribute the credits—the state does—but its stamp of approval (either a "letter of no objection" or a "letter of approval" in city parlance, the latter of which carries greater weight with which the state chooses to approve) goes a long way in determining whether the project will get the money.
The consequences of changing the timeline are further complicated by the fact there are two levels of projects under the federal Low Income Housing Tax Credit program (pronounced
lye-tech
, and abbreviated as LIHTC) within which we're dealing. They come in varieties of 9 percent and 4 percent, so named for the percentage of what the credits are worth as related to a project's total cost. It's the 9 percenters, generally used for full-on new construction, that are more valuable to communities. Four percenters are often used for rehabs—a concern expressed by Kleinman, as Dallas in the past has seen its fair share of those projects fall right back into disrepair. Ridgecrest and Treymore Eastfield are each 4 percenters.
"We're not looking to do a Band-Aid rehab," said David Asarch, owner and chief investment officer at Denver-based Steele Properties, which had offered to buy and makeover Ridgecrest. Steele has promised to spend $50,000 per unit. "We want to come in and fix everything."
The policy as written says there will be one citywide request for proposals per year, in December. Asarch says that puts his project beyond the state's November deadline to receive any bond funding. The city's strategy is to see all the applications together before deciding which of them to green light. Some of the proposals that would pay for rehabilitation—such as the one Baghboud was advocating for—could impact the larger, more transformative proposals that the housing policy is meant to bring to the city.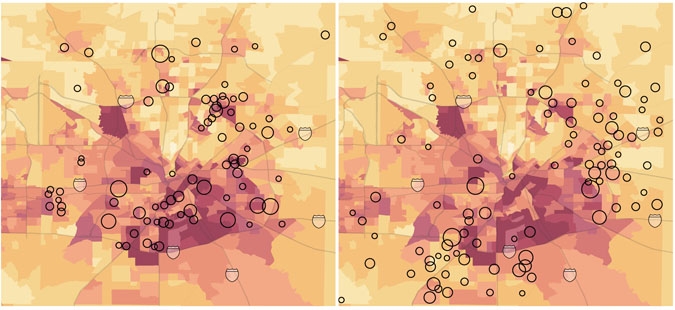 Approving some of the smaller requests before that December deadline, such as Ridgecrest, could imperil the city's chances at landing the sort of transformational housing projects that the housing policy was established to attract. Unlike the smaller 4 percent projects, which are non-competitive, cities across North Texas compete for those 9 percent builds. The IRS doles out the money to the states, which then dole out portions of their allocations to regions. Dallas is competing against basically every city in North Texas. To figure out where the money goes, the state judges the 9 percent projects using defined metrics meant to gauge their impact on low-income residents and the city's housing stock for them. The 4 percenters essentially get OK'd once the city signs off on them.
One of the metrics the state uses in determining where it sends the money is how close these 9 percent projects are to other high-poverty complexes. After all, the state and the feds don't want to further concentrate poverty, and certainly don't want to direct dollars to projects that would. Ridgecrest is located within the 3-mile radius from one of the city's so-called opportunity areas, which is where it's looking to attract the 9 percent projects. It is very possible that granting Ridgecrest its credits could hurt the city's chances at getting funding for what the housing policy was created to attract.
There's reason for developers of 4 percent projects that will use high amounts of tax-exempt bonds to seek approval between the months of August and November. So, as constructed, the city's timeline naturally squeezes out 4 percent projects. "In the housing policy, we took one stance," says Maureen Milligan, assistant director in the department of housing and neighborhood revitalization. "We've heard a lot of feedback that it wasn't a stance that serves the 4 percent community."
It's not so simple as to open up applications all year because, due to LIHTC restrictions, some 4 percent projects could cut the city off from 9 percenters. So if you go back to letting 4 percent projects apply for city approval whenever they want—and Milligan says that's what some developers are requesting—you could be shutting yourself off from the more beneficial 9 percent projects. And it's in these 9 percent developments where the city could really make strides in adding low-income housing within areas of higher economic opportunity, an overarching strategy of the housing policy.
Whether the City Council viewed the implications of the amendment in that light is another story. Last Wednesday, as one proposal gave way to the next and then another—everything growing so confusing that not even staff walked away entirely clear on what they'd been directed to do—it appeared not everyone was on the same page.
One potential solution could be to allow 4 percenters an additional chance to submit applications, during that August-to-November bond period. But at this point, Milligan says, the full gamut of outcomes is on the table.
There will be other concerns that develop. They may be dealt with during the next six months and they may not be. While the housing policy makes clear the city's goals, the state has its own set of priorities. Early feedback from developers, according to Milligan, is that the two levels don't always line up.
"This whole conversation has been a conversation between the heart and the brain.

Dallas City Councilman Lee Kleinman
That's one more thing that could put the City Council at odds. With so many people who need them, it can't continue to miss out on low-income housing projects funded at no cost of its own, which is the opportunity presented by LIHTC. Over the last five years, Dallas has seen only 11 projects, which compares to 47 in Austin and 36 in Houston. Every year,
according to the Urban Institute
, the 9 percent projects create an additional 110,000 affordable units throughout the country. It's an extremely beneficial housing mechanism going underutilized. But amending its policy to better fit the state's vision could represent a descent to the old way of doing things, which will lead to more difficult conversations around the horseshoe.
Baghboud seemed to leave an imprint on Mayor Pro Tem Casey Thomas, who expressed his support of the two projects, most vehemently during the Monday meeting of the Economic Development & Housing committee. That was when Griggs called the proposal a litmus test, and said that the city might as well not have a policy if it's going to be voting for amendments like this. "We have to ask ourselves, is the housing status quo in southern Dallas acceptable?" Griggs had said.
"I disagree. This is not a litmus test. … At the end of the day, there are individuals who are living in certain communities who want to see those communities improve," said Thomas, who represents the district encompassing the people of Ridgecrest. (It's worth noting that Griggs once did too, until redistricting in 2011.) "We don't need a bunch of speeches. We need action."
Then on Wednesday, after public input was over—many people who'd signed up to speak were absent this late in the afternoon—Thomas seemed to address Baghboud's sentiment specifically. To see someone who has come along because their condition is so desperate, to see them speaking from a place of passion, to hear someone—Baghboud—say that a real estate developer is their "savior," Thomas said, swallowing hard, "it impacts me and it hurts me personally." He'd taken the job to try to help people, he said, and these were people who needed help. "We have a responsibility to provide an opportunity for people to have a better quality of life," he said. The housing policy's impact will be seen in the distance; Baghboud was standing before them now.
A few Ridgecrest residents sauntered outside the chambers after the vote. "We tried," one of them said. Dewana Morris, of Steele's management company Monroe Group, said Steele would "press forward" in their attempts to convince the city. It's unclear what exactly that means. Baghboud, who was nearby, said she hoped her message to Council had gotten through: "You're no better than us. We're no better than you."
Get the D Brief Newsletter
Dallas' most important news stories of the week, delivered to your inbox each Sunday.