The Richardson apartment smells of oud, a musky scent, woody and almost balsamic, that is uncommon outside of the Middle East and Southeast Asia. There are dates and flowers scattered around. Outside, young children dodge puddles in the parking lot and their parents take groceries inside. This apartment is nice enough—wood floors in the common areas, carpet in the bedroom, granite countertops in the kitchen. But this apartment, which houses 31-year-old Laila and her mother, feels eerily sad. She's tried to dress it up, but it isn't home—Iran. It's not even Turkey, where she came from in 2017, when the United Nations began moving refugees to other countries.
(Ed note: "Laila" has requested her real name not be used in this story, so we've changed it.)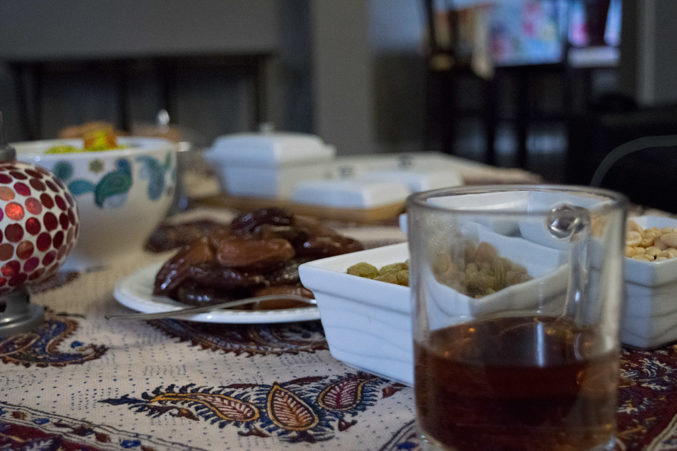 She offers me tea, a custom in every small gathering in Middle-Eastern and South Asian cultures. She adorns the tray with nuts and chocolate, another nod to her homeland. Laila is wearing a black tank top with shorts, and her frizzy brown hair is dark enough to almost match her clothing. It's been a difficult year in the states. She was married in Turkey weeks before the U.N. resettled her and her mother, and her husband's application wasn't processed before the Trump administration passed its travel ban.
"I feel like life in the United States is very hard, especially after the travel ban, for us as immigrants. It's really hard that I have a husband, but I don't. I'm married, but I'm single. It's very hard," she said. "Nobody is here to support me emotionally or financially. I tell myself that I wish when I left Turkey, I died."
The travel ban affected seven countries, five of which are majority-Muslim. They barred refugees from seeking visas to come to the United States. The administration has also whittled down the total number of refugees it is allowing to stay in the United States. The Obama administration capped the total at 110,000. But last year, just 45,000 were allowed in. This year, total refugees is again capped at 45,000, but some estimates say that the policy changes will allow just 22,000—the fewest refugees ever accepted in the history of our immigration program.
"There are a lot of Iranians just waiting to see their children, mothers, fathers, but they are all separated because of the travel ban," said Laila. "Iran doesn't have a good situation right now… I have friends that go and come back and say that no one will live in Iran anymore."
Refugees separated from their families is one of the byproducts of the Trump administration's immigration policies, says Bill Holston, the executive director for the Human Rights Initiative, which aids asylum seekers. He says though it's historically not rare to see separations, he's never seen families separated indefinitely.
"We don't see refugees at all applying at the asylum office," he says. "There are three things impacting who we see and don't see: the travel ban, people turned around at the border, and the most dramatic, which is people put in detention."
The city of Dallas and the state of Texas have each been rather keen to accept refugees. According to the U.S. State Department, Dallas in 2016 welcomed just over 4,000 refugees, just short of half of the state total of 8,930. That was more than any other city in the country. In fiscal 2017, Texas accepted just 2,825—California accepted the most, about 300 more.
The first three to five months in the country are crucial for refugees to establish a life here. They're helped along by a few nonprofits, one of which is the International Rescue Committee. The IRC helps its clients find a place to live, gets them set up for public assistance paying for food, arranges any necessary medical appointments, and lines up job possibilities.
Catherine McGahan, the development manager for the IRC in Dallas, says the nonprofit has several programs for mental health, economic development, and resettlement that make the process smoother for refugees moving to a foreign country.
"All refugees are work eligible, and they are the most highly vetted individuals to enter the U.S. with a total of 18 to 24 months security processes," says McGahan. "But the travel bans have made it longer than we are used to."
Laila has found it difficult to find a job, even though she says her friends have had the opposite experience. They say Dallas has many opportunities. The first few months in America drove Laila into a depression, and when doctors prescribed antidepressants, she had a severe allergic reaction.
"I couldn't move, I had nausea, and couldn't talk. After a few minutes I fell on the floor, and my mom had to call 911… it was very scary," Laila said.
After her incident, Laila's friends suggested trying International Rescue Committee rather than Refugee Services of Texas, a similar agency that helped them from when they landed in the U.S.
Refugee Services of Texas helped find Laila and her mother space in a friend's apartment. After transitioning to the IRC, she was able to find a job during the three months that the nonprofit covered her rent. When doctors found cancerous tumors in Laila's mother, IRC made all doctor's appointments and even drove her to them so Laila could continue to work. Laila was also given a laptop so she could study for English classes.
"My mom and I always pray for everybody who helps us, I would have had to quit my job and classes if it weren't for IRC," Laila said.
She is one of 374 refugees that the group has resettled in Dallas this year.
The state stopped receiving federal money for refugee resettlement in early 2017. Now, those dollars go to agencies that partner with the federal government such as the IRC, which pays for its services with a combination of public funds and private donations. In February, the feds told its partner organizations to walk back some of their operations to adapt to the new cap. As a result, 20 offices closed across the country.
Meanwhile, the IRC's young professional offshoot, called Generation Rescue, will hold its annual fundraiser on Thursday night. There are now eight chapters across the U.S., each helping raise money and provide volunteers to help refugees. Last year's event brought in almost $150,000. This year's, which will be held Thursday at the Conduit Gallery in the Design District, framed photographs and other items will be put up for auction, with all the proceeds returning to the IRC. It's money that will go toward helping refugees like Laila.
Though she says she loved her life in Turkey and has struggled stateside, Laila says she is grateful to have an identity and a job in America as opposed to the alternative: a status as an unknown refugee. Laila's husband continuously sends clothes and jewelry from Turkey, and they keep in contact as much as possible through video chats.
"I don't go anywhere a lot because of my situation… the lifestyle is very different here. It's not that I am unhappy because of Dallas, but because of the United States. I don't feel that here is my home," says Laila. "But, I have many goals in my life; I really like to study. I plan to go to university to improve my English and try to get a degree in America as I could not finish my Master's in Iran because we had to flee. It's hard without my husband; it's hard for him too; sometimes, I cannot wait anymore."
Get the D Brief Newsletter
Dallas' most important news stories of the week, delivered to your inbox each Sunday.