While sifting through the Dallas Morning News archives to research a page on fancy hotel facelifts, I came across a macabre murder story set in the Adolphus, Dallas' oldest grand hotel. It made me wonder about the place's paranormal rumors. The Adolphus, opened in October of 1912, has embraced its haunted reputation in recent years. Get a cocktail at the lobby bar, and a bartender will hand you a menu in a homemade history book that includes several poems about the hotel's supposed ghosts, the most popular revolving around a jilted bride.
But those stories—and the one about the Stoneleigh manager's mistress taking a fatal fall in a secret passageway—seem to have evaded newspaper print. I found nothing in the News' archives about a dead kept woman or would-be bride. Are those stories just Dallas folklore? Or did the reporters of yesteryear turn their heads when high-profile figures' skeletons toppled out of their closets? I don't have those answers, but what I do have is the tenacity to dig through decades of the News' grainy newspaper clips to find the real reports on people who died on Adolphus property. (OK, it was really a pretty basic search on the library website and I'm sure I missed a few.)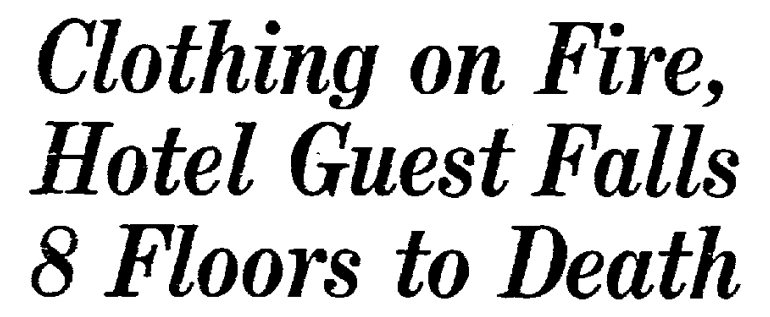 If your soul is too sensitive to get past the first few minutes of any Six Feet Under episode, now is the time to click on something else. But if you like history, and don't mind morbidity, read on. And since I'm probably minutes away from getting an angry call from a PR rep, I'll go ahead and add that all my experiences at the Adolphus—spa treatments, afternoons at the pool, tea at the French Room bar—have been exceptional. Still, next time I step inside the Adolphus walls, I'm definitely taking the stairs. 
[Note: Dates refer to when the story appeared in the paper, most names have been withheld, and nothing beyond the '70s is included.]