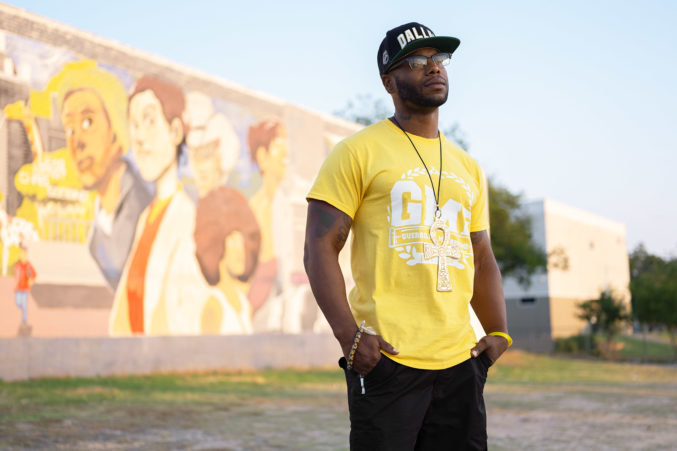 To Those Close to Victims of Police Violence, Smearing of Botham Jean's Character is a Familiar Refrain
Rakem Balogun, who was jailed after posting radical Facebook comments, did not know Botham Jean. But he is well aware of police and media assaulting a victim's character.
"When people in our community get killed from police brutality, the first thing they have to deal with is the media discrediting their character."
That comment was made to me about a month before Botham Jean was shot to death by an off-duty Dallas police officer inside his own apartment in the Cedars. I thought of it immediately after unidentified Dallas police officers leaked to the press certain details about the investigation into the murder in an attempt to smear Botham's reputation. The comment was made by Christopher Daniels, a young Dallas activist who is the subject of my feature story in the October edition of D Magazine. We are publishing it online early, and you can read it today.
Daniels, who now goes by the name Rakem Balogun, was arrested by the FBI this past January and charged with illegal possession of a firearm. The judge denied Balogun bail, and he spent six months in a federal penitentiary awaiting trial. While he was in jail, Balogun lost his job and his apartment, and his children had to move out of Dallas to be near other family members for support. Then, in May, the judge dismissed the firearm charge and Balogun was released.
Balogun's ordeal made no sense. He had committed no crime, posed no real threat to society, and yet was forced to sit in jail for six months. The FBI's investigation into Balogun's activities as a leader of an organization called Guerrilla Mainframe, which has been involved in organizing anti-police brutality protests in Dallas, as well as a former member and co-founder of the Huey P. Newton Gun Club, intensified after he made shocking comments on Facebook about the July 7, 2016 shooting of police officers in downtown Dallas. Even though the FBI will not comment on Balogun's case, it appears that he is the first person to be investigated under the agency's controversial "Black Identity Extremist" program, which has been criticized by civil rights organizations who say it permits criminalizing speech and activism.
Balogun made his comments about the character attacks against the victims of police brutality during a conversation about his Facebook comments. At the time, I was struggling to understand the extremity of the anger that underpinned them. I can now see that that anger is fired by the double standard which has been on display, yet again, over the past two weeks. When law enforcement or public officials show a willingness to protect the reputation of an officer, a department, or a city at the expense of respecting the dignity of the dead, it creates the impression that some lives matter less than other lives.
The anger over that double standard is what is driving the protests and actions that continued over the weekend—at AT&T Stadium, outside a strip club on Riverfront, in an Oak Cliff apartment complex, in the Martin Luther King Community Center in South Dallas, and elsewhere. The double standard has also played a powerful role in shaping Balogun's own life. His story offers an opportunity to begin to confront the costs to the lives of those who have borne the brunt of a systematic and generational miscarriage of justice. Until we can do that, we won't be able to find our way toward justice or peace.