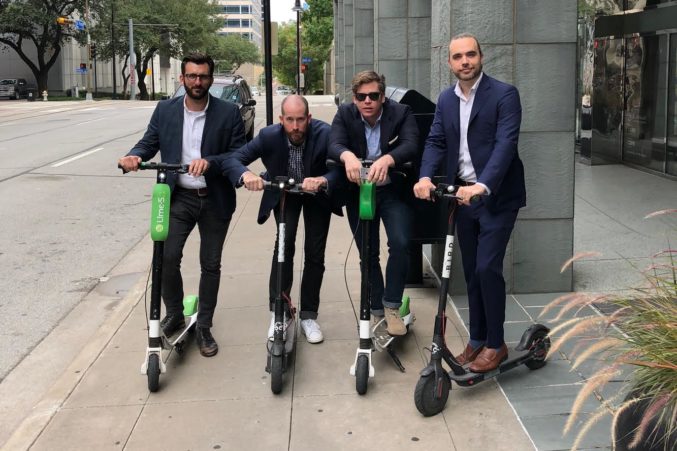 Results of the First Great Downtown Dallas Invitational Scooter Race
Rubbin' is racin'
Mayor Mike Rawlings had some stuff to say today at a luncheon held at the downtown Omni. If you're interested in that, you should read Matt Goodman's post. If, on the other hand, you are interested in racing, this right here is the perfect post for you.
Four sportsmen with D Magazine connections decided that today would begin the scooter racing season. And much like NASCAR begins its season with the biggest race of the year, at Daytona, the scooter racing season started with its biggest race, the inaugural Downtown Dallas Invitational, aka the DDI. While future routes will vary and were discussed at length during lunch, the first DDI route ran from D Magazine headquarters, at St. Paul and Ross, to the downtown Omni hotel (for that mayor thing). Your racers were Peter Simek, Tim Rogers, Matt Goodman, and some guy who wears a man bun. Scooters were paid for and mounted shortly before 11 a.m. And the race was on.
Man Bun had never ridden a scooter before. It showed. One block into the race, somewhere around the Robert Jeffress Jackwad Fountain, he made it obvious that he was not in contention.
The only racer who opted not to take the First Baptist cut-through was the rogue Rogers, who flew down St. Paul, trailing the trolley. That was a bad idea. The trolley is slow.
Somewhere near the Bank of America Tower, Rogers re-encountered Goodman. The record will reflect that several laws were broken as they jockeyed for position. Ultimately Rogers prevailed, he being the older of the two racers and, having already procreated, the man who cares less about his life.
That left only Simek to beat, father of three, a reckless sonofabitch who rides an unconventional one-legged style, using his left to push in the straightaways and lean in the turns. He's a madman. Rogers rode low, doing his best to reduce wind drag and catch the East Coast liberal. To no avail.
Swerving right onto Young, going against traffic, Simek ultimately squealed up to the Omni's front doors about 30 yards ahead of Rogers. He proceeded to do donuts in the porte cochere, burning the rear tire of his Lime scooter until the place smelled of rubber and victory.
Goodman was a distant third. We're not sure what happened to Man Bun.