Update: 8:23 p.m., 9/9: Amber Renee Guyger has been charged with manslaughter and arrested in Kaufman County. Jail records show she was booked at 7:20 p.m. Guyger, 30, is the Dallas police officer who shot and killed 26-year-old Botham Shem Jean in his apartment. She told investigators that she mistook it for her own. Her bond was $300,000; she made bail about an hour after she was arrested, according to reports. More below.
Update, 8:30 p.m., 9/8: The Dallas Police Department has now officially identified four-year veteran Amber Guyger as the officer who shot Botham Jean. Chief U. Reneé Hall had said the department would not identify the officer until charges were brought against her. Yet, she has still not been charged. The Texas Rangers remain point on the investigation.
Update, 6:30 p.m., 9/8: The Dallas Morning News is identifying the officer who shot Botham Shem Jean as Amber Guyger, a five-year veteran of the force who led a team that conducted high-risk arrests. The News says she was not indicted following a shooting in 2017, when she shot a man who had wrestled her Taser away from her.
Civil rights attorney Lee Merritt, who is representing the Jean family, spoke with the media Saturday evening and called for the officer to be charged. Merritt had earlier in the day tweeted out Guyger's name, but declined to identify her in the press conference. He said he mistakenly believed that the department had released her name, but noted that it was available "in the public domain."
He said interviews with law enforcement and public officials showed that there was "nothing to substantiate the claims" that Jean and the officer knew one another before the shooting. Merritt, who also represented the family of 15-year-old Jordan Edwards' after he was shot dead by a Balch Springs police officer last year, called for the Texas Rangers to act quickly and to treat Guyger in the same manner that non-police would be treated in a case such as this.
"It's now incumbent upon District Attorney Faith Johnson to stick to her word," he said. "We don't see young Jordan Edward's case as an anomaly but instead as hopefully a turning point in this community, where law enforcement does receive a message that if they commit a crime they'll be treated as criminals and not be held at a lower standard but to a higher standard than the average citizen."
Original Story, 2:30 p.m., 9/8: Pleading for patience from the community, Dallas Police Chief U. Reneé Hall said Saturday that the Texas Rangers asked the department to delay requesting a warrant for the officer responsible for shooting and killing 26-year-old Botham Shem Jean in his Cedars apartment.
Police have said that the officer, who has not been named, mistook Jean's apartment at the South Side Lofts for her own and shot and killed him upon somehow gaining entry. The rest of the specifics remain vague. In a news conference Saturday morning, State Sen. Royce West said that Jean's door was unlocked. Police arrived within four minutes of the shooting, and Jean died at the hospital. It's not clear whether the two knew each other. Hall said Saturday that the department moved to secure a warrant for manslaughter, but stopped at the behest of the Texas Rangers, who are now the lead investigators in the incident.
"The Texas Rangers had an opportunity to interview the officer. Based on that interview with the officer, they asked us to hold off on the warrant until they had the opportunity to investigate some of the information that was provided during that interview," she said.
Hall spoke with West Saturday morning during a community event at Paul Quinn College in southern Dallas. WFAA carried the interview live on Facebook. The department has not identified the officer, other than saying she's a five-year veteran who was coming off a 12-hour shift and was still in uniform at the time of the shooting. Her apartment was not on the same floor as Jean's. Hall asked the public to be patient until the Texas Rangers have information to share. She said the decision to hand over the investigation was made "to ensure total transparency in our operations."
"Now that we've turned that responsibility over to them, the ball is in their court to investigate and deliberate and come back with a decision," she said. "That is where we are. The Dallas Police Department will continue to update you as we're updated by the Texas Rangers, but they are the lead in that investigation right now and we're waiting on them to give us some additional information.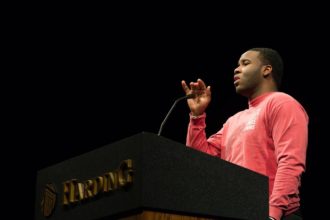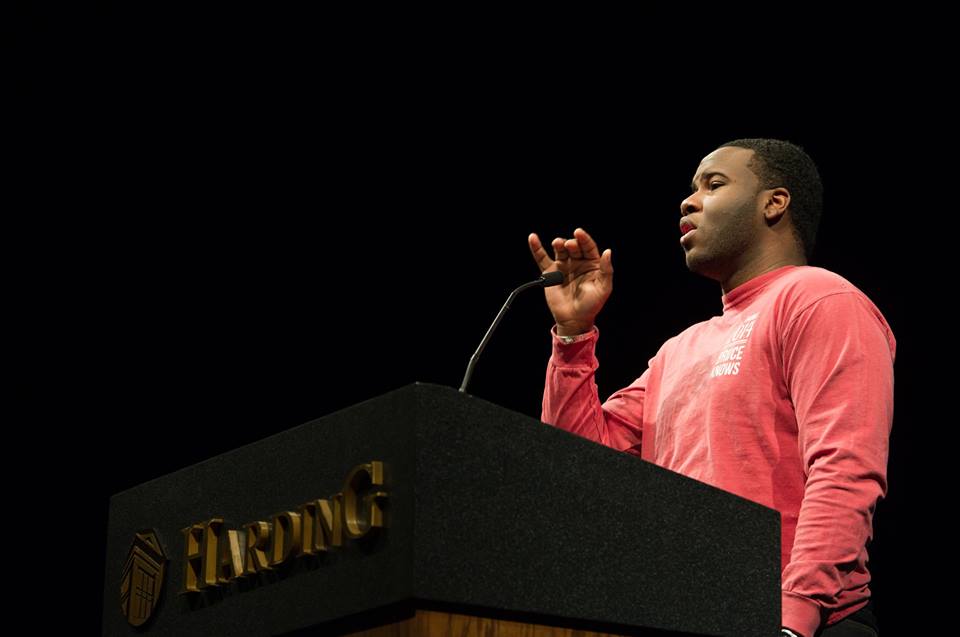 Before the town hall, Mayor Mike Rawlings addressed the media at Paul Quinn. He praised Jean's character, noting that he drove water bottles over to protestors who had occupied Dallas-Fort Worth International Airport after the Trump administration moved to block arrivals from citizens from seven majority-Muslim countries. He was a native of the Caribbean island of Saint Lucia, who graduated from Harding University and currently worked for the accounting firm PricewaterhouseCoopers. He was a dedicated Christian, often leading chapel while he was in college. He was a song leader at the Dallas West Church of Christ, the location of his Saturday afternoon vigil. Rawlings said he and West met with Jean's mother, sister, and brother-in-law Friday night, meeting them at the airport and driving them to their hotel. He said Jean's mother said she was "not angry," but "heartbroken."
"She is a very religious woman and her view on this was amazingly graceful in a peaceful way, but she's hurting so deeply," he said. "She wasn't wagging her finger at anybody, she was asking what happened."
The mayor said he's contacted the prime minister of Saint Lucia and planned to meet with him in Dallas later this week. ("This is an international story as well because we're an international city," he said.) He also reported speaking with Gov. Greg Abbott, who gave assurances that the Texas Rangers would deliver a transparent, independent investigation and "justice will be served in the long run." West called Jean's death a "homicide," but noted all the open questions.
"Is this a white on black crime? Yes. It was a white female officer, a Dallas police officer, who shot and killed a person from Saint Lucia who happened to be of African descent. Is this a race related crime? Don't know," he said. "There are a lot of questions that are still out there. I would hold any type of decision as to what transpired until all of the facts come in."
In a statement, Harding University President Bruce McLarty shared a favorite memory of his time with Jean. "At Lectureship one year, I asked him to lead singing one night. Because of the subject, there was a particular old hymn that I asked him if he would mind leading," McLarty said. "He didn't say anything about not knowing the song, but he had never heard it before in his life. He came up that evening and was just smiling and excited about leading it. He told me he had never heard the song before, but that day, he called back to St. Lucia and asked his grandmother to teach him that old hymn on the phone. So he shared it with us at Lectureship that night, and it was a truly special moment."