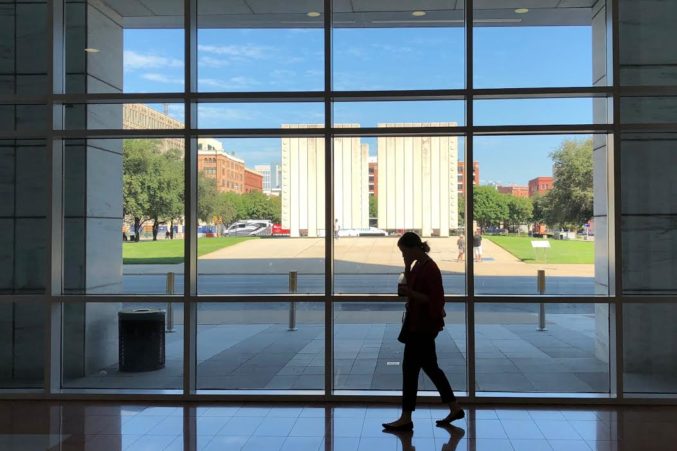 A Few Notes on My Jury Duty Service at George Allen Today
Bottom line: I am super into civics.
1. Jury duty is important. When you get that summons, you really should do the right thing.
2. My summons today was for duty at the George L. Allen Sr. Courts Building. That's where your civil stuff goes down, not your criminal trials. So, frankly, it's nicer than the digs you'll find at the Lew Sterrett Justice Center but maybe a step down from what you'll see at the Earle Cabell Federal Building. That's my impression anyway.
3. That said, the central jury room at George Allen has one major flaw. It ain't the chairs, which are comfortable (especially in the little "work room" in the back, where you can sit in rolling chairs that recline and have a bit of desk space for your laptop action). It ain't the phone charging stations, which are welcome. No, it's the temperature control. I'm not sure what's going on at George Allen. Everyone knows that ladies like it warmer in the office. Maybe too many women work in jury services? Maybe it's all those people sitting in one room, respiring? I don't know. But it's warm in there. My advice: if you don't need phone juice, find the seats in the hallway outside the central jury room. Way more comfortable.
4. Vending machines. There are three in an alcove that adjoins the central jury room. All three were out of order. The machine that dispenses snacks on the basement level is a disaster, health-wise. You can get a granola bar, but everything else is absolutely the worst thing you could eat. It's like they picked the lineup with the intention of giving everyone diabetes. The small cafeteria down in the basement is under construction; until it's complete, I request a vending machine selection upgrade.
5. The staff is solid. The jury services department was having computer issues today. They still managed to move the process along. And they were great about thanking people for coming down to do their civic duty.
6. Which reminds me: answering a jury summons and voting really are your two biggest civic duties — and rights. Don't shirk either one.
7. If you see me in a bar or restaurant, you can buy me a drink or meal and say, "Thank you for your service."