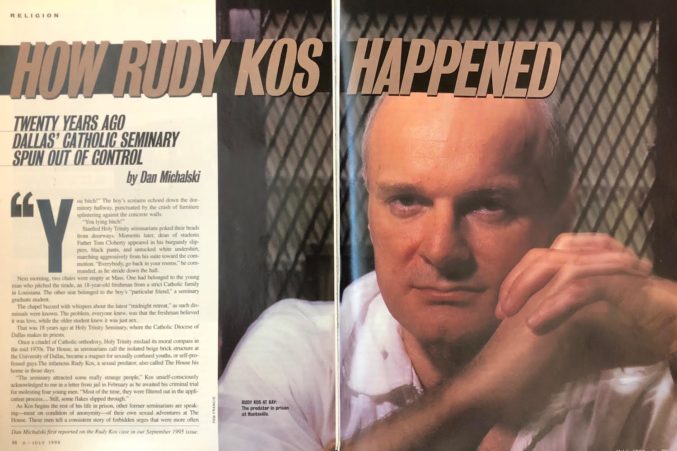 The Past Sins of Holy Trinity Seminary Continue to Haunt the Dallas Diocese
Edmundo Paredes is just the latest example of a seminary that was out of control.
As a Catholic, I was saddened but not surprised by the news over the weekend that another Dallas priest has been accused of molesting children. Parishioners at Oak Cliff's St. Cecilia learned from Bishop Edward Burns himself that Edmundo Paredes, their pastor for 27 years, is under investigation for allegedly molesting boys. Paredes vanished last summer, after he admitted that he had stolen at least $60,000 from his church. Church officials think he might have returned to his native country of the Philippines.
I was not surprised by the news because, of course, we all just learned what happened in Pennsylvania. And also because I remember the Rudy Kos story. What the folks did at the Boston Globe was great work, but the Morning News' Brooks Egerton beat them to the pedophile priest story by several years. In Dallas, the Kos story was the nadir for the diocese. Jurors here concluded that the diocese had been negligent and awarded nearly $120 million to 11 victims.
In 1998, D Magazine published a story titled "How Rudy Kos Happened," written by Dan Michalski. Dan did some deep reporting on the culture at Holy Trinity Seminary, the Irving school that turns out priests. It's hard to fathom what was going on there when Kos was a seminarian in the late '70s. Sexual relationships among students were tolerated by the priests who were in charge. There was an infirmary in the basement where students hooked up with guys they brought back from bars on Cedar Springs. When he was there, Kos was at the center of it.
Which brings us back to Edmundo Paredes. Like Kos, he is a graduate of Holy Trinity Seminary. Kos was at the seminary from 1977 to 1981. Paredes was there, a diocesan spokesperson tells me, from 1981 to 1985. Many of the men under whose watch the abuse happened have escaped their just earthly reward. Let us pray that Paredes is caught and forced to confront his accusers.