Tales From the Dallas History Archives: Portraits of Dallas ISD In the 1960s
With school back in session, travel back to half a century ago.
By Brandon Murray
Published in FrontBurner
August 24, 2018
10:00 am
August is back to school time for many families in Dallas and its neighboring communities. And while this can be a time of anticipation and discovery for young students who find themselves in a new class with new subjects to learn, it wasn't always this way. Especially not in segregated Dallas.
In the landmark 1954 Supreme Court ruling Brown v. Board of Education, segregation in public education was deemed unconstitutional. This ruling struck down the idea that skin color was an acceptable criterion for deciding which school a child could attend.
Desegregation of the Dallas Independent School District (DISD) was a long process. It involved subsequent court decisions that lingered even after DISD declared itself desegregated after 18 African American students attended previously "white only" schools on Sept. 6, 1961. This day is depicted in a Dallas Morning News photograph titled, African American children are escorted by their parents to Thomas Edison Elementary School.
Examples of further desegregation issues in the years that followed are evident in photographs such as this September 1975 Dallas Times Herald image, Dallas Independent School District officials explain the district's desegregation program.
This was an issue important to many, including civil rights leader A. Maceo Smith, seen in this November 1972 Dallas Times Herald photograph at a City Council meeting regarding desegregation.
Education in Dallas and Texas can be examined in a number of historical contexts by using the collections in the Dallas Public Library's Dallas History & Archives Division. The collections include a number of historic photographs, some of which are available to view in the library's online catalogue.
Regardless of what aspects of Texas and Dallas education are of interest to you, these photographs are a powerful historical research tool. Let's look at a few.
The work of Mr. Marion Butts played an important role in documenting African American history in Dallas over several decades. In this 1963 Marion Butts photograph below, seven students and teacher use the school library during B.F Darrell School Library Week.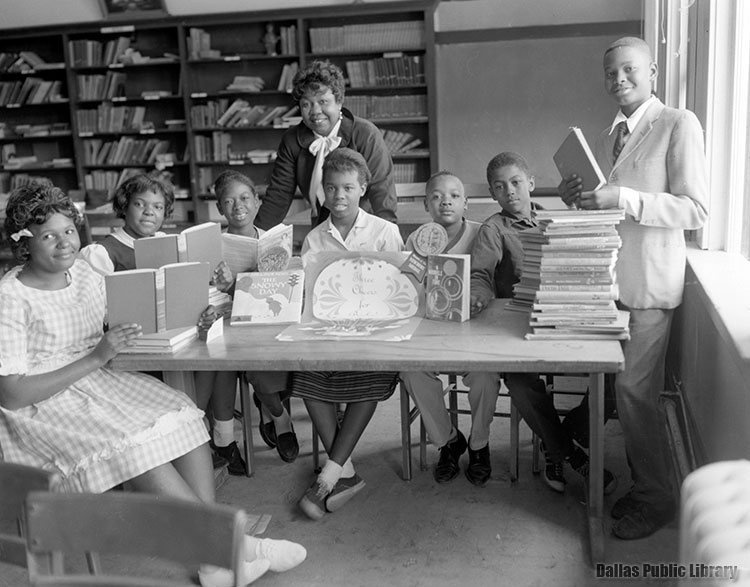 Perhaps your historical interest is rooted in school construction and architecture. This aspect of Dallas area schools is highlighted in images such as this December 13, 1969 Dallas Morning News photograph of a construction scene at Skyline High School.
The below 1920 photograph from the City Photographers Collection shows the exterior of Dallas High School, complete with utility lines visible in front of the building.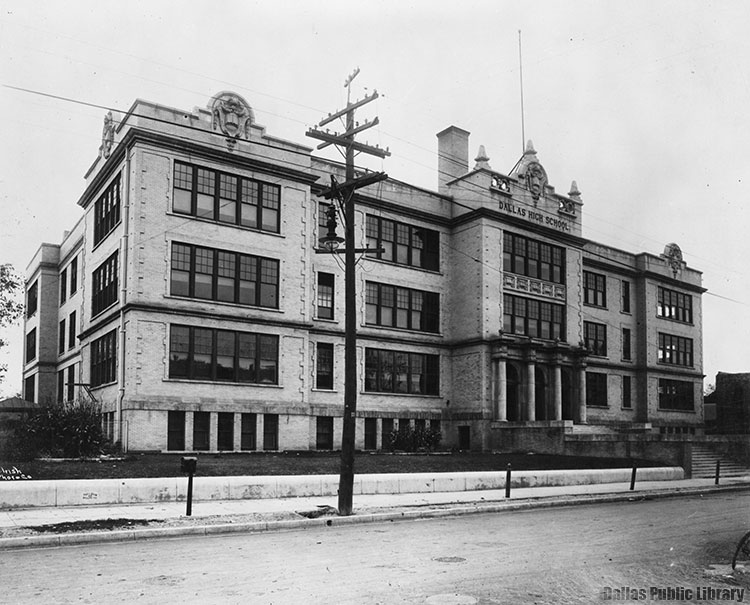 Want to learn more? Try searching online in the catalog. Go to "Advanced" and use the "Limit By" option to select "Digital Archive" then type in your topic.  Contact Dallas History & Archives Division, Dallas Public Library at (214) 670-1435 or email [email protected] with questions about the fascinating photographic resources available.
---
Brandon Murray, a librarian and archivist in the Dallas Public Library's Dallas History & Archives Division, writes about North Texas history for D Magazine. See more of this series here.