In October 1991, Rod Davis profiled John McCaa for us. With yesterday's announcement that the ABC Channel 8 anchor will retire in March, I thought we'd pull this one off the shelf. Reading it will give you some idea of how much the city has changed. I'll put Rod's lede here and then let you jump if you're inclined to continue. If the text in our archive is a little sloppy, forgive us. Older stories like these were digitized with imperfect optical character recognition.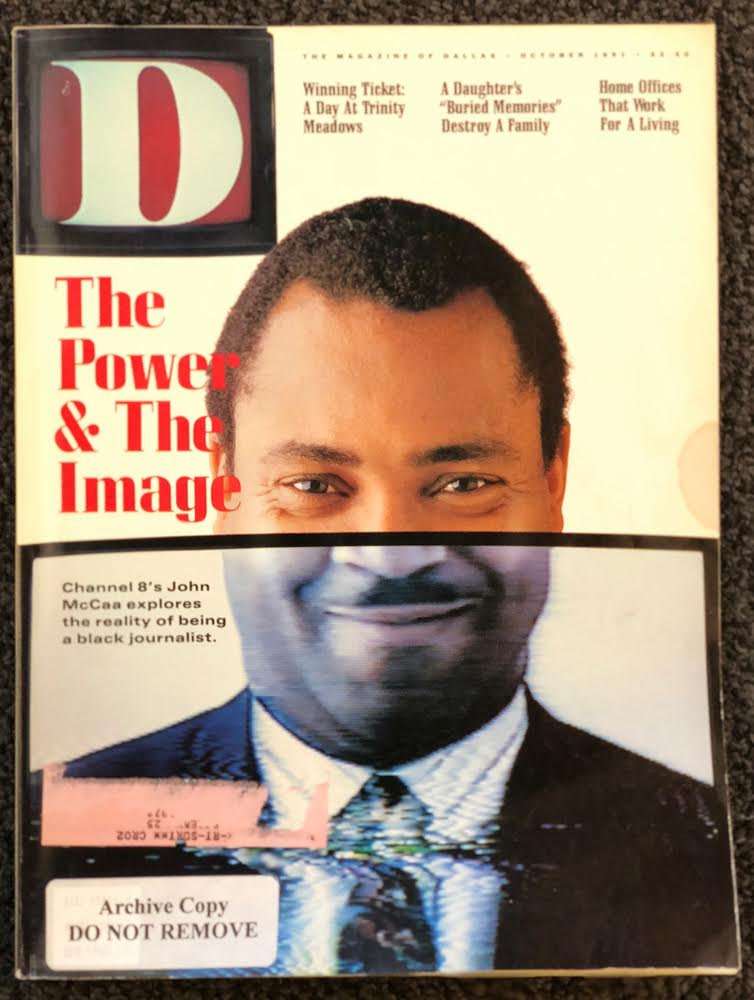 The Power and the Image
By Rod Davis
This is very eerie," Channel 8 weekend anchor John McCaa whispers from his front row seat in the sunken amphitheater that is the meeting chamber of the Dallas City Council. In the pit of politicians and reporters, past the tripods, cameras, cables, and photographers, the members of the council are moments away from a historic vote — a long overdue compromise on the fractious redistricting plan. You'd think the place would be packed with the usual suspects — a gallery of activists, spectators, and latter-day Madame Defarges come to see the latest bloodletting. But nobody's there, and that's what is bothering McCaa, who, though no longer a reporter, has rushed over in the midday heat to back up City Hall correspondent Dave Evans. "I don't get it," says McCaa, adjusting his tortoise-shell reading glasses and making an entry in his note pad. "This is a very important day and I look around and see maybe 75 people here to watch it."
Depends on how you look at it. To McCaa, the room may be half empty, but to the 75 people craning their necks to check out the arrival of the only black anchor at the top-rated television station in Dallas, the place has just been filled to the brim. One of the most frequently seen African-American media figures in Dallas, McCaa couldn't even make it through the lobby of City Hall six floors downstairs without being stopped a half-dozen times, mostly by black people. Some congratulated him — "you make us proud," said one elderly woman. Some sought his advice — a bearded man in overalls and a ball cap wanted to ask him how to approach city bureaucrats about a flooding problem at his South Lamar Street barbecue business. Some just wanted to call out, "Say, brother –," and raise a friendly fist in solidarity. Even the cops at the metal detector outside the council chambers had perked up when McCaa arrived.
Part of that is old McLu-hanesque hat. McCaa is on TV and TV makes life, even politics, seem real. McCaa's presence is evidence that something important is going on, and he lends an event the kind of fame by association you think you gel by random encounter with a celebrity. But there's more to it. Later in the afternoon, subbing for the ailing Chip Moody, McCaa sits at the anchor desk next to Lisa McRee. He will bear the tale of the council's vote — a black man conveying the news of a black political victory in a city in which blacks, along with browns, now constitute a majority (more than 51 percent) of the population. To describe McCaa at that moment as anything less than a social icon would be like describing Dr. Martin Luther King Jr. as just another preacher. In an age in which television is the dominant source of mass information in our society (polls say 95 percent of Dallas-area households watch some TV on a weekly basis; only half read daily newspapers), McCaa is the perfect visual image of the ascension of tangible black power in a changing Dallas. A figure who quite transcends his role on camera, he may be, at least symbolically, the most influential person of color in the city.
Get the D Brief Newsletter
Dallas' most important news stories of the week, delivered to your inbox each Sunday.