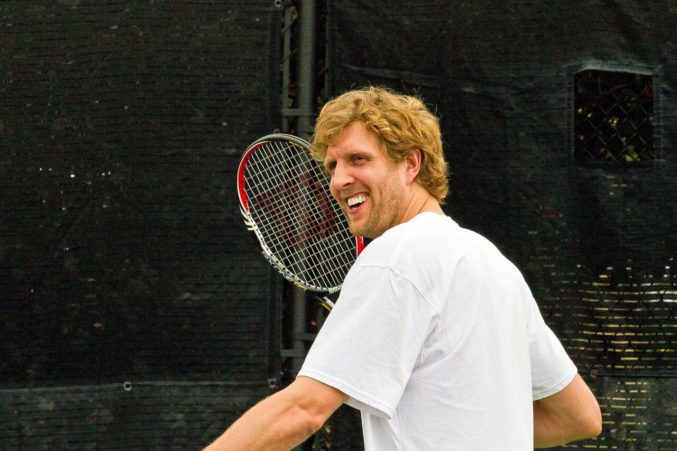 Dirk Nowitzki Brings Back the Love to the SMU Tennis Center
With Boris Kodjoe on the courts, the tennis will be hotter than ever.
Last year I attended Dirk Nowitzki's Pro Celebrity Tennis Classic at SMU and witnessed Owen Wilson battle it out with Andy Roddick and Nowitzki play mixed doubles with one of my former tennis pros and Fila model Kseniya Bardabush. (Who even remembers who he made his wife play with?). This year, Roddick and Grand Slam doubles champ Mark Knowles are back, along with actor Boris Kodjoe (Soul Food, Code Black). I couldn't place Kodjoe at first, which sent me down an IMDB rabbit hole to find this:
Kodjoe was born in Vienna, Austria, the son of Ursula, a German psychologist of partially Jewish descent, and Eric Kodjoe, a Ghanaian physician who is of the Nzema people. He was named after Russian poet and writer Boris Pasternak. Kodjoe's great-grandmother was Jewish and died in the Holocaust; his maternal grandmother survived the war in hiding. Kodjoe's parents divorced when he was six years old. Kodjoe is fluent in German, English, and French, and speaks some Spanish. He has a brother named Patrick and two sisters named Nadja and Lara.
He pretty much had me at Pasternak. Then I discovered that Kodjoe turned to acting because of a career-ending back injury after earning a tennis scholarship at Virginia Commonwealth University. The dude is legit.
Here he reveals what's in  his tennis bag:
Here he plays doubles with the Bryan brothers:
Here he uses a nutcracker and speaks German:
This year's event will be held Saturday, September 15 at the SMU Tennis Complex from 11 a.m. to 3 p.m. Tickets are $20 for adults and youth; children 3 and under are free. Parking is available in the Mustang Parking Center at 6001 Bush Avenue. Proceeds benefit the Dirk Nowitzki Foundation. Get your tickets here.