For the 10th installment of this series on disappearing sidewalks and the outright hostility of Dallas streets to anybody not in a car, I wanted to do something special. So contained here are 10 closed sidewalks, all encountered on a 1.5-mile lunch break round-trip stroll through downtown Dallas.
Let's start with the east side of the Saint Paul DART rail station, near the future site of one of these parks.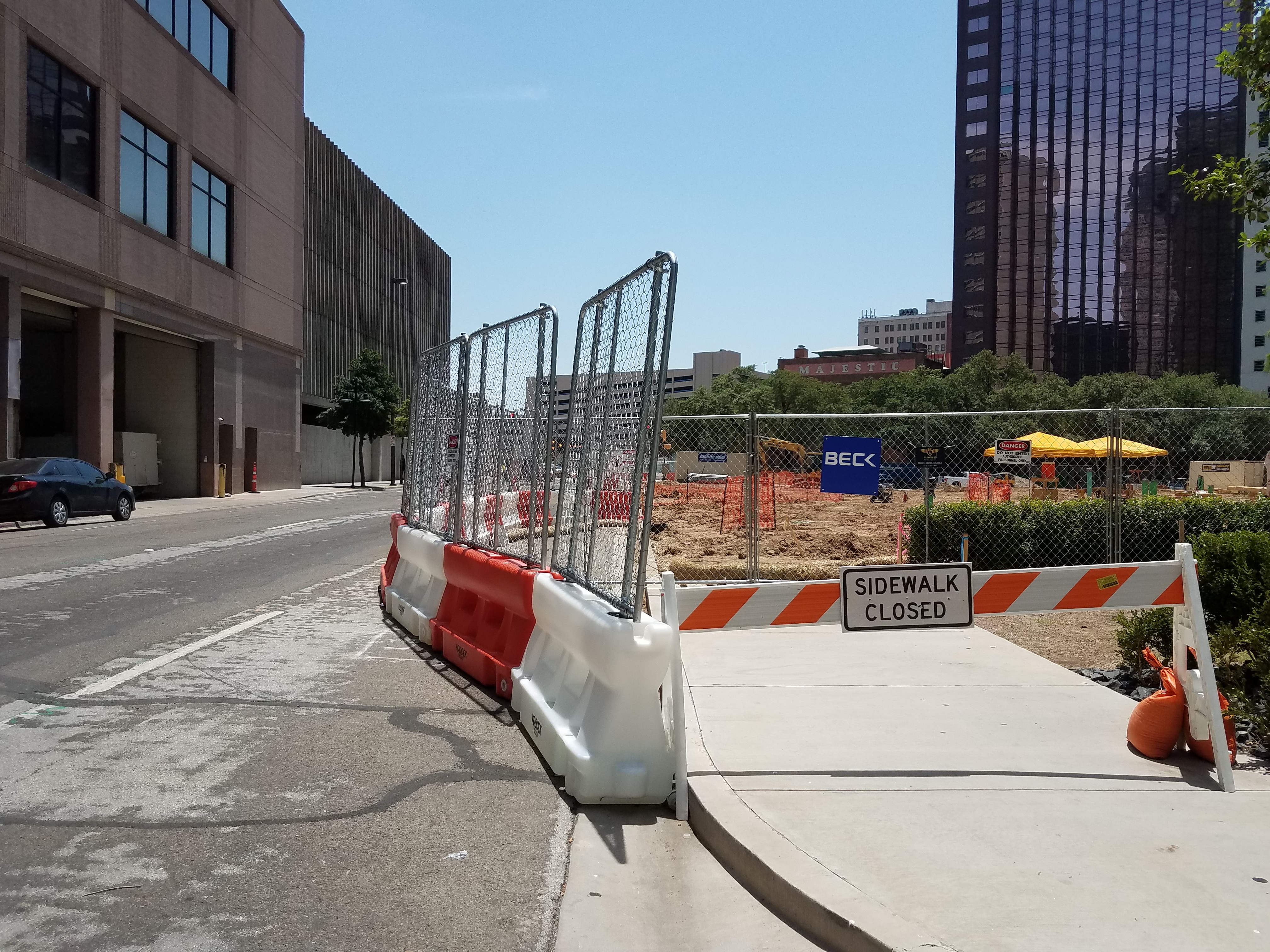 Darn. What about the west side of the station, on Saint Paul Street?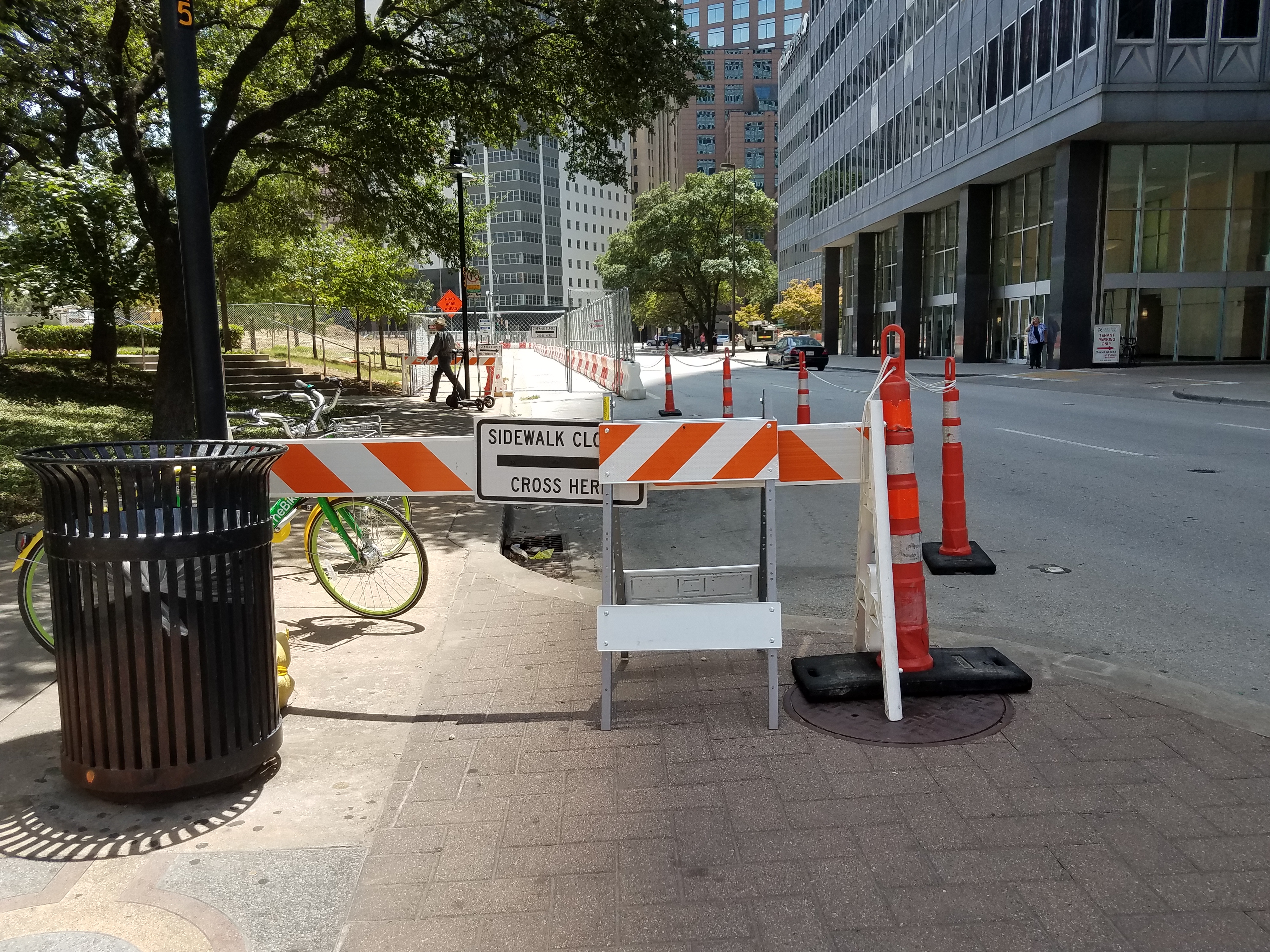 Here's Harwood and Commerce, where the Dallas Municipal Court building is being turned into the new home of UNT's law school.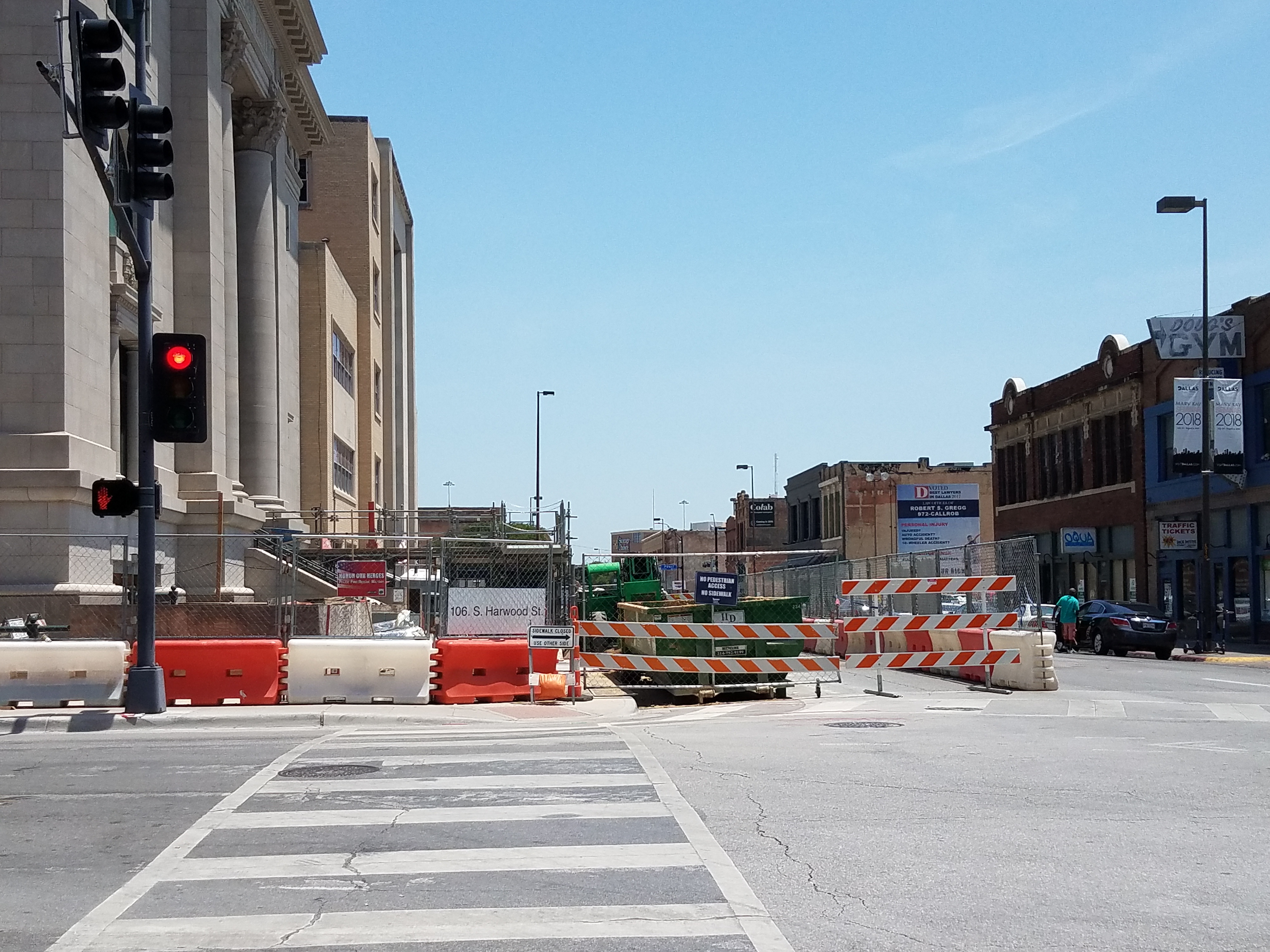 The south side of that same intersection, across Harwood from the Dallas Morning News HQ: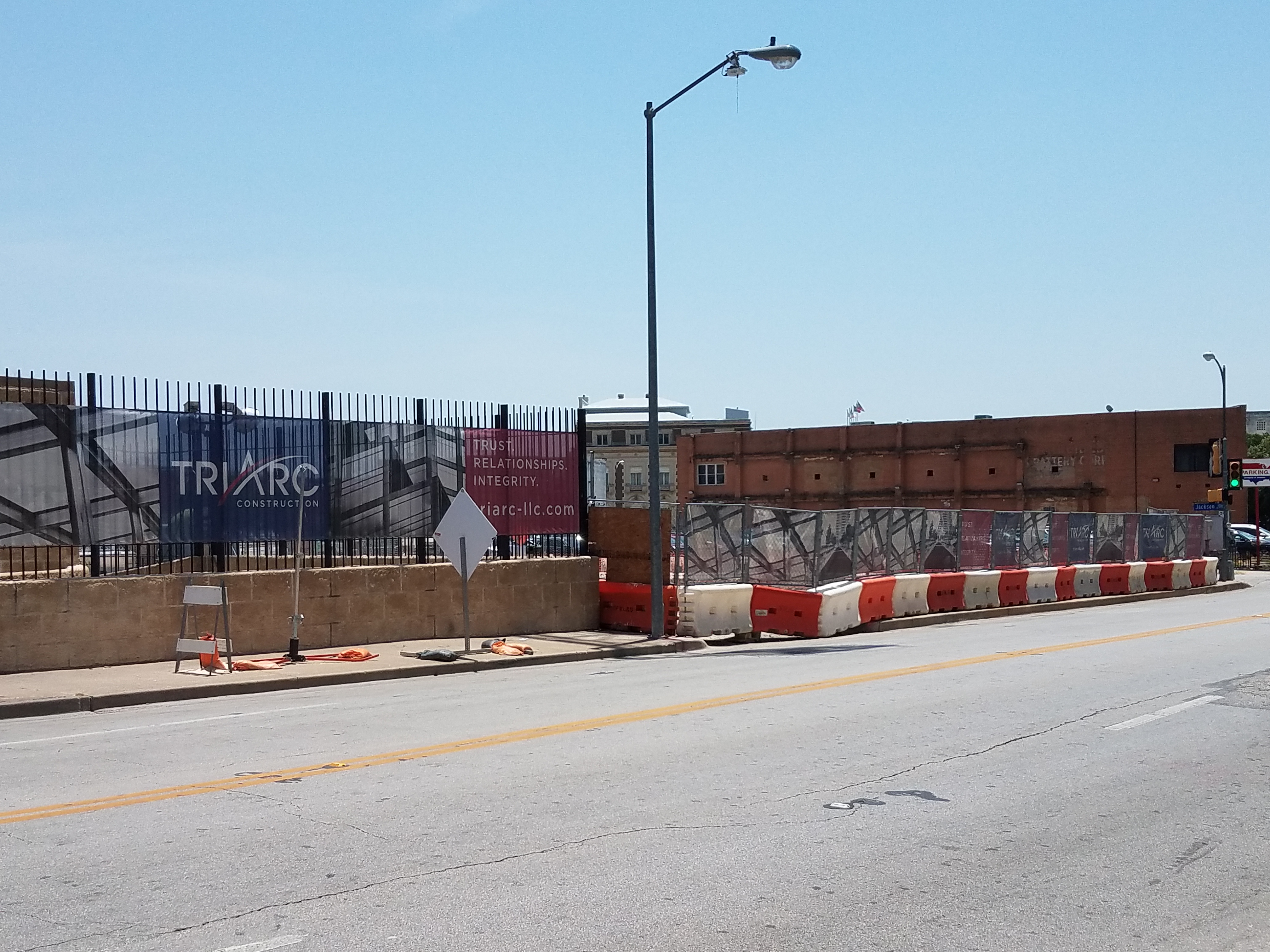 Commerce and Ervay, looking south toward the library. This is because of work on the parking garage adjacent to the Hampton Inn & Suites: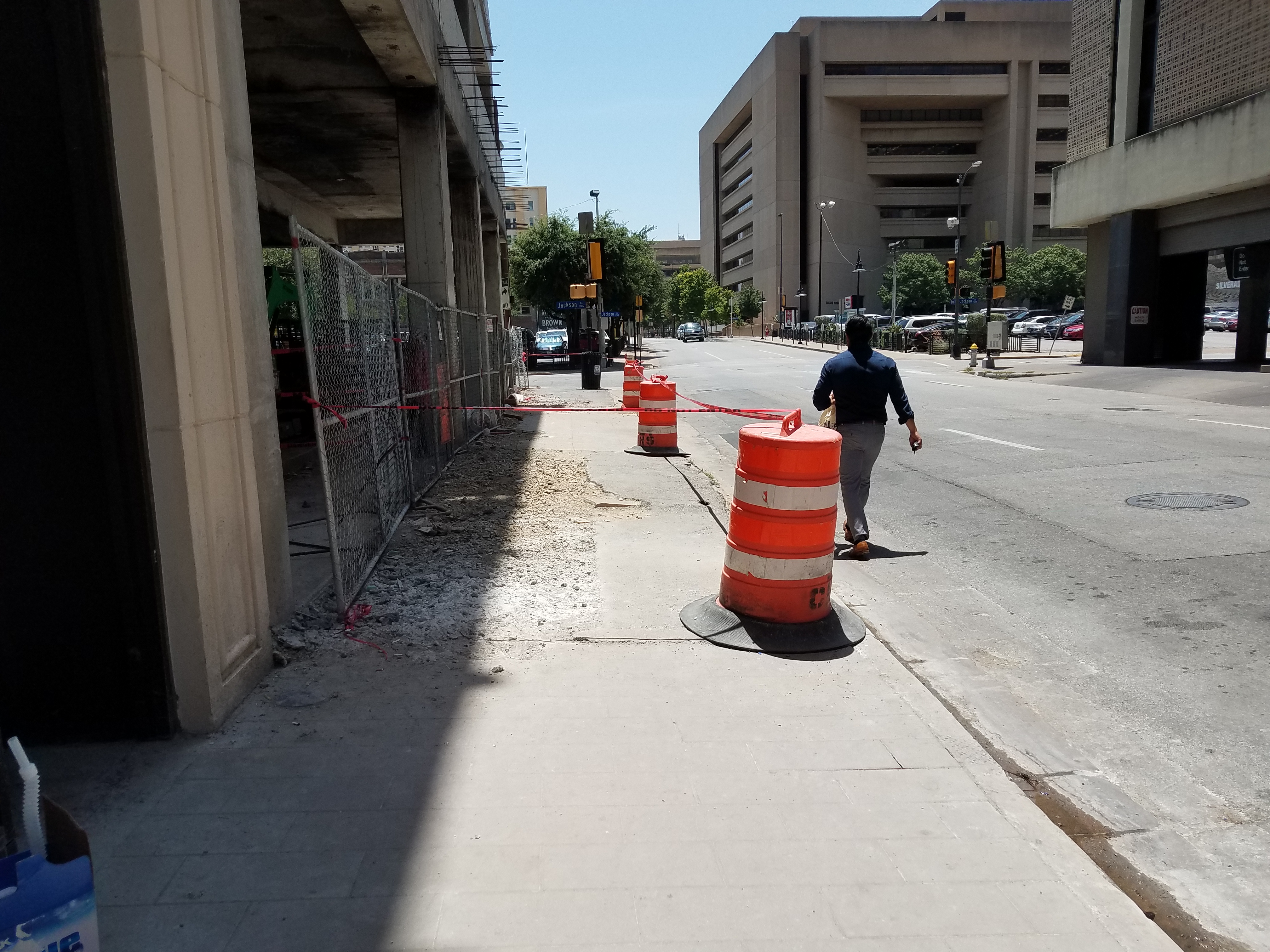 More Commerce, in front of AT&T HQ, for the forthcoming $100 million AT&T Discovery District and, God help us, its six-story video wall.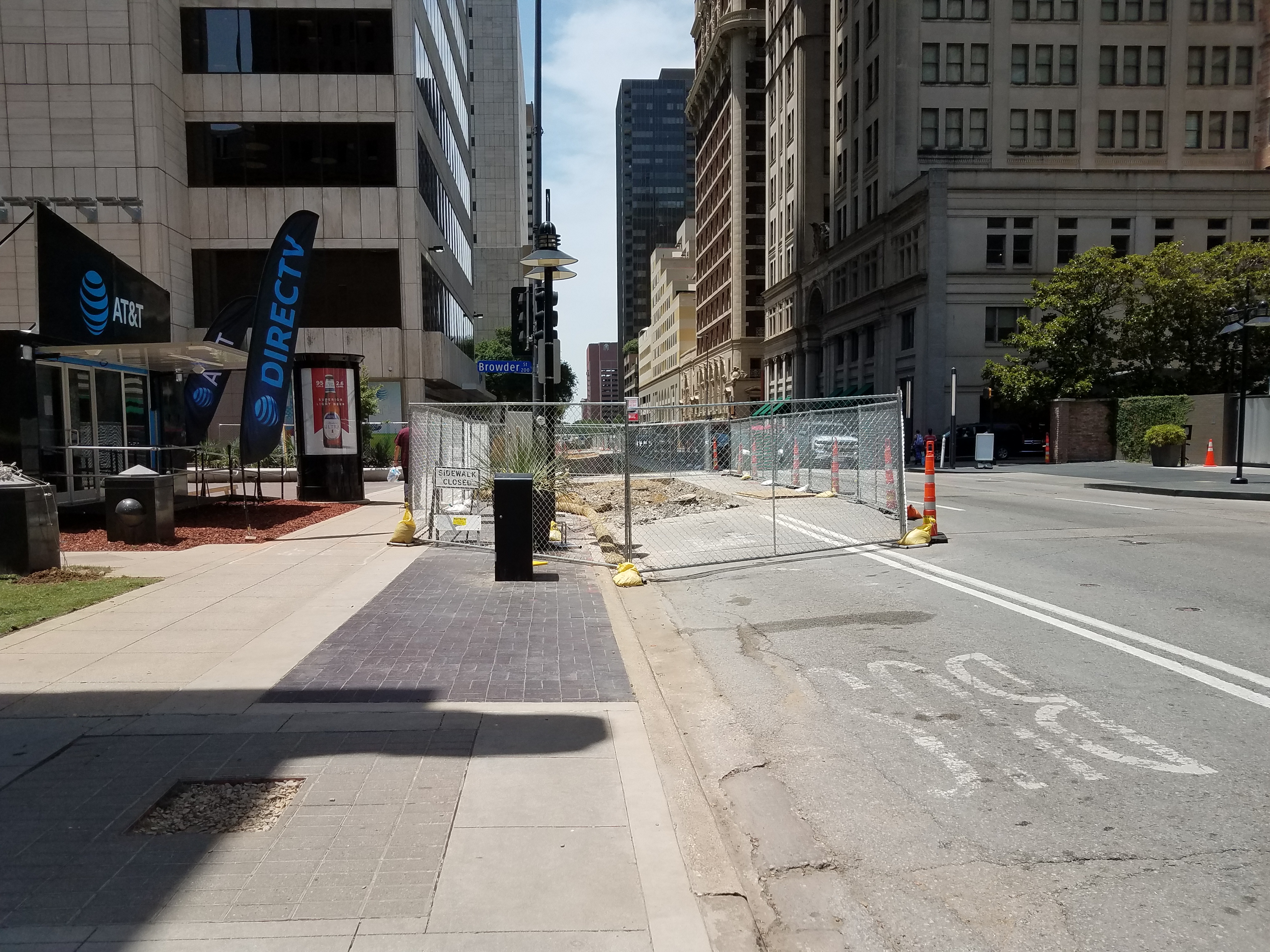 More AT&T, from the other side of the street and a block or two west, near the Adolphus. We're going downtown!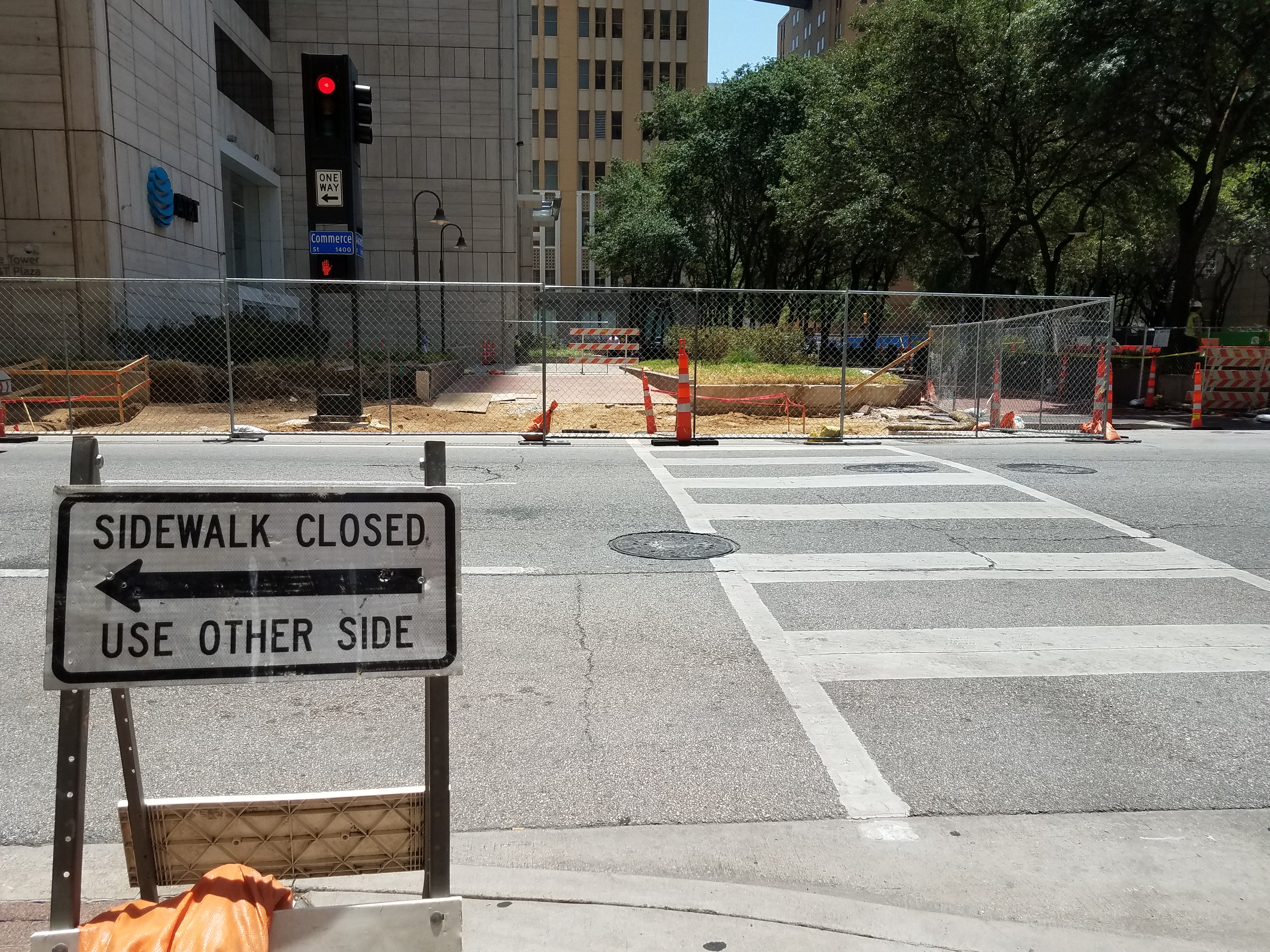 The infamous Drever, at Elm and Akard. This has been going on for something like a year at the site of the troubled development.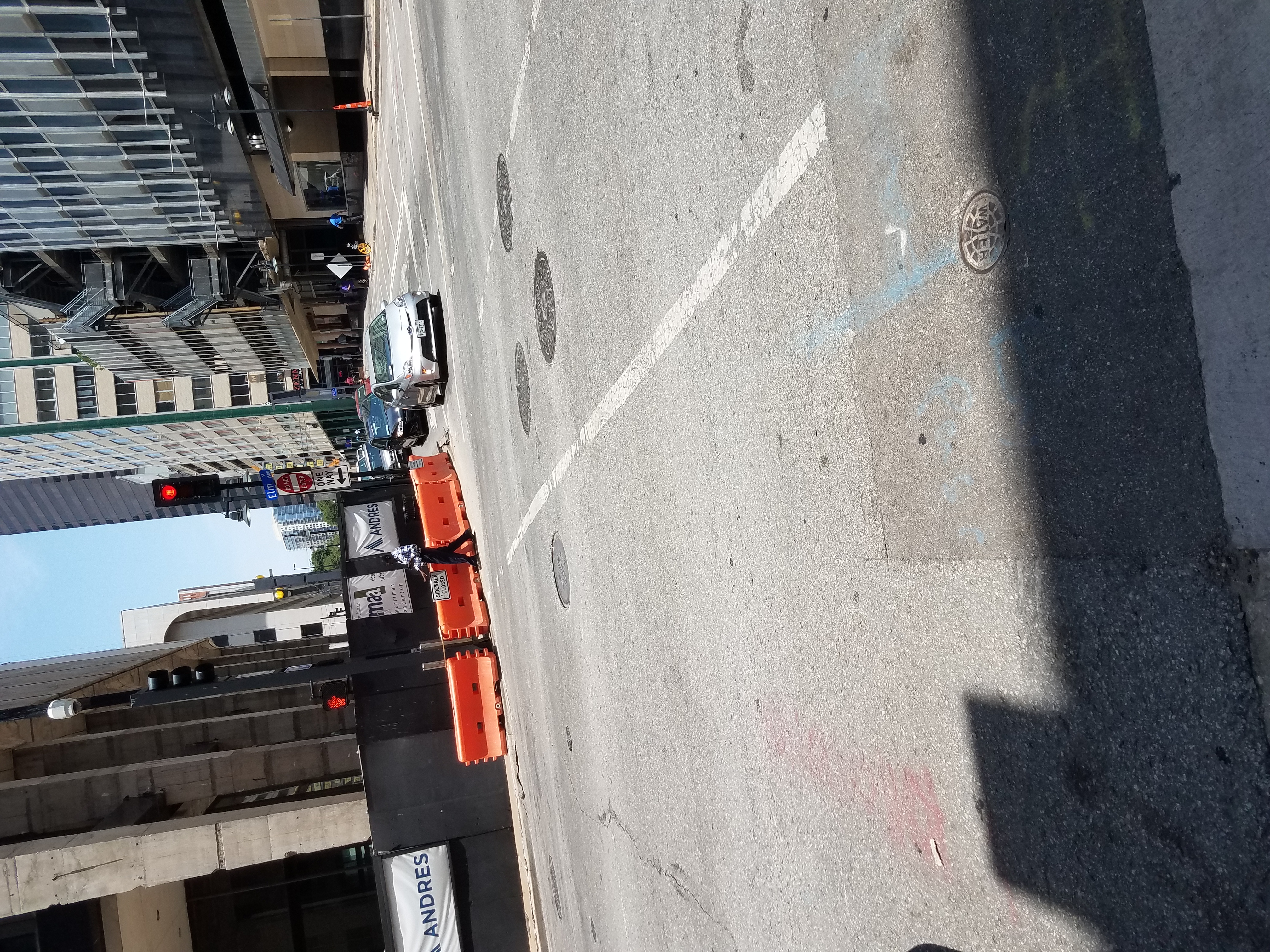 Not even sure what they're even doing below, and at this point in my 1.5-mile walk I'm beginning to think all these closed sidewalks are just a permanent new feature of a Kafkaesque reality none of us will ever really be able to explain, but this is the southeast corner of Elm and Akard: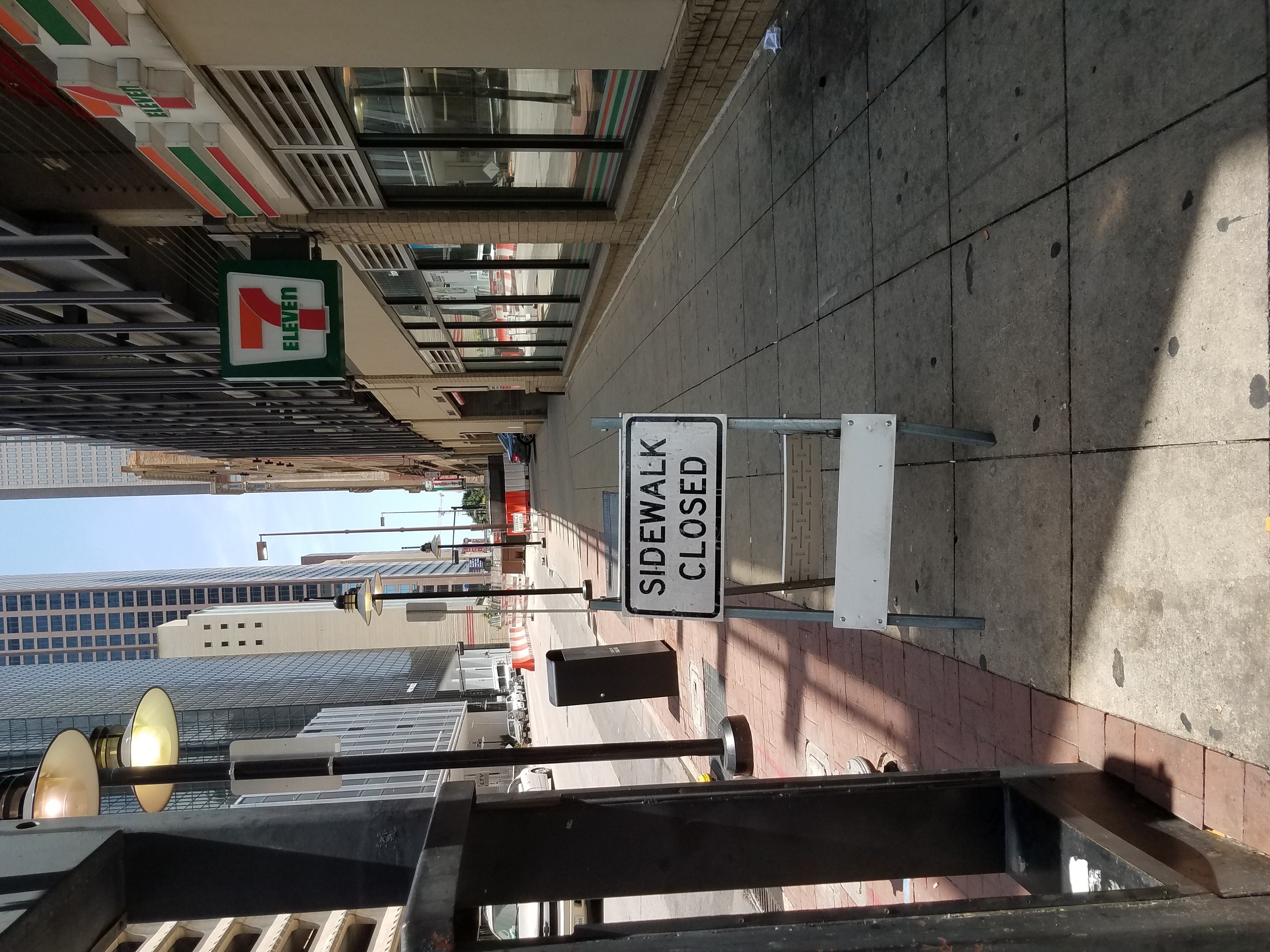 To take us home, here's a look at Saint Paul Street, where work on a parking garage for Fortis Property Group continues. This is the same closed sidewalk that inspired the first post in "Dallas: The City That Hates Pedestrians," more than five months ago. Still closed. We've come full circle.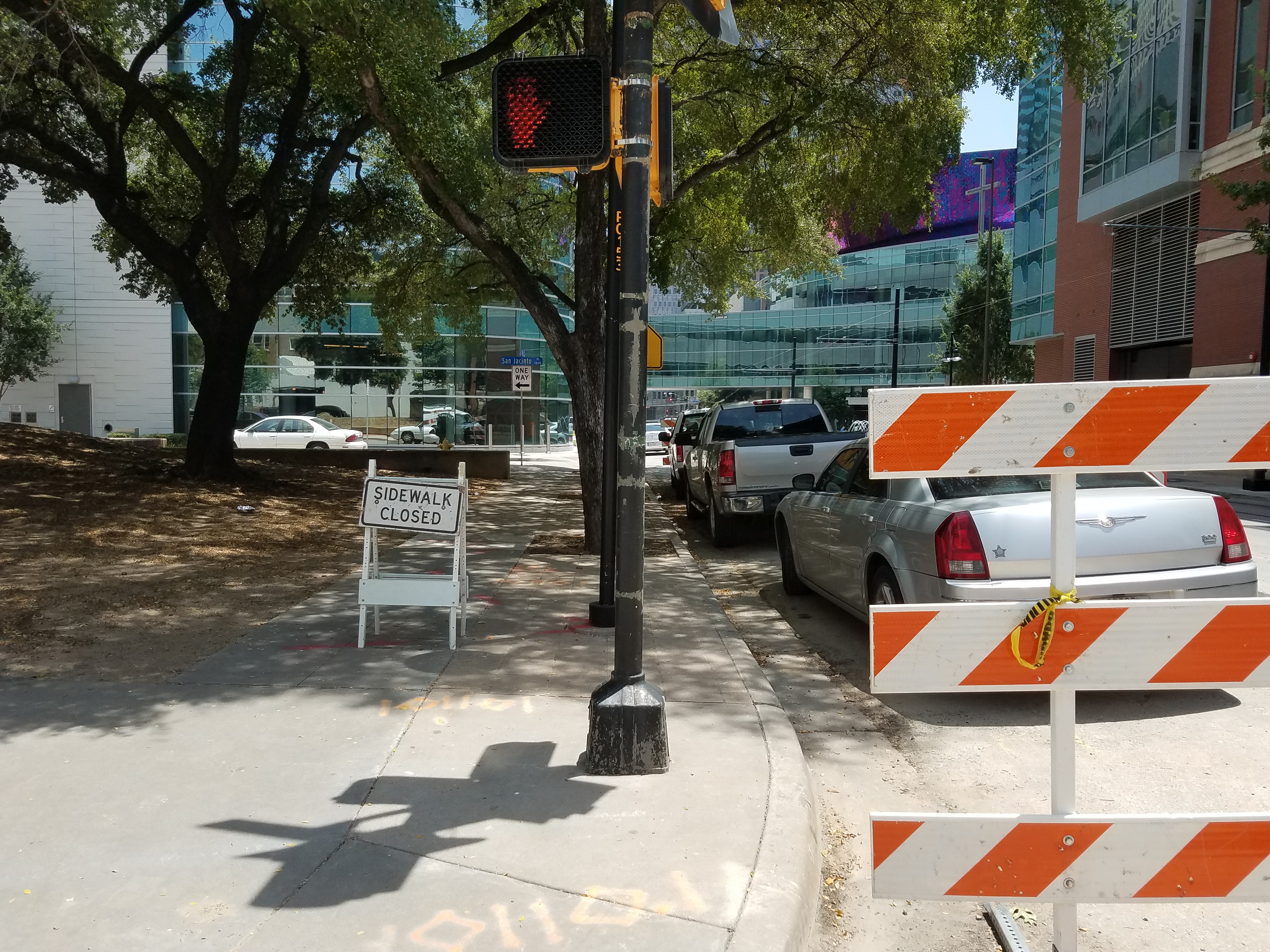 Not to flog a horse that's been dead since at least "Dallas: The City That Hates Pedestrians, Pt. 5," but these sidewalks lost to construction sites, indicative as they may be of good things to come for downtown Dallas, are also indicative of the way we continue to prioritize cars over people, some ill-defined future over the present.
We also shouldn't assume that all of these developments will necessarily make downtown Dallas more walkable. Sometimes they remove the "sidewalk closed" signs in front of these fancy new real estate investments only to reveal that the sidewalk has been replaced by car lanes.
---
Send your photo examples of Dallas hating pedestrians to [email protected] For more in this series, go here.
Get the D Brief Newsletter
Dallas' most important news stories of the week, delivered to your inbox each Sunday.