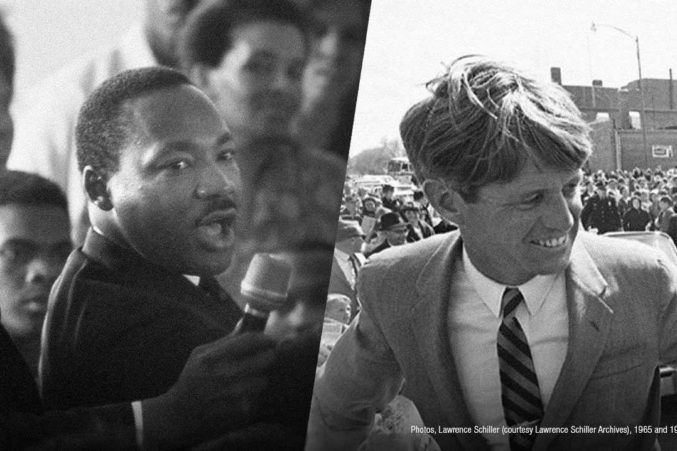 Things To Do In Dallas This Week: June 4 – 7
How Martin Luther King Jr. and Robert F. Kennedy aligned; the secret of Saturday Night Live.
Monday,  June 4
The last time I saw performance artist and musician Hannah Weir onstage as Polecat, she strummed her electric guitar with a knife. The last time I saw musician and performance artist Sarah Ruth perform live, she mostly just used her voice, improvising operatic incantations that seem to taunt pastoral ghosts. This resourceful pair had time to plot on tour with Asukubus this spring. See them as a duo at RBC for the experimental Outward Bound Mixtape series.
TRU (Texas Recordings Underground) Radio now takes over Off The Record each first and third Monday. This is very good news. Electronic music encyclopedia Gavin Guthrie (TX Connect) brings in guest producers and/or DJs to hold court from 6-9 p.m. (it's also livestreamed at terryradio.biz). Tonight, Jake Schrock appears for the third installment after two entrancing records saw the light recently: his own debut LP Tropical Depression for Holodeck Records, and an EP by Francine Thirteen, on which he plays analog synths.
Tuesday,  June 5
At the tragic end of it all, Robert F. Kennedy and Martin Luther King Jr. had support of civil rights, a commitment to the poor, and opposition to the war in Vietnam in common. They also had the same photojournalist document their work. Lawrence Schiller's images loom large ahead of the short span in 1968 during which King and Bobby were killed. With the support of Getty Images, the mostly photographic exhibition Rebel Spirits: Robert F. Kennedy and Martin Luther King Jr. opens at the Sixth Floor Museum. 
Harry Styles is at the American Airlines Center. His new song "Medicine" is making it onto those Pride Month playlists.
Wednesday, June 6
The next rung up from Chicago's Upright Citizens Brigade Theatre, The Second City has long been known as a feeder for Saturday Night Live. (Gilda Radner was there before Lorne Michaels scooper her up as the first SNL cast member.) The Second City's touring ensemble reaches the Wyly tonight through Saturday.
Shania Twain is at the AAC behind an album that chronicles her husband's affair with a close friend. The songs are all over the map, emotionally and sonically. (In a sad gesture of forced calm, even some reggae tones appear.) Months ago, her PR reps were all about scheduling interviews ahead of the show. The Canadian country singer has since decided not to do press. It's probably because she finally weighed in on the 2016 U.S. presidential election.
Thursday,  June 7
Another photography exhibition, this time at the Ana G. Méndez University System's newly opened art gallery, brings visitors into the physical, tactile world of need after Hurricane Maria. Amara Abdal Figueroa, a graduate of RISD's architecture program, shows photographs of her biomediation process in Raw Material | Materia Prima. Read more about her approach in this piece by Avi Varma.