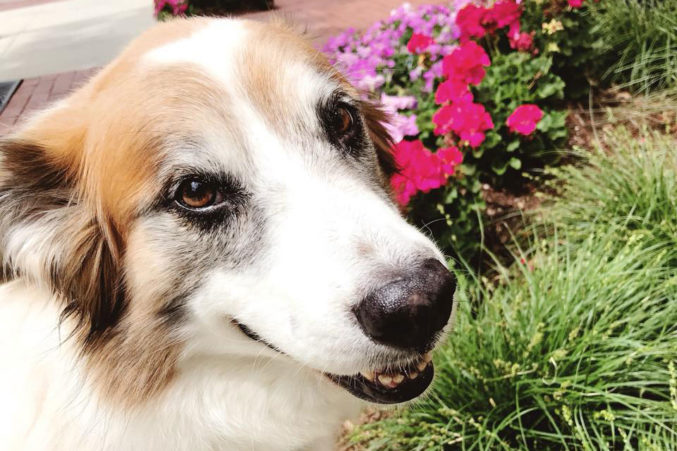 Introducing Bobo, Voted the No. 1 Cutest Pet in Dallas
The competition was fierce, but the people have spoken. Meet Bobo, an 11-year-old Aussie Shepherd mix. Thank you to everyone who participated.
After coughing up a furball on launch day, our Cutest Pets in Dallas competition started to purr—adorable animals facing off for the title, the honor, the glory, of being named the Cutest Pet in Dallas. We received thousands and thousands of votes on hundreds of pets. Dogs, cats, donkeys, a squirrel, a kangaroo, even a rooster. (I believed in you, Roo Paul.) All loyal and true companions. All cute. There were a lot of vocal "aaaawwwww"s going around the office this last month.
But in the end, one had to be chosen. One had to be the cutest. And the people have spoken.
Meet Bobo, an 11-year-old Australian Shepherd mix, and the new Queen of the Dogs.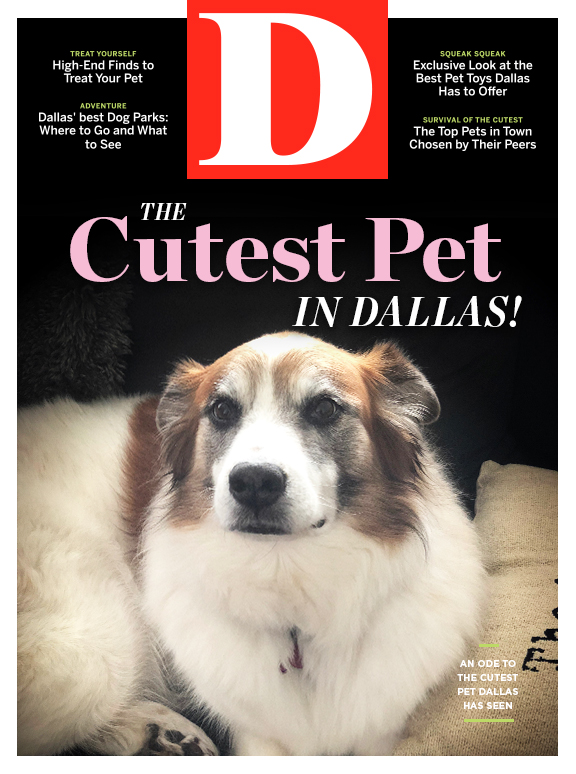 As the winner, Bobo will be getting a photography session with a D Magazine pro, and will be featured in an upcoming issue of the magazine. Bobo will also be on Channel 4 at about 8:45 a.m. Monday. I'm told she's great on camera.
Bobo, at 77 in dog years, triumphed over the puppies of the bunch. "This should be an inspiration to us all…We can peak in our 70s," jokes Beth Bentley, who adopted Bobo from a shelter in Tucson, Arizona when Bobo was just six months old. "She's the Betty White of doggies."
Bentley says Bobo is sweet-natured and affectionate on top of cute. She's a "Velcro dog," more interested in her human friends than in toys or playing fetch. The kind of dog that gets along with other dogs and with people. And she's a talker, eager to use her voice to get attention. Beth is prepping Bobo for her media tour, taking the dog to get groomed on Sunday and letting her friends and family know about the win.
Congrats again to Bobo and to Beth! Thanks to everyone who participated and helped raise money for the Humane Society of Dallas County, and to all the other pet owners who will accept this news gracefully. Donate to help the dogs and cats of Dallas here. Another reminder that Dallas Animal Services is currently full, and waiving all adoption fees.
Now for a look at the Top 10. Bobo won by a hair over our second place finisher, Niko, a 5-year-old Sheltie/Collie mix. The rest of our highest-ranked finishers are also dogs, because dogs are the best. And just as a recap, voting occurred via a randomized matchup system, which ensured that the competition wasn't decided in a popularity contest. (D Magazine staffers and their pets were barred from participating.) The eventual winner was picked for having the highest winning ratio. For example, Bobo won 2,053 of the 3,257 matchups she appeared in, for a 63.03 percent winning ratio. Here they are, then, the rest of the cutest pets in Dallas:
| Place | Name | Photo | Battles Won | Battles Lost | Total Battles | Winning Percent Ratio |
| --- | --- | --- | --- | --- | --- | --- |
| 1 | Bobo | | 2053 | 1204 | 3257 | 63.03% |
| 2 | Niko | | 2045 | 1203 | 3248 | 62.96% |
| 3 | Oliver | | 2263 | 1381 | 3644 | 62.10% |
| 4 | Poppy | | 2101 | 1289 | 3390 | 61.97% |
| 5 | The Boss | | 2013 | 1263 | 3276 | 61.44% |
| 6 | Shandie | | 1944 | 1248 | 3192 | 60.90% |
| 7 | Murphy | | 1904 | 1230 | 3134 | 60.75% |
| 8 | Penny | | 2037 | 1319 | 3356 | 60.70% |
| 9 | Hatch | | 1962 | 1276 | 3238 | 60.59% |
| 10 | Hobbes | | 1950 | 1279 | 3229 | 60.39% |