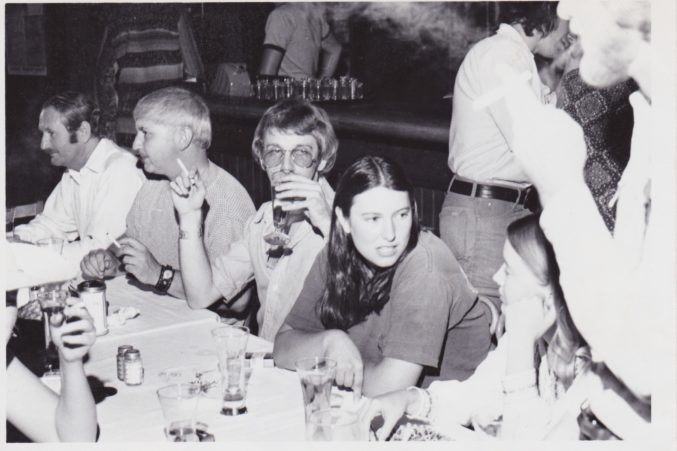 Remembering The Knox Street Pub, Dallas' Home For Counterculture
In the late sixties, the Pub was home to all—politicians, hippies, would-be philosophers, people of color, gays—long before the city of Dallas was.
By David Webb
Published in FrontBurner
May 18, 2018
11:17 am
When Sam Wilson acquired the leasehold rights to the old lounge at the corner of Knox and Travis streets on the outskirts of Highland Park in 1967, he took on the project as a lark. He knew nothing about the bar business, but he and his wife, Vi, loved food and drink and entertaining people. They decided to give it a whirl, and what a madcap adventure it turned out to be.
Wilson died at age 83 on April 18. A few weeks prior, he reflected on the decade in the early seventies that he owned the Knox Street Pub (not to be confused with another bar operating under the same name today in a different location). This was the period it became a magnet for artists, writers, actors, musicians, politicians, hippies, college students, and everyday philosophers—folks for which the city of Dallas offered few respites.
In those days, Dallas looked little like it does today in either physical appearance or social structure. Liberal thought tended to be drowned out by conservative ideology, and white culture overshadowed those of blacks, Hispanics, and Asians. Far fewer people lived here, and it grew mostly by transplants arriving from smaller areas of Texas and surrounding states. Most natives thought of Dallas as a big hometown, not a sprawling urban center.
Few settings in Dallas provided a comfortable atmosphere for the expression of new ideas and opposing views. Those few people who came from the Northeast and other regions found a home at the Pub. Wilson's open-minded philosophy set the stage for his bar to become a rare venue for local residents who embraced progressive political and philosophical thought. There seemed to be a place for everyone at the Pub.
Reporters approached Wilson over the years about sharing his thoughts on the iconic bar, but he demurred for decades. "I just didn't want to look back," Wilson said, weeks before his passing. "I enjoyed having been there and doing it, but I don't talk about it much." He finally agreed in his last years to sit down and talk about how it all started as a favor to a friend.
It started when the Highland Park couple saw a for-sale sign on an old bar housed in an 1900s-era red brick building at Knox and McKinney streets. For $2,500, they bought the business from Kenneth Porter, the second husband of Marina Oswald whose first husband, Lee Harvey Oswald, assassinated President John F. Kennedy in 1963. Sam redecorated the old bar and christened it the Knox Street Pub.
When the Pub opened, the neighborhood was full of humble World War II-era bungalows that housed working class people. The businesses on Knox Street catered to their needs and those of neighboring Highland Park. They included a movie theater (that later showed X-rated movies before being torn down), café, tailor, dry cleaner, drug store, hardware store, and the like.
Wilson opened the Pub from 10 a.m. to midnight daily, serving stew, chili, sandwiches, coffee, iced tea, beer, and wine. Mrs. Mack, an elderly woman who lived in one of the small houses near the Pub, was the first customer to walk in the door. She became a regular, just like many other residents of the neighborhood: employees of the working-class merchants on Knox Street, students from Southern Methodist University.
Mrs. Mack became one of Wilson's favorite customers, and her friends tagged along with her. She loved to share her opinions about the other customers, and she would give them names. She called a Dallas Times Herald reporter "Newspaper Man." A female customer she didn't like much was labeled "Hammer Woman," although no one ever quite knew why.
Down the street, another now-closed bar called the Quiet Man attracted a large crowd, and the partiers began flowing back and forth between the two. Before long, the Pub became the destination in Dallas for young people. Getting in the front door sometimes was a challenge. Patrons stood at the bar, they sat at the tables and booths, they gathered in a pool room in the back as the jukebox blared Bob Dylan's "Rainy Day Women #12 and 35″ ("everybody must get stoned.") Sometimes, revelers jumped up on top of an old stand-up piano in the middle of the bar and danced.
Wilson, who previously worked for an insurance company, suddenly realized a cultural and commercial success. "At first, I was overwhelmed with the way it happened," Wilson said. "It just happened overnight. At first it was local people. When the hippies started coming, they were people from all over the United States. Most of them were from California." Some visiting patrons said they heard about the Pub while backpacking in Europe.
The Pub also became a haunt of LGBT people at a time when most of them remained in the closet or only frequented small dark bars that catered exclusively to them. As a manager at Sanger Harris, Vi Wilson knew several gay people, and they flocked to the Pub with friends. "We knew gay people, and we didn't have a prejudice," she said. "To our knowledge, we didn't have friends who had a prejudice. It wasn't an issue. They were either nice people, or they weren't."
The Pub also broke with tradition as regards to the racial makeup of the customers. Most bars and restaurants north of the Trinity River tended to be all white, except for the employees. At the Pub a black woman named Laurice became a regular, appearing almost nightly. Dallas County Commissioner John Wiley Price also visited the Pub in his younger days.
Everyone got along well at the Pub. The Wilsons' two young daughters, Kelli and Allison, went with their mother to eat occasionally, and other patrons took their children—which included the parents of D Magazine Editor Tim Rogers—with them to play pool in the back room. "We were protective parents," Vi Wilson said. "I don't ever remember them being exposed to a foul word or anything else they shouldn't have. There was never ever a problem."
Vi Wilson noted that patrons engaged in as much talking as they did drinking, and no subjects seemed off limits. "It was a place where no matter what your philosophy you could chit chat about it, and they didn't quarrel about it," she said.
At one point in the early 1970s, bikers began showing up at the Pub, but they never created any real trouble. One night, a biker drove his motorcycle in the front door. "Sam stood with his back hands in his pockets, and he didn't raise his voice," Vi Wilson said. "He just said you can't do that." The biker left. The bikers returned, but they behaved.
In the early 1970s the crowd at the Pub ebbed, an event that Wilson attributed to all of the hippies heading to Colorado. "It changed as suddenly as it began," Wilson said. He decided to close down the Pub for a year to redecorate and reinvent it. When it reopened, Wilson transformed it into a fashionable spot with fine art, mirrors, and hanging plants. He started serving mixed drinks. It again became a destination, attracting mostly young professionals. "It became an entirely different place and business," Wilson said.
Over the years the Pub so impressed entrepreneurs that they borrowed concepts from Wilson for their own endeavors. Black Eyed Pea founders Gene Street and Phil Cobb met at the Pub to lay out their plans for launching a restaurant empire. Former World Championship Tennis President and British star player Michael Davies decided while visiting the Pub to open a singles bar called Lillie Langtry's on Upper Greenville Avenue with his business partners.
Other notable patrons of the Pub over the years included former Texas State Sen. Joe Russell and artist Frank Tolbert Jr. Former Gov. Ann Richards had drinks there when she lived in the Dallas area. Meat on the Hoof author Gary Shaw frequented it. Countless young people who would later become big shots in Dallas walked through the door of the Pub.
Wilson said he tired of running the Pub in 1976 after it became "just work," and he decided to pursue his passions for art, antiques, and literature. The Wilsons sold the Pub to one of Vi's former business associates, Joe Adams, who successfully ran it until developers bought the building and refused to renew his lease. Adams, who became popular in his own right, threw one last party in 1993 to mark its closing, and at the end of the night he announced the final last call. Another bar later opened under the name of Knox Street Pub in a different location, but it shared nothing but the name of the venerable establishment Wilson created.
The Wilsons went on to buy and renovate an old hotel in Mineola, which they turned into a boutique restaurant known as the Wilson House. It operated only on weekends. Sam wound up working a few years for the Dallas Public Library during the 1990s. Later, they opened an antiques store in Preston Center and eventually an import company operating out of the Dallas World Trade Center. Wilson spent his last years painting and collecting books, many of them first editions.
After he turned over the keys to the Pub to Adams, Wilson rarely, if ever, returned to visit it. He left the Pub behind to pursue other interests, but a part of him remained there in the memories of the patrons. Outgoing, friendly, kind, sophisticated, and probably brilliant, Wilson made the perfect host for a bar patron seeking more than a buzz.
And until the last days it was open, people would often ask if anyone had seen or heard anything about Sam.