Our own Eric Celeste has written about the Mike Miles-initiated ACE program in DISD, for "Accelerated Campus Excellence." Here's how it works (from 2016):
[T]he program [is] designed to provide a more equitable distribution of teachers. Two years ago, Dallas and Houston ISDs each had 43 failing schools, accounting for about 30,000 students in each district. Today, Houston has 40 schools with about 32,000 students still found by the state to be failing. Dallas, largely because of ACE, has reduced its number to 22 schools, with about 16,000 students. In those failing schools, third through eighth-grade students improved by double-digit percentages in 13 of 14 state measures in just one year (e.g., 35 percent in fifth-grade math and 33 percent in eighth-grade science).

How did DISD produce these astonishing gains in some of its most impoverished schools? By getting the best teachers in front of those kids. Which means it had to do two things: fund the ACE program (teachers were given $8,000 to $10,000 bonuses to move schools) and identify the best teachers. The Teacher Excellence Initiative in fact showed that, before ACE, students at magnet schools—the best students—were 3.5 times more likely to have a distinguished teacher than kids who needed them most, the students at failing schools.
Mike Miles, you'll recall, was pretty much run out of town.
So how are things looking today? Let's take just one example, Blanton Elementary in Pleasant Grove. The STAAR test results have just been released, and Blanton fifth-graders did very well this year. Again. Their scores are up 67 percentage points over where they were before ACE started, just three years ago, and 82 percent of them scored at the TEA's "Meets" grade level standard. The Blanton student body is almost entirely students of color who qualify for free or reduced-price lunch. For years, it was one of the lowest-performing schools in the entire state. Now look at em. Here's the chart; it doesn't yet include this year's results.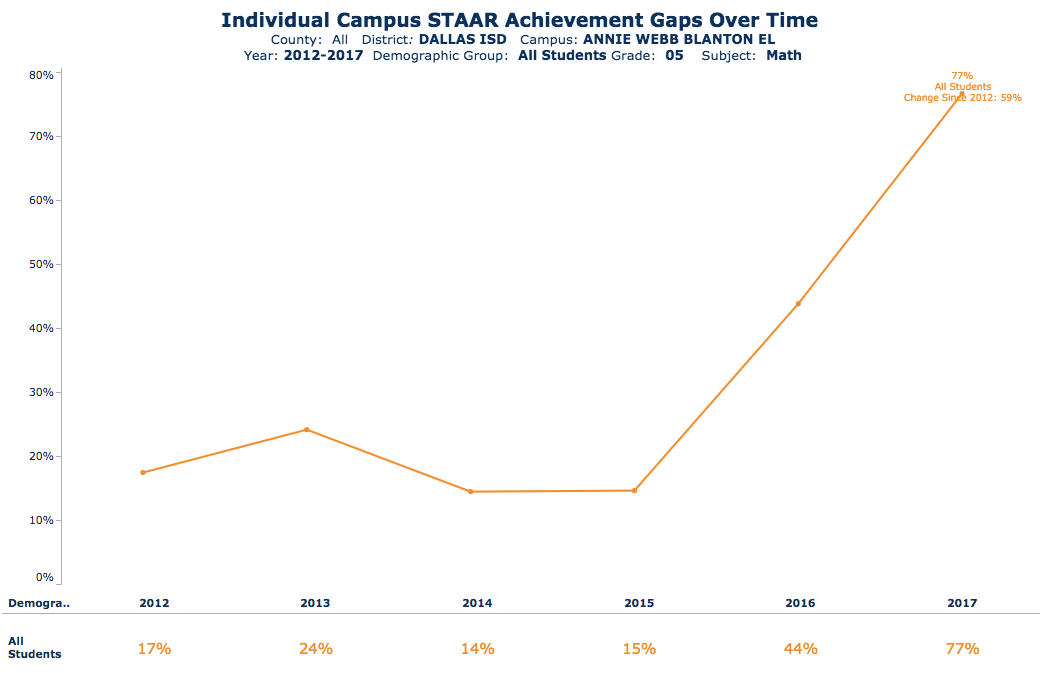 How good are the Blanton fifth-graders at math? Like I said, 82 percent met the TEA's grade level standard. Over in Highland Park ISD, that number for fifth-graders is 79 percent.
One more thing. The fifth-grade math teacher at Blanton? That would be Josue Tamarez Torres, DISD's teacher of the year. Here's Torres, in a video produced by the Commit Partnership, talking about how he does it.
UPDATE (5/17/18): A reader asked a very good question. Is Torres the only fifth-grade math teacher at Blanton? No, he's not. My apologies for not also shining a light on the work of Jessie Helms, the other fifth-grade math teacher. She deserves credit, too, for her students' progress.