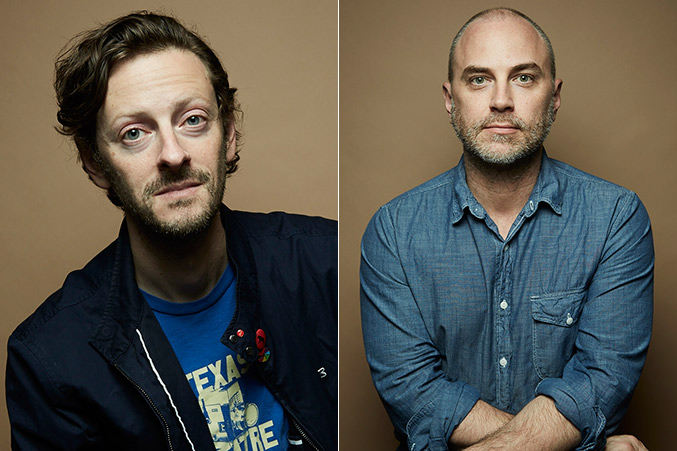 New Earburner: The Texas Theatre's Barak Epstein and Jason Reimer
Two for one! The boys talk with the operators of the historic theater about the Oak Cliff Film Festival, the history of Dallas filmmaking, and more.
Barak Epstein and Jason Reimer aren't quite the theater saviors that their success with the Texas Theatre leads many to believe. Theirs is a tough business, renovating a movie house from generations ago, then figuring out a business model that keeps people coming in. As Barak notes, running an indie film on a Tuesday afternoon will only keep your doors open so long.
So the two have been asked to look at every old theater in town—the Lakewood, the Forest, even the shell of the West End Cinema 10—but the jewel of Jefferson Boulevard remains their only terrestrial venture. It takes a lot to make such a place work, to make sure the HVAC system doesn't come crashing out of the ceiling during a screening. You need support from the developer, the owner, the municipality. The operator almost has the easiest part.
Anyone who's visited Oak Cliff's Texas Theatre in the past seven or so years can see their strategy: Movies, yes, but also concerts and Q&As and meet and greets and DJ nights. Themed, often. All in the interest of giving their customers an entire night out. And once a year, they want to give you a whole weekend. Epstein and Reimer this week announced the lineup for their annual Oak Cliff Film Festival, which will take over the neighborhood from June 14 through June 17.
It will open with Bad Reputation, a documentary about Joan Jett that Epstein saw at Sundance and had to have for his festival. It closes with Never Goin' Back, the debut feature from Dallas filmmaker Augustine Frizzell, which has seen successful runs at both Sundance and SXSW. In the middle, there's a whole lot of other cool things, including The Passion of Joan of Arc with a live score, an outdoor screening of Hal Ashby's classic Being There at Better Block, and an in-person appearance from famed documentarian and filmmaker Penelope Spheeris (The Decline of Western Civilization, Wayne's World) who will be premiering a long-lost 1987 punk western called DUDES.
Head here to learn more about the lineup, and here to buy tickets. In the meantime, Epstein and Reimer came to the Monk to chat about their path in restoring the famed Texas Theatre as well as the forthcoming film festival. Show notes, as always, after the jump.
1. Here's everything you need to know about the upcoming Oak Cliff Film Festival.
2. No, Todd Events did not buy 18 buildings in the core of downtown and rebrand them into its own district.
3. Todd Interests did, and that easternmost pocket of downtown has been branded The East Quarter, which is not nearly as bad as it could be but is as forced as any other time a developer attempted to brand a neighborhood. Looking at you, Harwood District.
4. This is the dragon statue that used to stand outside the old Planet Hollywood in the West End, which I hadn't seen before because I grew up in Houston. (Go Rockets!)
5. Everything you need to know about the Forest Theater's next life.
6. Satantango!