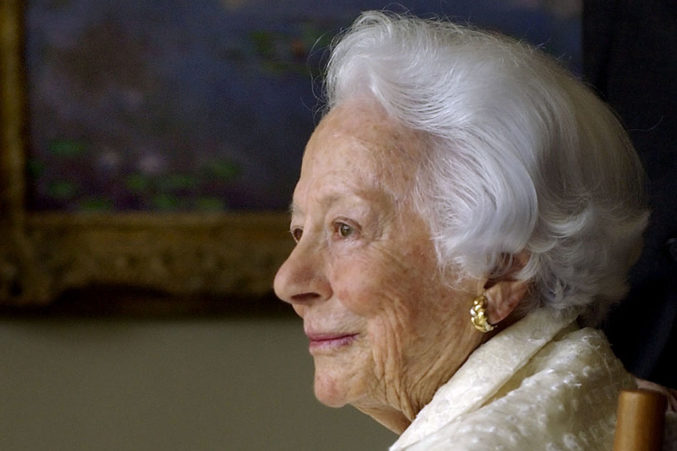 Margaret McDermott's Passing Marks the End of an Era of Dallas Patronage
The cultural philanthropist's example should set the tone for future generations of Dallas art patrons.
How do you quantify the impact of a person like Margaret McDermott, one of this city's true giants, who passed away this week at 106? How do you assess the impact McDermott had on Dallas' culture? You can add up the dollars donated to various institutions over time, count the paintings that were donated to the Dallas Museum of Art, name the notable artists whose work is in the collection because of McDermott's keen-eyed collecting and avid philanthropy. You can also look at the indirect impact of things like endowed curatorial chairs that have helped bring people to the city that contributed to its cultural development, or capital campaign contributions that helped create facilities that also drew talent and created the stages upon which the world's greatest artists could thrive.
Then there is the less tangible influence, the way McDermott set an example of what the Dallas cultural philanthropist could—and maybe should—be. This city, which was still fumbling its way from its identity as a frontier trading depot to a growing American metropolis when McDermott began penning society columns for the Dallas Times Herald in the 1930s, has enjoyed a handful of figures throughout its history who have had an outsized influence on its maturation and development. Stanley Marcus comes to mind. Margaret McDermott is in that crowd.
Over the years I've spilt a lot of ink voicing skepticism about Dallas' approach to cultural philanthropy—about its penchant for importing trendy names, relying on the critical vetting of more established cultural cities, and aversion to its own vernacular cultural expression. There are times when this city's cultural ambition has gotten in the way of good governance, equitable development, and true cultural maturation. But McDermott's character, class, and approach to her work in this city seemed to sit outside of those criticisms. McDermott embodied a kind of authentic cultural force that was purely Dallas—this city's aspirations, generosity, striving, swaggering sense of purpose, dressed up in a figure who personified elegance, grace, and confidence.
In the last 48 hours, remembrances have poured in. In Art Forum, Melissa Foster Fetter, the chair of the Dallas Museum of Art's board, attributed McDermott with taking a regional museum and transforming it into one of "international prominence." Art News adds that the acquisition fund set up in McDermott and her late husband Eugene's name was responsible for adding works by Juan Gris, Piet Mondrian, David Smith, John Singleton Copley, Henri Matisse, Gustave Caillebotte, Paul Signac, and Marsden Hartley, as well as art from Ghana, India, China, and Peru, to the DMA's collection.
Some of my first thoughts upon hearing the news, however, turned not to the litany of achievements and accolades any assessment of McDermott's life deserves, but rather to the city's future. The Grande Dame of Dallas philanthropy has passed. What now? Who will establish the tone of the city's future pursuits of institutional development and cultural investment?
McDermott's passing marks more than just the loss of one of this city's greatest cultural patrons, it symbolizes a transitional moment in cultural philanthropy that has been quietly unfolding for years, changes in attitudes, goals, and expectations about what philanthropy is and how patronage should work.
In the face of these transitions, McDermott's life stands as an example, a reminder that good philanthropy occurs when one places their intelligence, curiosity, and wit at the service of doggedly pursuing what is meaningful, substantial, and enriching; it is to invest one's self and whatever resources lay at one's disposal toward leading a city into becoming a more beautiful and more nourishing place to live.
Hopefully, Margaret McDermott's example will continue to serve as a guide for future generations of Dallas patrons.