Urban infill development is the term given to downtown land, parking lots, or otherwise undeveloped sites that could be repurposed into vertical buildings. Of the country's 25 largest cities, Dallas has the most urban infill opportunity, according to new research from Yardi Matrix and PropertyShark.
Dallas has 86.4 urban infill acres in downtown, more than every other major U.S. city. Las Vegas, Austin, San Antonio, and Phoenix also had large blocks of vacant land. Across all 25 major metros, 584 acres of developable land, sized .5-acre or larger, exists.
In contrast, Dallas has built more than 8.5 million square feet of real estate since 2013, second only to New York's 29.6 million square feet.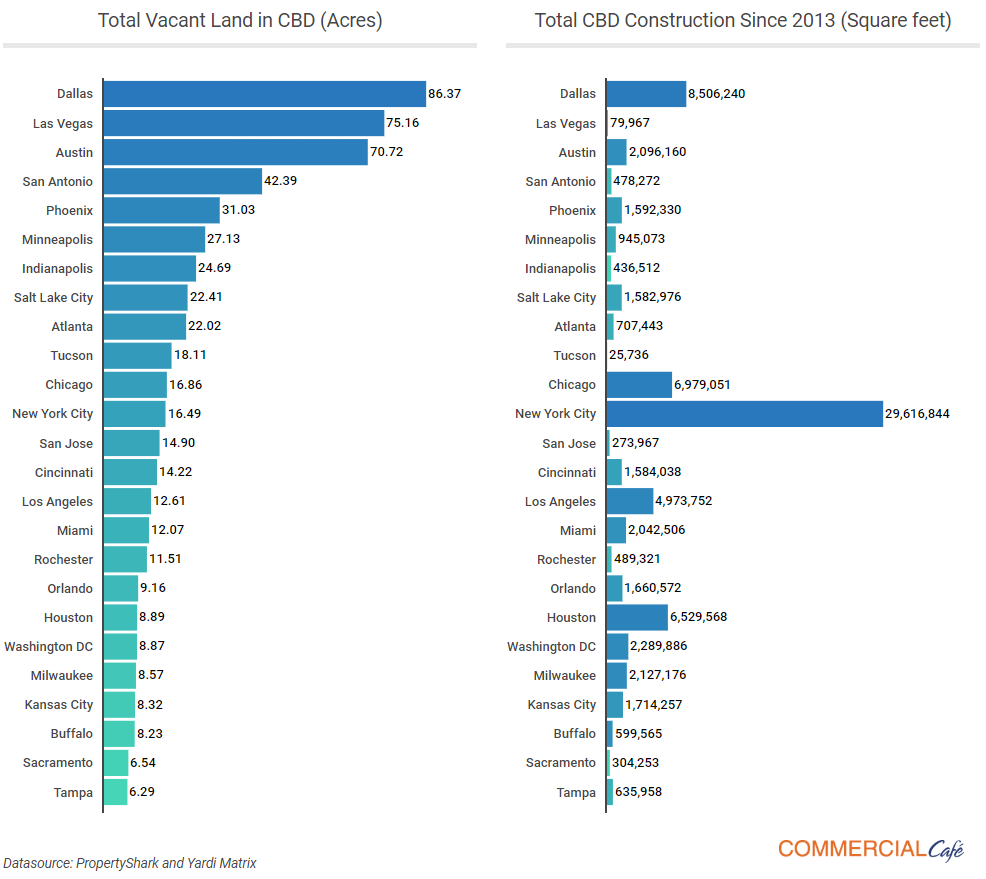 From the report:
Our research showed that major metros in the South, West, and Southwest harbor the most vacant lots in their urban cores. While it is not surprising that these cities have utilized the advantages of spacious geography to expand their boundaries outward, it invites the obvious question: Why sprawl, if there is still plenty of potential to reinvest in the city core? The answer to that may be more complex than we can approach in this one article, but what we can do is look at the numbers.

In the South, Texas is king—208 acres of undeveloped land are scattered across the central business districts of Dallas, Austin, San Antonio, and Houston. The least dense CBD in Texas, as well as on our 25-city list, is Dallas, with vacant lots in the urban core adding up to 86 acres. During the past five years, 8.5 million square feet of property has been built in the Dallas central business district—second only to construction activity in NYC, recent Dallas developments included housing, office space, parking, retail, and hotels.
In addition to the research, a survey of about 1,500 people was conducted across the 25 metros. Of respondents, 82 percent said the most needed types of development are affordable housing projects, such as apartments and homeless shelters. (Thankfully, Dallas is having those tough discussions.) And 77 percent said housing and parks are their most desired additions to their cities.
Across all 25 cities, respondents said that walkability should be the top infrastructure improvement, including public transit and bike lanes. Interestingly, in Dallas, residents said they'd rather ride a bike than walk, drive or take a bus. While there's been increased interest in building more bikes lanes throughout Dallas, the city currently has 56 miles of bike trails and 26 miles of bikes lanes planned and under development.
Get the D CEO Newsletter
Stay up to speed on DFW's fast-moving business community with weekly news reports, interviews, and insights.