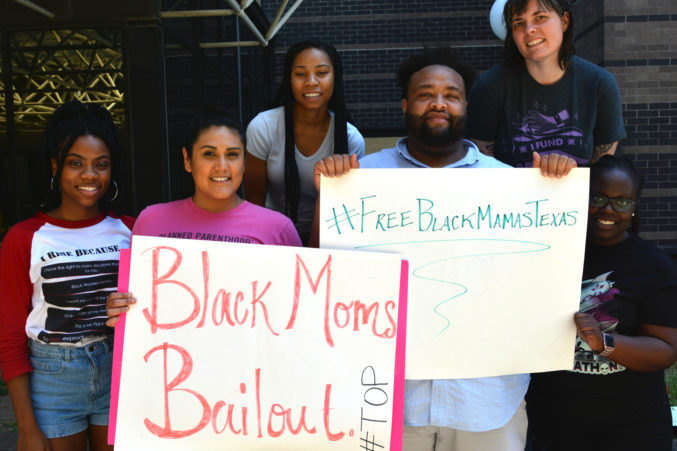 Dallas Activists Bail Moms Out of Jail for Mother's Day
Until Dallas County embraces bail reform, plenty of mothers who can't afford to post bond will continue to be jailed on minor charges.
Among the hundreds of people locked up in Lew Sterrett because they can't afford bail, there are fathers, sons, daughters, mothers. They are disproportionately black, disproportionately poor. All of them are cut off from their families. That's why on Thursday a group of activists, as part of a National Bail Out initiative pushing for bail reform, bailed six black mothers out of the Dallas County Jail so that they could be home on Mother's Day.
The six women had spent days—one of them, closer to a month—in jail on minor nonviolent charges, unable to post bond. One woman couldn't afford the $500 bond set on a criminal trespass charge. Stories like theirs are playing out across the country: black women are imprisoned at twice the rate of white women, and economic and racial disparities are stark in jails, where most have not been convicted of any crime.
Members of the Texas Organizing Project, Planned Parenthood of Greater Texas, the Texas Equal Access Fund, Texas Freedom Network, and the Afiya Center greeted the freed mothers outside of Lew Sterrett with flowers, care packages, and Mother's Day cards. The activists also directed the women toward service organizations. Money for bail was raised via online fundraising and with the help of high-profile civil rights attorney Lee Merritt.
"Black mothers should be with their families on Mother's Day, not in jail waiting for a trial simply because they don't have the means to buy their freedom," Tarsha Jackson, Right2Justice director of the Texas Organizing Project, says in a statement. "We are taking a stand against a money bail system that tears families apart and punishes our loved ones for being poor. Justice shouldn't be available only to those who can afford it."
The crowd-funded bailout is similar in spirit to the Community Bail Fund of North Texas, formed earlier this year to help get poor people out of jail before their lives are derailed by the cascading effects of imprisonment, no matter how brief.
A group of civil rights organizations have sued Dallas County with the hopes of ending an unjust cash bail system and turning to a risk-based assessment system that relies on more than the size of a defendant's bank account to determine whether they should be jailed before trial. Some county officials have expressed an openness to change, but progress has been slow. National "bail out days" are no substitute for real reform.