Back in Dallas, Tomi Lahren Wants You To Achieve Your Financial Dreams
The conservative firebrand and Fox News contributor returns to her old Texas stomping grounds to play to her base and promote what is NOT a 'get rich quick' program.
Before we went in, my friend and I made a wager. The bet was about how many times Tomi Lahren would reference Kanye West's newly proclaimed affinity for President Donald Trump. My friend, knowing Lahren's hip-hop proclivities, figured she would mention it at least three times. But we had no idea what kind of event we were going to.
I had signed up for the event, billed as a sort of seminar "about helping you learn how to start achieving the freedom you want and deserve," a few days before, and received approximately a thousand text messages and emails from organizers. Some of the texts included gifs, including one of Lahren wearing a baseball cap in a car with a caption that read, "Heading back to Texas got me feeling like Texyassss."
Thursday night at about 6 p.m., we walked into the Sheraton in downtown Dallas and were greeted by two signs. One said, "NFL FANS" (presumably related to the NFL draft). The other said, "TOMI LAHREN LIVE FREE & WEALTHY." We followed a few well-dressed Dallas Republicans to a ballroom downstairs. At the escalator, I watched two men stop to pose for a photo with a banner that prominently featured Lahren's face.
Everyone had to fill out and sign a form saying that we understood this was not a political event, that we wouldn't disrupt it with our political opinions, that we understood this was not a "get rich quick" program, and that we wouldn't record or videotape it—though I saw several people doing those last two.
We were seated in front of three giant screens playing a series of inspirational videos, mostly of people running up bleachers, sinking three-pointers, and hitting 300-yard drives in slow-motion. These were interspersed with motivational quotes from the likes of Jim Carrey, Jack Black, and Tony Robbins.
If you're somehow reading this on the internet and still don't know who Tomi Lahren is, congratulations. She's the 25-year-old platinum blonde conservative firebrand whose video commentaries—on topics like kneeling NFL players and Black Lives Matter—have racked up hundreds of millions of views on social media. Until last year, she worked at Glenn Beck's Irving-based TV network, The Blaze. The people who came out to see her last night were a mix of North Texas conservatives: some in suits with colorful socks and designer shoes, some in hiking boots and hoodies, some wearing T-shirts and hats declaring their political affiliations, and quite a few young bottle-blonde Tomi lookalikes.
When the event began, a quick video of Lahren blasted across the big screens. She congratulated the audience on being "great Americans" and mentioned we'd be seeing some experts who "think right," though she mentioned no names. She did manage to tell us that we'd be hearing information that "the mainstream media won't tell you."
It was 6:30, and that's when it began to occur to most of the audience, including the middle-aged woman directly behind me, that we would not be seeing Lahren in person for quite some time.
"I think she's the name to get us in here," the woman said to her husband.
Next, there was a series of speakers offering what they referred to as "financial education." There were stories of dead relatives and hardship and a few elementary lessons on the basic concepts of stocks and options. Each speaker teased Lahren's forthcoming appearance. At one point, a man named Eric Frady took off his blue suit jacket and asked the crowd why they thought America, the richest country in the world, had so many poor people. One man in the back, apparently misunderstanding the question, yelled out, "the Constitution!" Another time, Frady mentioned that McDonalds used to be a place where teenagers work. Referring to the fact that so many elderly people have taken jobs there to make ends meet, he asked who works there now. A man a few rows behind me yelled out, "Illegal aliens!"
At the end of his speech, Frady invited the audience to come to the front of the room to sign up (and pay) for a company called Interactive Trader's $997 three-day investment workshop. (That price, we were told, covers two people, and parents can bring one adult child for free.) There were several hundred people in the room, and after a few minutes, about 50 or so of them had walked to the front.
All of that took more than two hours.
After a short break, Lahren finally came on stage to a standing ovation. She was dressed in all black, and as she talked at the podium, she had two large security guards sitting in front of her. She told the audience she lives in Los Angeles now, but that it's good to be back in Texas. She asked any members or family members of the military and police to stand up, and thanked them. She said she promised the organizer of the event, listed on the program as Wealth Retreat Events, that she wouldn't get political.
Then she told the audience that she wanted everyone to leave remembering three things. First: "You live in the greatest nation on the face of the Earth." She said she had a hard time prioritizing the second and third things, saying they could have gone in any order. But she decided the second thing we needed to remember is that "Donald Trump is president." And the third thing: "Hillary Clinton is not." That got another standing ovation.
Lahren said she had settled her lawsuit with The Blaze nearly a year ago to the day—Lahren left Glenn Beck's North Texas media empire in a cloud of acrimony and legal threats after she told the hosts of ABC's The View she supported abortion rights. Now a Fox News contributor who can fill a ballroom with her conservative fans, Lahren said she's never been happier than she is now. She gave a few general be-a-better-you bits of self-help advice, like "If you sell yourself out, you're not going to sleep well at the end of the day," and "Being a victim isn't a cute look."
Despite the promise not to be political, she threw a few scraps to her fan base, calling California, where she lives now, "the land of fruits and nuts and illegal immigrants." She also said she would like to see David Hogg, one of the student leaders from Stoneman Douglas High School in Parkland, Florida, dropped off in Venezuela unarmed. She quipped: "'Never again' is going to have a whole new meaning."
Lahren told a story about a time a year and a half ago when she was at Citizen, a cocktail lounge in Dallas. Jay-Z had just dropped her name in a rap song, and, as she puts it, "I thought I was pretty cool." She tried to skip the line, telling the bouncers, "Do you know who I am? I'm in a Jay-Z song." The bouncers promptly moved her to the back of the line. She said her friends still tease her about it to this day.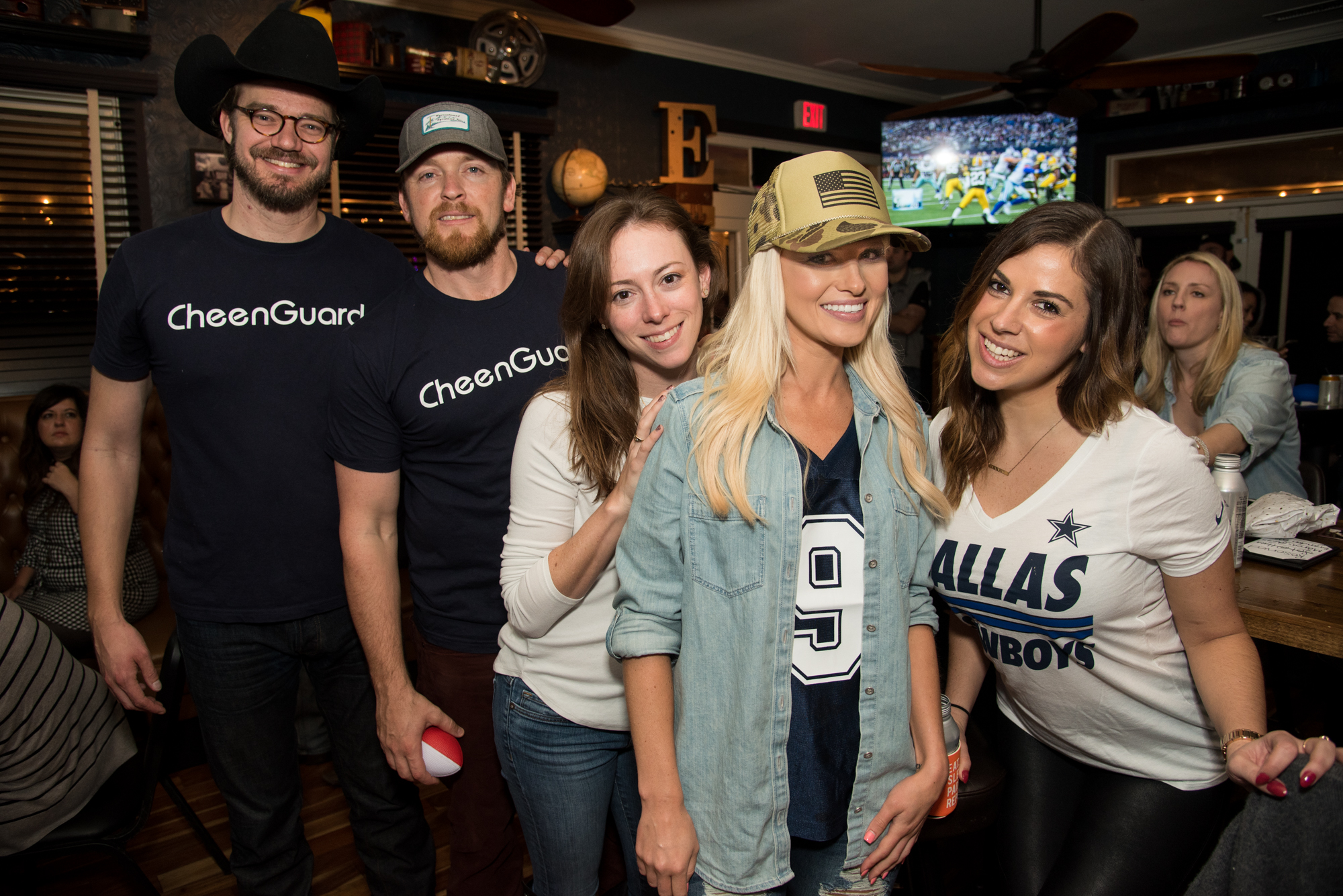 There were times when Lahren showed what seemed to be genuine warmth. She encouraged everyone, including liberals, to be who they are inside and fight for what they believe in. She specified that no political party is better than the other. She mentioned that one of her best friends, sitting in the front row, voted for Hillary Clinton. Lahren joked that people thinks she hates Democrats, but she worked retail in college, and the people she actually hates are the ones who come into the store five minutes before closing to rummage through clothing.
After 20 minutes at the podium, she took audience questions, reading off slips of paper that had been submitted during the break. She answered a question about the current state of the media by clarifying that she is not a news anchor—she does commentary. Someone asked her where she gets her hair done in Texas, and she said she has an appointment tomorrow and that she'll never tell. When asked how she manages her time, she said she'd be a liar if she said she didn't check social media every four to six hours, even in the middle of the night. "It's a habit I need to break," Lahren lamented. Her last question was whether she thought the Democrats will take over in November, which she answered with an emphatic, cheer-inducing "no."
She never mentioned Kanye once.