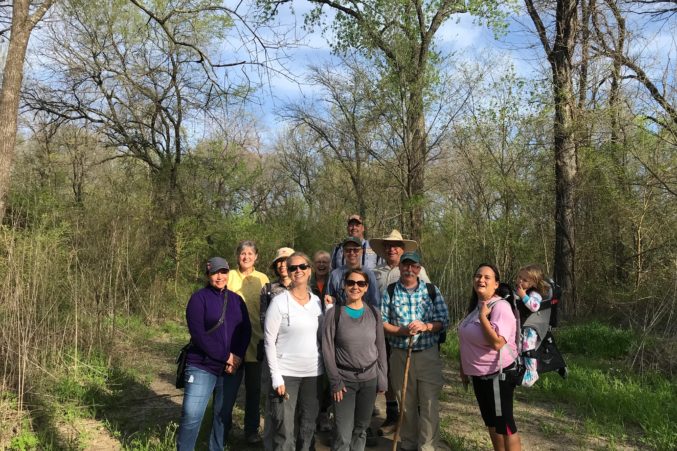 Law Man Walking: Nature Treks With Bill Holston
You've still got a little time to see the Buckeye blooms.
The soothing tones of Lord Huron inspired a contemplative mood as I drove onto I-30, headed east, then southwest on 175. The sunrise was barely kissing the sky. I guess I'm the only person that doesn't love spring. I love fall, with the leaves turning color and the promise of brisk walks in woods. Spring is, in my mind, overrated. It is full of pollen, poison ivy, mosquitoes (more about that later), and the advancing pizza oven days of summer. Bah! But, like all seasons, spring does have its charms.
I had missed Ben Sandifer's great guided hike to see the blooming Buckeyes, and so I planned to lead a Saturday hike to see the blooms. I listed the hike in the North Texas Master Naturalist calendar and hoped that people would show up, as this is one of the best introductions to the 6,000-acre Great Trinity Forest. In fact, it was mine. Viewing these woods inspired me in part to become a Master Naturalist.
I arrived an hour early so I could walk the trails and note things of interest to point out. I parked on Bexar, right next to Bonton Farms, and headed over the levee and onto the paved trail. There was a great dirt loop trail built by Master Naturalists, with the assistance of the great Naturalist Jim Flood. But the floods of two years ago destroyed that trail, illustrating the challenges of building things in the floodplain. Ben, Carrie, Scott, and I have been slowly hacking through privet to reestablish the trail, and a few weeks ago, Groundwork Dallas brought in a ton of volunteers who cleared privet and allow better access to see the Buckeyes. I walked the trails, and in about 45 minutes arrived back at the pavilion to find a group ready to explore the forest. One intrepid woman had a child on her back! Kudos to her. Some of my favorite times hiking were carrying my boys on my back. I began with a quote from Emerson, which my son Fred had sent me:
In the woods too, a man casts off his years, as the snake his slough, and at what period soever of life, is always a child. In the woods, is perpetual youth. Within these plantations of God, a decorum and sanctity reign, a perennial festival is dressed, and the guest sees not how he should tire of them in a thousand years. In the woods, we return to reason and faith. There I feel that nothing can befall me in life — no disgrace, no calamity, (leaving me my eyes) which nature cannot repair. Standing on the bare ground — my head bathed by the blithe air, and uplifted into infinite space — all mean egotism vanishes. I become a transparent eye-ball; I am nothing; I see all; the currents of the Universal Being circulate through me.
The mood set, we hit the trail. I was pleased that Ben was there, as no one is more intimately familiar with these woods. As we entered the forest, I pointed out the beautiful native tree Swamp Privet (Forestiera acuminate), just becoming covered with the intricate yellow blooms. Also the luxurious green Virginia Wild Rye, the native grass that drew Jacob Metzger to graze his dairy cows in the shade of the Ash and Hackberry and occasional Bur Oaks. Ben pointed out the last berries of the Possum Haw Holly (Ilex dissidua), our native holly. And we saw strings of blossoms on the Ash Leaf Maple (Acer negundo), our only North Texas native maple tree.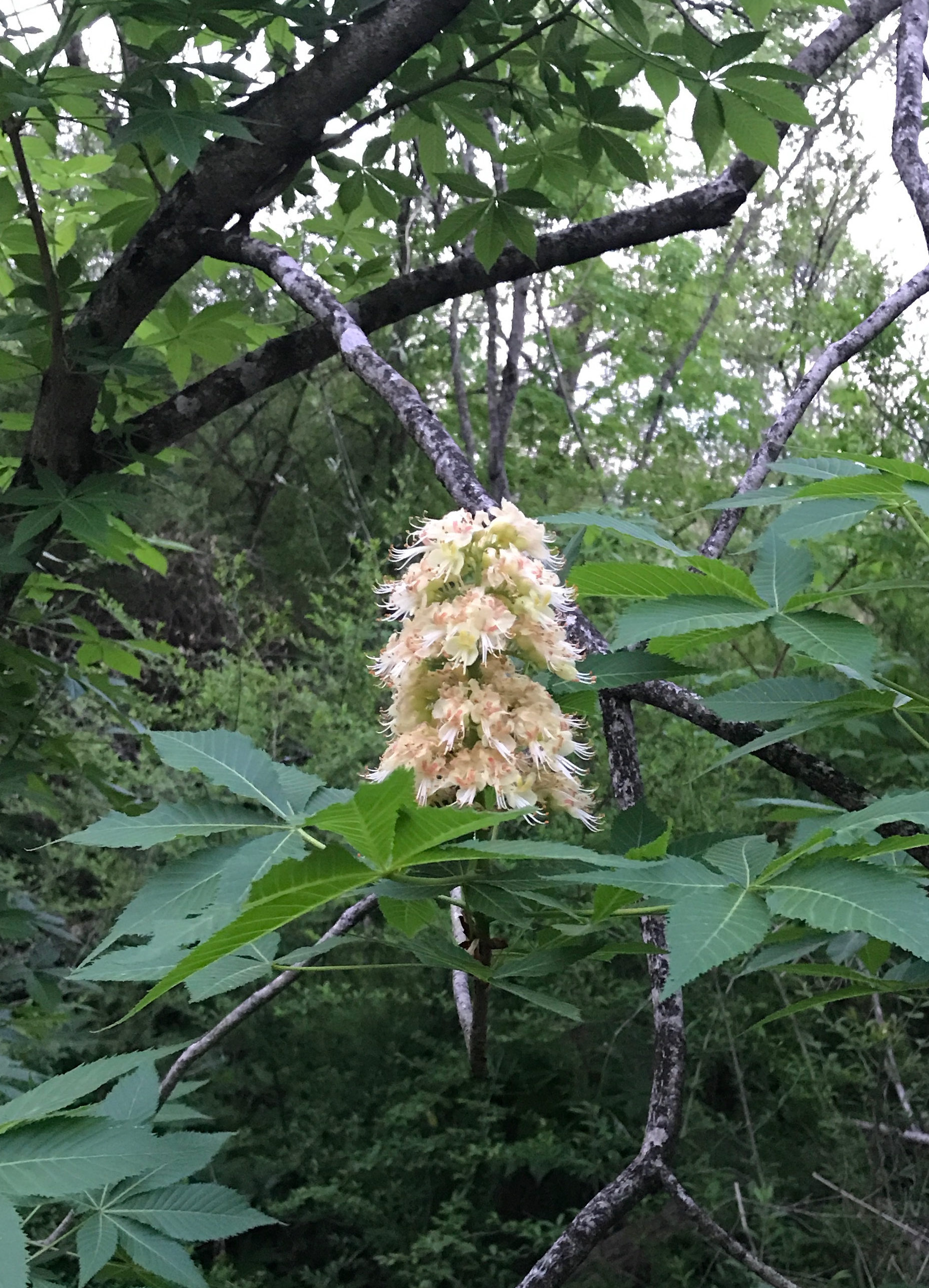 The woods have recovered nicely from the floods, and there are large carpets of native grass, which is what so appeals to me about these woods. There are lush carpets here, with occasional patches of Catchweed (Galium aparine). We followed the very clear trail and made our way closer to the river. Soon, we encountered swarms of mosquitoes, and I passed around my bottle of repellant. About a mile into the trail, we saw the first Buckeye (Aesculus glabra var. arguta) covered in creamy yellow blossoms. We took our time walking through the grove and admiring the 30-foot trees and their beautiful flowers, so unexpected, a 15-minute drive from Downtown Dallas.
This is a great hike. Unlike many Trinity hikes, it's easy to access and well worth the effort. If you go, you'll see blooms for another week or so. It's not a bad summer hike, because it's entirely in the shade. We hope one day to clear the trail over to where White Rock Creek enters the Trinity, which is a great 2-mile round trip hike through clear woods. If you are of a mind to explore, it's not that hard to navigate, as you simply follow the river to the east. The hardest part is determining how to get through the band of invasive Privet, although we've cut a path through. It's possible and we've hiked this as a loop hike, but the trail back up to the levee is gone, and it's not easy to navigate.
Ben and I are often asked, "Can I come on a hike?" We are both amused that people almost never take us up on the opportunities we do present to hike. Sometimes we lead a hike and two people show up. But we love going and we love sharing it with others. Your next chance to explore is birding the Lower Chain of Woodlands with Ben on Cinco de Mayo. Be sure to check this out.