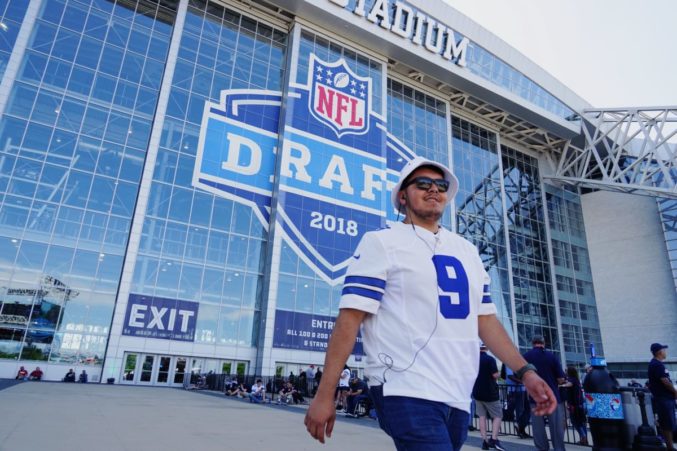 I Experienced the NFL Draft
Waiting for Goodell at AT&T Stadium in Arlington, fans share a stew of mixed emotions and comfort themselves with the knowledge that no one really loses. But does anyone win?
By Jonny Auping
Published in FrontBurner
April 30, 2018
9:58 am
When the NFL Draft came to AT&T Stadium, it brought with it everything that comes along with professional sports: the spectacle, the passion, the commercialization, the traffic, the parking, the face paint, the athletes.
Everything except, you know, the sports.
By placing the 2018 Draft in an NFL stadium for the first time in its history, the league was only putting the final touches on a phenomenon that's been in motion for years, turning a necessary function of the business into an event. Any one of the players selected could be an eventual superstar. So the draft is by no means irrelevant. But just because something has implications doesn't necessarily make it worth witnessing. Functionally, this is not all that different than Trader Joe's televising the stocking of its shelves.
So I showed up to AT&T Stadium on Thursday three hours before the start of the first round hoping to answer the very broad question of why? Why bring the NFL Draft to North Texas? Why come to the NFL Draft? Why travel across the country to see a man in a suit walk onto a stage and read a name into a microphone 32 times consecutively?
---
The NFL Fan Experience, billed as a free "festival" outside AT&T Stadium prior to and during the draft, boasted that it spanned "nearly 26 football fields." But 26 football fields of what exactly? It's hard to say. I found a map in order to navigate that arbitrary measurement of space, but most of the destinations were just the names of brands with no other context. "Visa," "Bridgestone," "Tostitos," "Verizon," "FedEx," "Hyundai," and so on.
I decided to walk to "DIRECTV."
Every direction I turned, there were droves of fans of every single team in the NFL, aimlessly drinking and attempting to start team-specific chants. Fans wearing jerseys of players famous and obscure jockeyed for position to be a face in the background of various live broadcasts predicting how the night's events would unfold. The NFL would report 100,000 in attendance for the Fan Experience. There were 20,000 available seats inside the stadium for the actual draft. Admission inside was free, but required registering for a lottery back in February.
I spoke to two Philadelphia Eagles fans outside, one of whom registered on a whim while ordering Super Bowl victory merchandise. A few weeks later, while on vacation in Hawaii, he received a call from a member of the Eagles' communication department congratulating him for being selected to attend the draft with a friend. What better opportunity to wear his new Super Bowl gear? "If you wore Cowboys gear in Philadelphia, you wouldn't get two blocks," he told me with a smile. "Cowboy fans are more demure."
I moved on to two Browns fans who had traveled from Cleveland to see their team, which went winless last season, make the first overall pick. They bought plane tickets before entering the lottery. When I remarked that it was impressive that their roll of the dice had paid off, they clarified that they did not have tickets and were just drinking outside the stadium. Life in 2018 is drastically different for Eagles fans and Browns fans.
When I finally reached "DIRECTV," I was at a crossroads. I had to choose between one of two options: sign up for DIRECTV or not sign up for DIRECTV. It was time for me to enter the stadium.
---
Just outside the entrance, I ran into the ATL Cast, a group of 30 diehard Falcons fans who had traveled from Atlanta. If the degree to which one's costume is ridiculous determines rank in the ATL Cast, then Bill Ingram was their de facto leader. Ingram, who was wearing a superhero outfit complete with wings and a helmet, informed me that a cast is defined as "two or more falcons skillfully hunting prey together."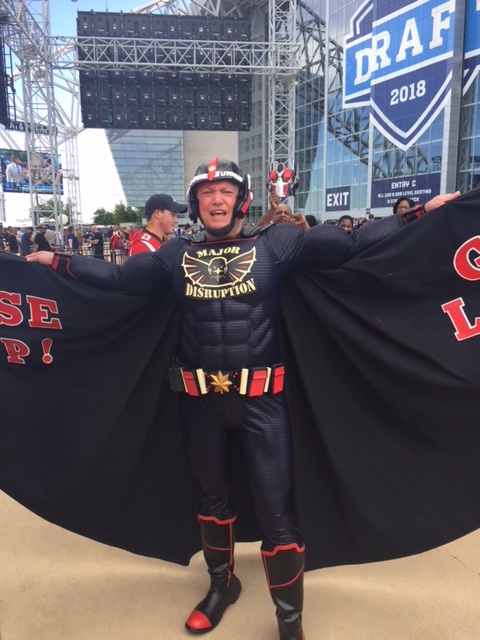 When I politely asked him why his crew had come, his response was fair enough. "We expect to represent Atlanta," he said. "We're here to support our team and make our draft pick feel happy about where he's coming to." Deafening "ATL" chants and bird noises followed.
Inside, the fandom wasn't toned down. Fans were assigned to sections and could lose their seats if they got up, so there was little benefit to sitting down early, leaving plenty of time for $9 beers or $10 glasses of wines or champagne.
With 30 minutes to spare before the Browns were officially on the clock, I trekked up to the highest point of the stadium to see the vantage point of those who had been awarded tickets to the 400-level section. I will say this: although he No. 1 overall pick, Oklahoma's Baker Mayfield, didn't attend the draft, the upper-deck fans shouldn't have been too disappointed. There was no virtual way they'd have been able to identify him from that vantage point.
While up there, I spoke to a Bears fan who had driven two hours from Killeen, Texas. I asked him why. "I'd seen online that I could win tickets to it," he said. "I was like, 'Let's see if I can win.' Then a couple days ago they sent an email saying I did have tickets. I was like, 'Once in a lifetime deal for me.'"
My audible response was "Of course." My honest reaction was "I guess."
It pointed to an interesting psychological experiment. How do you react to "winning" tickets to something that you could much more comfortably and attentively watch from your couch?
---
I made it to my seat just in time to stand and honor our flag. As proud as I am to be an American, I couldn't help but think that singing the National Anthem at the NFL Draft felt about as necessary as saying the Lord's Prayer before entering an aquarium. But this is what we do at events, and the NFL Draft is very much an event.
One of its most active features is booing the man who announces the draft picks, NFL Commissioner Roger Goodell. When Goodell came out to kick off the draft, he was mercilessly booed, which continued all night, with every subsequent pick. Later, I would stop to chat with two Cowboys fans wearing shirts that read "GOODELL SUCKS" and who had each clearly outpaced the Cowboys' win total last season in number of beers consumed. In addition to some rather problematic opinions on Ezekiel Elliott's domestic assault case last year, one of them told me that he hated Goodell because the commissioner had not shown gratitude for all the money Jerry Jones had made the NFL.
Mid-draft trades are the only occurrence that can shake up an event literally defined by a ticking clock, and when the first five picks went by without a trade, there was some mild but palpable restlessness. When an announcement was made that the Buffalo Bills had traded up to obtain the seventh pick from the Tampa Bay Buccaneers, the giddy and exclamatory cheers were too loud to have come from Northern New York natives alone. They came from throughout the stadium, and they were cheers of a thing happening, like going on a whale watching trip and, finally, after about an hour, sort of seeing the back of a whale for a few seconds.
I should admit that I, too, was excited about that particular thing happening. Born in Buffalo, I've been a lifelong Bills fan. When they used that seventh pick on quarterback Josh Allen, they were investing in a guy they hoped could lead them to years of playoff runs. If all goes well, I will spend many hours of my life praising Josh Allen as if he is a close family member whose success reflects greatly upon me.
And yet I had no one to high-five. It was devastating. I went down and celebrated with an $8 cup of Dippin' Dots ice cream, which I ate alone at a standing table while Seahawks fans bumped into me doing (I have to admit, spot-on) Pete Carroll impressions.
Sports fandom is nothing if not communal. The fans in attendance were there to see each other as much as anything happening on the stage. They all reveled in shouting their team's name at every other person wearing their team's jersey. "It's a once in a lifetime opportunity with my best friend," said one Browns fan, satisfied not even making it into the stadium. "Meet somewhere out of town and experience something you've never seen before."
The NFL Draft is sports adjacent, but it's not sports, one of the most important distinctions being that no one loses. Every fan is allowed to leave with hope.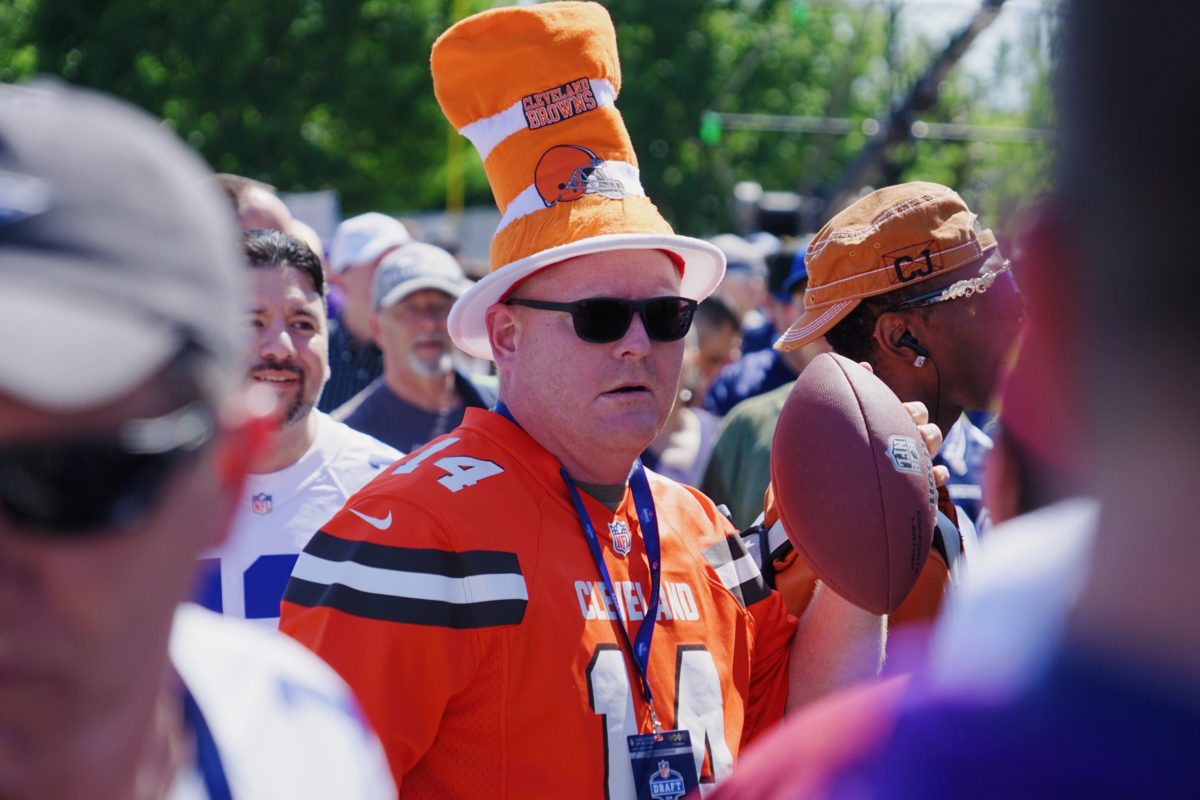 When the Cowboys officially went on the clock with the 19th pick, the place went nuts, as if counting down the launch of a rocket on its way to Mars.
The Cowboys selected Leighton Vander Esch, a linebacker out of Boise State. Very few of the Dallas fans I'd spoken to had mentioned him as the player they were hoping for. The most common response I'd heard, Rashaan Evans, was available, but the Cowboys left him unselected. The crowd response wasn't anger, but it also didn't match the level of excitement you'd expect from a couple hours' worth of anticipation. There were still plenty of high-fives to go around, and when Vander Esch told the crowd, "We've got Super Bowls to win, baby," they livened up a little.
Then they realized something about the rest of the draft: they didn't care. The emotional chain of events for the NFL Draft is long anticipation followed by short and irrational excitement followed by extreme boredom.
So the vast majority of attendees filed out of the stadium, uninterested in the rest of the first round. I was one of them.