Dallas is changing. Cranes fill the skies like Spindletop derricks. New construction rises throughout the city in their wake. In neighborhoods, older housing vanishes under the treads of heavy machinery, replaced by multistory condominiums and flavorless Texas donuts. To many, this is what progress looks like. It's the embodiment of a growing city on its way to establishing itself in the 21st century. Others, however, see it differently. They see a city moving haplessly forward without regard for its residents, threatening the very survival of all but the affluent. To use the pejorative, they see gentrification.
This was the topic of discussion Thursday night at The Wild Detectives, in the rapidly transforming Bishop Arts neighborhood of Oak Cliff. It was the last in a series of talks held in March, "Gentrified Dallas," which was put together by former Dallas Observer arts editor and current SMU professor Lauren Smart. The six-part series brought together artists, urbanists, architects, and residents to discuss the changing landscape of the city and its impact on communities.
The speakers were Patrick Blaydes of the Better Block, urbanist and DART board member Patrick Kennedy, Lisa Neergaard of bcWorkshop, and Raul Reyes, an activist in West Dallas. The subject: "Now What?"
As a concept, gentrification is more prominent, and perhaps more misunderstood, than ever before. It's a term that is often bandied about frivolously. "I don't even use the word 'gentrification' because it's so toxic and it means different things to different people," Kennedy said. "If you're using a word that means something different to everybody, you can't actually have a conversation." Thursday, however, there was no doubt as to its definition, which Kennedy said was imperative to its use.
The discussion centered at first on what gentrification is and how it works in Dallas. In essence, it's rampant new development moving into neighborhoods. This development doesn't necessarily discriminate based on average income in a community, but when it occurs in poorer neighborhoods, the effects have a larger impact. This is especially true in Dallas because the city doesn't have a housing policy.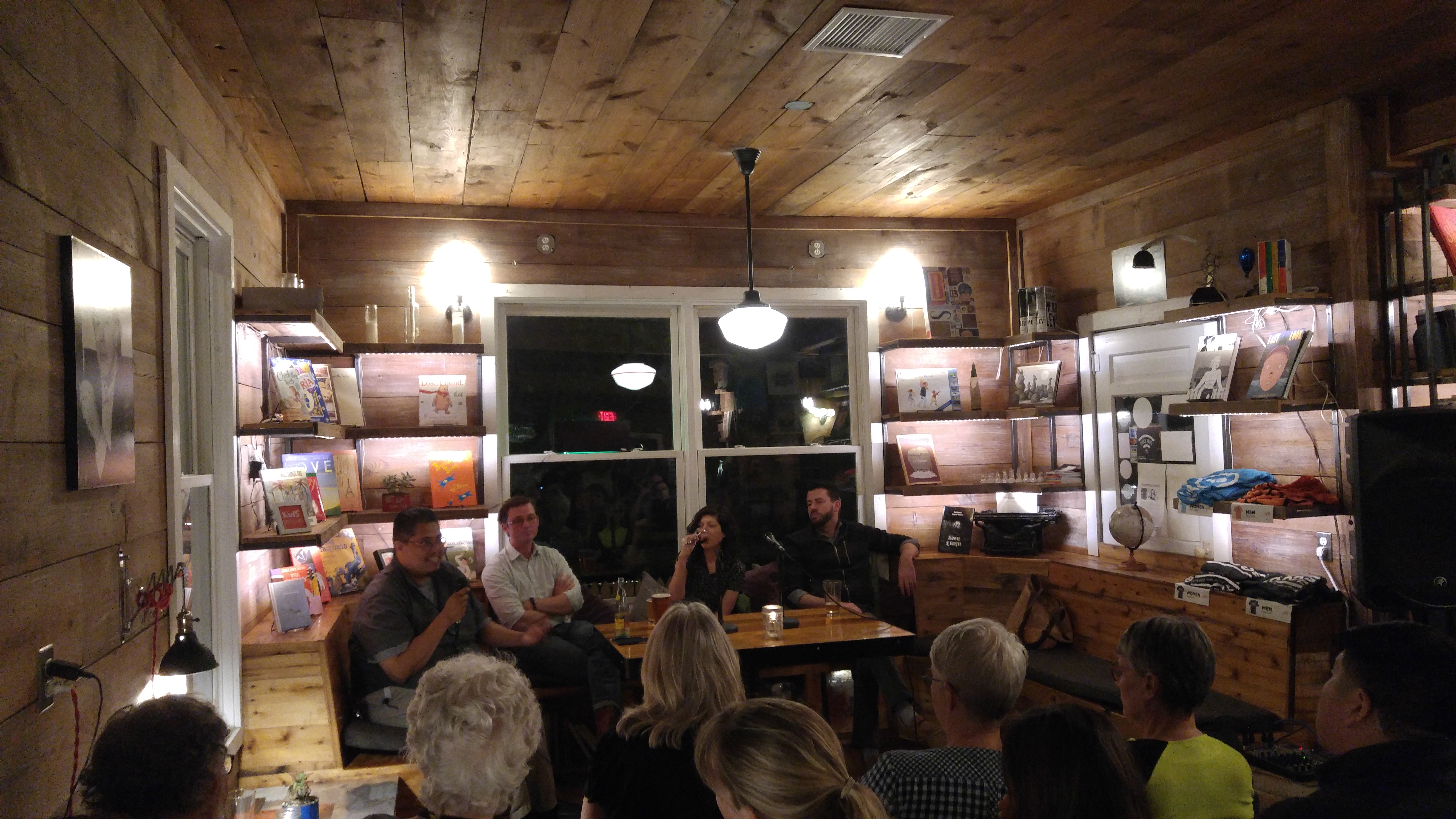 Both Neergaard and Blaydes questioned whether the city lacks self-awareness when it comes to dealing with its affordable housing crisis, saying that there is little to no forethought from officials and policy-makers. Developers call the shots.
Reyes pointed to how the rise of the Margaret Hunt Hill Bridge over the Trinity River into West Dallas brought drastic changes to his neighborhood. The Trinity Groves restaurant park and new luxury apartments shot up while, last year, there was a near mass eviction of some 300 low-income residents living in houses that couldn't be brought up to newer, more stringent city codes.
This was far from the first time roads altered the face of a community, however. The panel brought up the construction of the Dallas North Tollway, which wiped Little Mexico off the map and dispersed the city's Latino community. This is just one of many examples of the deliberate actions Dallas took to segregate the city, Blaydes said. "Gentrification only amplifies our history," Reyes said.
Affordable housing is at the heart of the discussion because of its importance and because of its diminishing supply. "Housing ends up being the predictor of your ability to access a lot of things," Neergaard said. "Will you be able to access healthcare, a quality education? We're getting to the point where we can predict how long someone is going to live based on the ZIP code they are born into. That is disturbing to me."
To combat this inequality, there's a need for a better distribution of resources, and for the creation of more density in the city. This would call for measures such as the addition of multifamily housing units in neighborhoods oriented toward single-family development, or the building of accessory dwelling units, a fancy phrase to describe something like a garage apartment or a small backyard guest house. In order to do this, though, Dallas will need to adopt a housing policy.
Recently, the nonprofit Opportunity Dallas presented 29 housing proposals to the city. Both Blaydes and Reyes are members of the group, whose mission is focused on creating greater economic mobility for Dallas residents. Neergaard and bcWorkshop are also working on a State of Dallas Housing report that will be presented to the city later this year. As it inches toward finally creating a comprehensive policy, the city will also look at a regional housing assessment conducted by researchers from the University of Texas at Arlington.
It's not just nonprofits, universities, and urbanists speaking on panels who can influence the city's future housing and development policy. To a person, the panelists encouraged people to take an active role in their neighborhoods, investing in the building of inclusive communities and contacting their representatives. After all, as Reyes noted at the beginning of the night, it's our city.
"We are all neighbors," Reyes said. "And how we value each other, that's how we will create the city that we want."
Get the D Brief Newsletter
Dallas' most important news stories of the week, delivered to your inbox each Sunday.