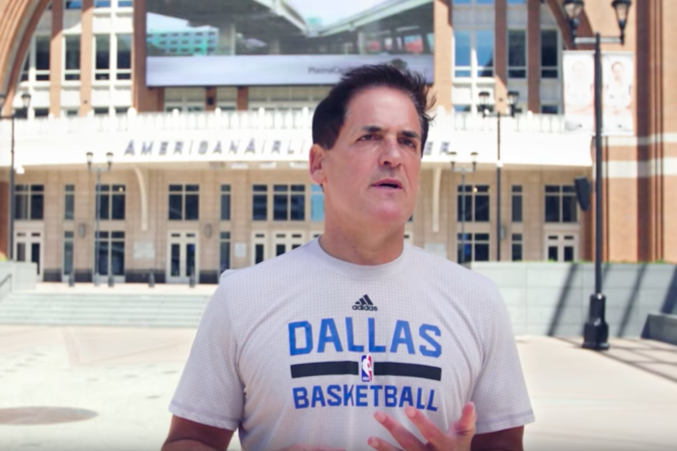 NYT's Marc Stein Explores How the NBA Might Hit the Mavs After SI Report
Plus: A plea for the media in this town to stop giving a pedestal to the men accused of fueling the culture of harassment within the team's offices.
What will come of the Mavericks in the wake of Sports Illustrated's damning call-out of the organization's culture of harassment within its business operations? Marc Stein, the New York Times' Dallas-based NBA beat writer, dedicated the top half of his weekly newsletter to exploring what the team's punishment may be. Short answer: He doesn't expect the league to take any draft picks away (notable for the tanking franchise), and a Donald Sterling-esque ban for Mark Cuban seems completely out of the question. Here's Stein:
Although there have been calls for the Mavericks to be docked draft picks, or even suggestions that Cuban could meet a fate similar to that of the barred former Los Angeles Clippers owner Donald Sterling, I don't foresee sanctions at those extreme levels, provided that the investigation doesn't unearth misdeeds more egregious than what has been revealed.

The Minnesota Timberwolves were stripped of five first-round draft picks and fined $3.5 million by Stern in October 2000 in the wake of a secret contract agreement they had struck with the former No. 1 overall draft pick Joe Smith in 1999. The penalty was that steep because the Wolves were guilty of an on-court crime intended to directly impact team performance. The current allegations against the Mavericks, revolting as they are, nonetheless concern nonbasketball matters. It could be argued that taking draft picks away from the Mavericks punishes their fans as much as the franchise.

Comparisons to Sterling's outcome, meanwhile, are an utter reach at this point. Sterling was barred for life in April 2014 not only after he was recorded making racist comments but because of a pattern of behavior that had troubled the league office for decades. There have been no direct accusations of misconduct to date against Cuban. And there would presumably be zero support from fellow owners to try to force Cuban to exit the league unless he was directly involved in misconduct on a scale akin to the recent allegations against the former Carolina Panthers owner Jerry Richardson, which prompted Richardson to announce in December that he'd be putting the Panthers up for sale.
Stein was at The Dallas Morning News when Cuban bought the team from Ross Perot Jr. He even wrote a piece about the team's president, Terdema Ussery, being investigated for harassment allegations in 1998. Stein shows some vulnerability here:
"I frankly have some regrets of my own when it comes to this whole situation. In 1998, with The Morning News, I wrote the first news story on a Mavericks investigation into sexual misconduct allegations against Ussery, who joined the Mavericks in 1997 with a strong endorsement from then-N.B.A. commissioner David Stern. Ussery survived the investigation, landed a three-year contract extension in 1999 from Cuban's predecessor, Perot, and went on to work under Cuban for 15 more years — and I never revisited my original article. I could have pressed Cuban harder on why he allowed Ussery to stay. The Mavericks' business operations, throughout the Cuban era, have been housed in a building away from the basketball operations' home at the American Airlines Center, but I have spent the past week bashing myself for this failure."
I can't find a link to the full newsletter (if you can, throw it in the comments and I'll put it up here), but you can support our hometown national basketball writer by subscribing to it. And while we're on the topic of the Mavs, and discussing and sort of lamenting hometown sports coverage, it's time for news outlets to stop giving a pedestal to the men at the center of this scandal.
I'll direct you to this Mavs Moneyball post, which correctly pillories ESPN's Dallas radio station for giving the team's fired in-house beat writer Earl K. Sneed a full 25 minutes to defend himself. I don't have much to add here that Mavs Moneyball didn't touch, but Sneed, who was once arrested at the Mavs headquarters on charges of domestic violence and allowed to continue working without so much as a wrist-slap, has provided a statement to The Dallas Morning News and other outlets. That information is available. He declined to comment to Sports Illustrated, calling a statement a matter for upper management to dole out. In the radio interview, he derisively laughed when recalling the writer's request: "I don't know you, I'm not going to make a comment," he said. "I was still employed; I was not going to say or do anything that could mess with my employment."
The segment lets Sneed make a more detailed case for himself, blame the women as the violent ones in this whole thing, and deny the narrative in the police report that he "sat on top of (his girlfriend) and slapped her on the face and chest" and told her, "I'm going to f—– kick your ass. Today is gonna be the worst day of your life." The report says he "fled before the reporting officer arrived;" Sneed again gets time to talk his way out of this. But there are facts, found in the public record: The police report says the woman suffered a fractured right wrist and bruises on her arms and chest. Sneed pleaded guilty to misdemeanor charges of family violence assault and interference with an emergency request.
The team let him continue working, and he later was accused of striking another girlfriend who worked for the Mavericks. He again denied the second allegation and disputed the police's account of the first. The team again let him continue working; this time, they apparently asked him to sign a piece of paper promising never to be in a room one-on-one with a woman.
The problems here are myriad. The voice of the victims, who have not been named and may not be comfortable speaking publicly, are drowned out by a defense from the man who has pleaded guilty to misdemeanor assault. The framing of the interview is also problematic—Jean Jacques Taylor kicks things off by referring to Sneed as "like a little brother to me."
Taylor then went on NBC 5 with Newy Scruggs to defend the interview, saying that Sneed wanted to "take some accountability, take some responsibility" for his role in these allegations. I hear very little responsibility in that interview. Moreso, I hear a man who found a public opportunity to walk back very serious allegations of domestic violence. When asked whether he felt the team held him accountable for his actions, Sneed responded thusly: "I don't know. I can't speak for how the organization should've handled it, I just know I was placed in a position where I was able to focus in on work and I felt that I did that."
The Mavericks have hired a lauded AT&T human resources executive named Cynt Marshall to rebuild the shattered franchise. She has said she will view her job as a failure if the organization is mentioned in a negative headline in 2019. Cuban has also brought in Evan Krutoy, a former prosecutor in the Manhattan district attorney's office, and Anne Milgram, the former New Jersey attorney general, to investigate what went wrong.
It will be important for journalists to follow the results of these efforts, and it's time to for the media to weigh the risk of harm when they give a voice to the accused rather than the victims.