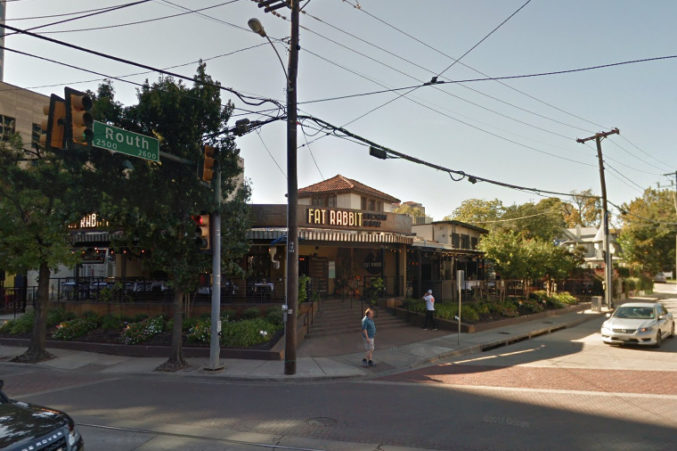 PL8: The Worst Name for a Restaurant in the History of Food
Uptown will be blessed with the opening on March 23.
A co-working FrontBurnervian sent me a press release about a new restaurant that is set to open next month. After careful consideration and data-driven analysis, I have determined that this restaurant, when open at the corner of Routh and McKinney, will have the worst name in Dallas. Yes, it is PL8. Say it out loud! Get it? Actually, the full name is PL8 Bistro & Gallery. According to the press release, PL8 will be a "restaurant-forward concept," which seems like a wiser choice for a restaurant than a "meat rendering plant-forward concept" or a "sanitarium-forward concept," so I'll give them that at least. But if you'll allow me a few more thoughts:
I feel bad for Fish & Fizz, the restaurant that previously had the worst name in town. Your reign was too brief, Fish & Fizz.
Everyone needs to stop naming restaurants with the This And That scheme. I told you about this already. Why don't people listen? I helped name The Idle Rich, may Feargal McKinney rest its soul. I know what I'm talking about.
Why did these jokers stop at PL8? If you're going to be dumb, why not also be stupid? I'd love to eat a restaurant-forward meal at PL8Z.
Do I have to wear a flat-brim ballcap to eat at PL8?
Let's say I wanted to punch a DJ named D Train. Would I find him at PL8? (Side note: whatever happened to D Train? No one who has ever been punched — allegedly — by Zeke Elliott has ever disappeared more thoroughly than D Train.)
If I wanted to open a chewing-forward gastropub called 4K, should I open it next to PL8 or next to Knife? Or should I make 4K more of a pop-up concept and open it in a 10NT?
The idiocracy is upon us. Here is the press release:
PL8 Bistro and Gallery To Open In Uptown Dallas

WhiteROC Hospitality Group & Famed Chef Bring New-Aged Concept to McKinney Ave

DALLAS, TX (FEB. 15, 2018) – PL8 Bistro and Gallery will open on March 23, 2018, bringing an innovative restaurant and art concept to the buzzing corner of Routh & McKinney Avenue in uptown Dallas.

Owner WhiteROC Hospitality Group transformed the space, now featuring a bright, inviting ambiance and restaurant-forward concept. With an eclectic menu, developed in collaboration with esteemed celebrity chef Alfio Longo, PL8 intends to set a new course for high-standard restaurants in the Uptown district.

PL8's menu will feature a mix of international flair and fresh ingredients, with Chef Longo bringing an exquisite selection of plates paired with a wide selection of global wines. PL8 will be open for lunch and dinner daily, along with weekend brunch, and offer a wide selection of wine and craft cocktails.

"We look forward to bringing the new-aged style and high-standard that Dallas deserves in an uptown establishment, while showcasing the best food and drink using the highest-quality ingredients, " said PL8's general manager Shane Edwards.

PL8's welcoming aesthetc is enhanced by colorful paintings, photographs and art pieces placed throughout the space. The artwork, created by local Dallas artists, will change seasonally, and each piece will be available for purchase.

PL8 will feature three bars throughout the two levels and a large space upstairs ideal for private events.

PL8 Bistro & Gallery is located at 2533 McKinney Ave., Dallas TX 75201. For more information, visit www.pl8dallas.com.

About PL8 Bistro & Gallery:

PL8 Bistro & Gallery is a modern restaurant and gallery owned by WhiteROC Hospitality. PL8 will bring an innovative experience to the corner of Routh Street and McKinney Avenue with the walls of the restaurant covered by eclectic artwork from local artists, a diverse menu with international flair and fresh ingredients, as well as an inviting environment and friendly service. For more information, please visit www.pl8dallas.com