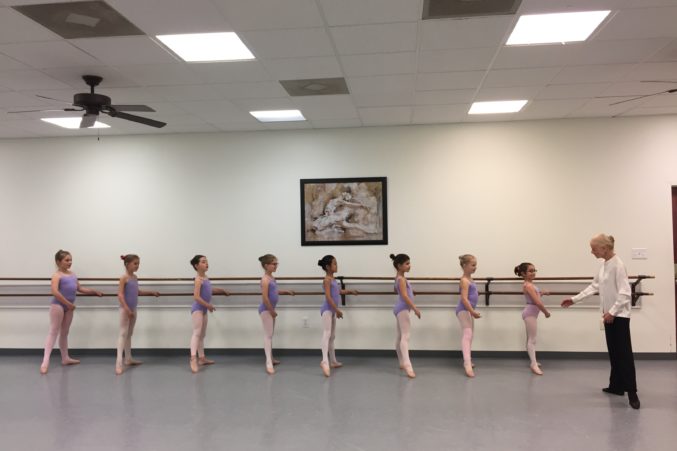 Meet This 77-Year-Old Dallas Ballet Dancer
Suzelle Poole's ballet career has spanned seven decades and three continents.
At 77 years old, Suzelle Poole does something almost every day that other septuagenarians could only dream of: wearing pointe shoes and dancing on the tips of her toes. The England-born ballerina with enviably impeccable posture—who doesn't appear to squeak past the 5-foot mark—still dances professionally and teaches ballet classes at the Royale Ballet Dance Academy in North Dallas several days a week. She was even a recent Radio City Rockettes pick for dancer of the week. We caught up with Madame Poole in the studio and talked about London, Dallas, and, of course, dancing.
What drew you to the arts as a young girl growing up in England? I was born in Darlington, but we lived in London during the war. Our back step was bombed while my father worked in the Ministry of Works as a young architect. My brother and I were taken to ballet performances and the symphony and The National Gallery. I was brought up with art.
How did your dancing career begin? We left London in 1946 and went to Toronto when I was 6 years old. I started with a Canadian teacher. After a while, she realized I was serious about ballet, and she taught me as much as she thought she could and passed me on to Betty Oliphant, a wonderful teacher who became the first ballet mistress for the National Ballet of Canada. I also studied with Celia Franca. My first professional job was in Montreal—at 10 years old. I've been a professional for quite some time.
So what brought you down to Texas? When I was about 16, my family moved to Houston. I was a soloist for the Houston Ballet and taught children ages 6 to 11 a few years later. My teacher began the Houston Ballet. I helped her teach the adult class, and Debbie Allen was in that class. I was in Houston for nine years. We danced for the Houston Grand Opera.
Did you come to Dallas after that? No, in 1966 I went back to London, and I was teaching Montessori. I was headmistress of a couple of schools in London. But I wanted to do ballet seriously; I didn't want to give it up. It was still part of me, so I attended professional classes. I met my husband, and we got married and went to Germany because he wanted to pursue opera. My late husband was an opera singer. He did a royal performance for the Queen of England. He was offered a teaching job at the University of Cape Town in South Africa, and I taught there. We came from there to Dallas because my parents were still in Houston, and we liked the warm weather. I was given a job right away as a Montessori directress, but I always did ballet in the evenings. I've danced professionally and taught sometimes eight hours a day. I've just kept going.
How long have you been at the Royale Ballet Dance Academy? I've been at the Royale Ballet for 14 years, teaching, performing, and choreographing. I've also taught at other dance studios. I teach ages 2 and a half to 7. I have former students who are 38 years old, and they say I've had a good influence on them.
But you also perform in nursing homes. Yes. A lot of people in the audience can relate to me because of my age and must also be widows, and there I am, dancing to my husband's voice. I dance in a blue tutu. I take children along whenever I can. I love children and I love ballet, so I want them to enjoy ballet the way I do.
You just took the Royal Academy of Dance (RAD) exam, making you the oldest person to do so. I took it a week ago. I went in as a child, with 12-year-olds. There's no age requirement. I had to do all the set bar work from the Royal Academy of Dance syllabus, including pointe. It was a little different from what I'm used to. I hope I pass.
I'm sure you will. What do you enjoy most about living in Dallas? I love being in Dallas. It's my home. I have wonderful colleagues and wonderful friends. I've seen how it's progressed. It's wonderful the way Dallas has improved culturally. I love going to the symphony and art galleries and the Arboretum.