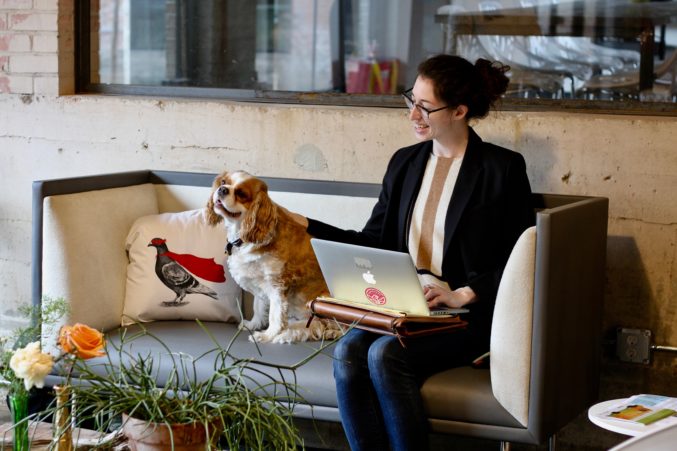 4 Reasons Why GoodWork is the Superfood of Coworking Spaces
This awesome new place cropped up just south of the Dallas Farmers Market.
For a story in our May 2017 issue, I set out to spend a day in the best coworking spaces in Dallas and quickly had two realizations: 1) there are a buttload of coworking spaces across North Texas—more than 40 at the time, Lord knows how many now. And 2) determining which were "best" was almost impossible. When it comes to coworking it's extremely subjective.
For example, some people are willing and able to pony up the big bucks for access to a perk-filled WeWork office that comes with international networking opps and beer any time you want it (even if that's with your breakfast). Yet others find that it lacks the sense of community you'd find at, say, The Mix, the cozy artist-friendly space in an East Dallas church basement where you will find African refugees repurposing donated fabric scraps into pillows and local caterers rolling out pie dough in the new commercial kitchen. Others, of course, want organized happy hours and a cool-kid atmosphere in which they can wear their beanies in the summer without judgment (Common Desk) or to feel like they're living out an episode of Silicon Valley (GeniusDen) or to have access to a hydraulic ram spreader (Dallas MakersSpace). To each her own.
But with the recent soft opening of GoodWork—located in a somewhat rundown but quickly transforming neighborhood a couple blocks east of the Cedars—I might have actually found The Best. It's the quinoa and kale stew of coworking spaces, meaning just about everything in the space has been added with extreme consideration. Heading up the project is LOFTwall founder Steve Kinder and consultant Amy King, the latter of whom once worked for the U.S. Green building council, has a LEED Green Associate credential, and is determined to earn WELL Building certification.
What's WELL Building? It's basically a set of guidelines for the best possible workspaces that gives standards on everything from the ideal lighting design and level of illumination (a personal bugaboo of mine) to recommended HVAC installation to cut down on unnecessary noise (you hear that, Tim Rogers?). There are so many angles to explore on this space. Just take the social angle: they've partnered with an incubator meant to boost minority- and women-owned businesses. But here are a few notes I took down while spending a day in the space, little things that set it apart from the rest of the coworking crowd.
1) It's flexible. If you can't get comfortable, it's really your own fault. Almost all of the furniture is on casters. Need more light? Roll your workspace closer to a window or turn a floor lamp your way. Need to hash out plans with your co-worker? Slide your desks together and pull up a whiteboard. There are also several desks that adjust with the push of a button, so you can stand up, sit down, or perch on a stool as you type. In fact, there's even a 16-seat table in a conference room that can adjust to stand-up height for those super-intense brainstorm sessions.
2) It's healthy. In the months to come, GoodWork will build out a fitness room where members can squeeze in full-on workouts or just hop on a treadmill for a few minutes to get the blood flowing when they've hit a wall. They've also hired a part-time wellness director to organize on-site yoga sessions and other activities. Plus, they're adding decals to the main workspace to delineate a third-mile walking route for conference-call pacers, there's a courtyard filled with native plants in the middle of the building where you can soak up some vitamin D, and the onsite coffee shop (still under construction) will have healthy offerings (salads and yogurt bowls and such).
3) It's got lofts. GoodWork isn't the first space to have on-site lodgings (GeniusDen has three Airbnbs), but it's the only one I know of that offers long-term stay opportunities. The space has 11 small apartments to rent on the second floor—some are reserved strictly as Airbnbs so members can host out-of-towners for meetings, but some will be rented out in longer chunks for people who want to live and work under one roof. It's an interesting arrangement for busy, single professionals.
4) It's dog-friendly. A self-described "dog rescue nut," Amy King believes that a dog-friendly space is a more human-friendly space. But cat-lovers need not hiss: she's "not letting it turn into a dog park." Potential pups have to pass a three-day trial run, must be housetrained, can't be yappers, and there will be a sign-up system so only a few Fidos will be in-office at any given time.
And while not everyone is going to see office canines as a benefit, the experiment says something about the space. There are some corporate-run facilities in town that could never attempt something like this because they're too busy nickel-and-diming members on meeting space hours and think throwing a noisy foosball table in the middle of a workspace makes up for the lack of free coffee (cough cough Spaces Dallas). GoodWork is created by workplace enthusiasts who are trying to create the nirvana of getting shit done comfortably and happily. And if you think something in the space could use a tweak, just tell the people who built it. They'll be working alongside you. GoodWork, 1808 S. Good Latimer Expy. A 10-day pass runs $99, and free range coworking is $300. Visit the site for pricing on dedicated desks and offices.