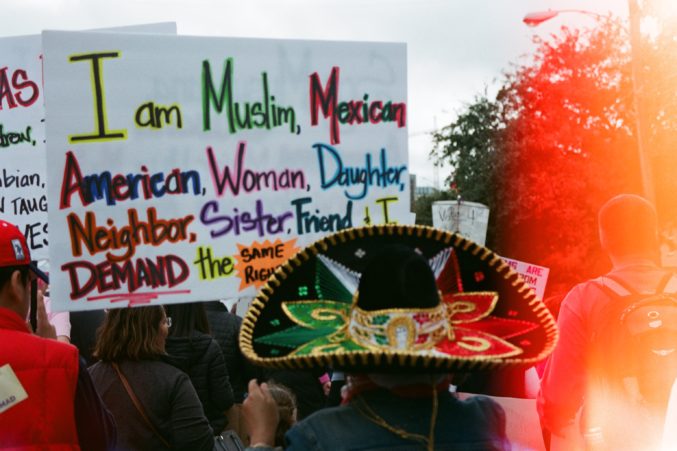 The Speakers and Participants of the Dallas Women's March Herald Progress For 2018
The lines to remember weren't seen on signs or heard in chants. It's not in the turnout numbers, either. Hear the voices of those who were there.
BJ Austin's Winnebago sprung a leak Saturday morning, but she still made it to the Dallas Women's March. In the past year, the former KERA reporter has been to about 15 women's marches, Black Lives Matter demonstrations, and rallies against police brutality. She first parked that RV in College Park, Md. and took to the streets in Washington, D.C. the weekend of Trump's inauguration.
According to the Dallas Police Department, about 7,000 people marched through downtown into Uptown this weekend to answer the call of state Rep. Victoria Neave, who organized the march this year and last. In 2018, the "Nasty Woman" anthems of that time have mostly faded. Marchers reserved signs and chants for employers who don't pay women as much as men. They called out the Trump administration's war on healthcare for women and transgender people. They called for codifying the DACA program, to give the young men and women the paperwork to live and move within the country without fear. The marchers called for men to end their abuse of women, rebuking a culture that allowed for an epidemic of sexual assault. One woman, who appeared to be in her forties, carried a sign that read "#MeToo". A young girl next to her carried one that read "Never me."
These messages have moved past the distractions of President Donald Trump. The loudest chant at the rally went like this: "I will vote."
This shift has something to do with a precedent Austin noticed as a reporter in Dallas, first at KRLD and then KERA. Mothers Against Police Brutality and organizations like it, she remembers, held demonstrations for more than a decade before Michael Brown was killed in Ferguson by a police officer in 2014. These grassroots organizations were vigilant before the nation followed. Black women founded them, she notes. Now, organizers and participants are understanding their commonalities.
Austin had a lot to say about the injustice she witnessed as a reporter focusing on civil rights. I know; I worked a cubicle away from her at KERA, set alight by her observations. But Beej had to sing it straight for the news. In 2014 she retired. In 2017 she did her last fill-in newscast shift for KERA the first week of January and then left to march in D.C.
"After 30 years I kind of went insane," Austin laughs. "Everything that came out was like, yelling, and strident."
The City Tavern regular (there's a portrait in the bar to honor her) started carrying markers and poster board in her Winnebago, just in case she might need them. She wasn't ready to write letters to the editor — "I was too angry!" she says — but she knew she could "be a body" at public demonstrations. Austin took every opportunity. Saturday, the mishap at home had her running too late to make a sign, but she still went.
Collette Flanagan, one of the cofounders of Mothers Against Police Brutality, was among the leaders at Pike Park who were given two minutes to speak. Lines from those sessions resonated past the words written on signs and heard in chants. More than meditative catch-phrases or songs of empowerment, they were challenges that could be memorized. The first came from Rabbi Nancy Kasten.
"Our power is rooted in compassion," she said to open the rally.
She hailed the story of the prophet Miriam's civil disobedience in conspiring with Pharoah's daughter to raise her brother Moses and conceal his true identity, protecting him from Pharoah's decree to kill all Hebrew boys. Kasten praised Miriam's cooperation with women across ethnic and religious lines to save a child. Then Kasten offered another phrase, directed at some who'd know that Bible story by heart. An hour later, a separate pro-life rally would attract thousands to the Arts District on their march to the federal courthouse. Here, though, a half mile down Harry Hines, Kasten cautioned against the "false idol of the unborn."
The speakers highlighted these barricades to unity between women. Attendees punctuated their statements with single claps. Some cried. Perhaps it was the loving energy of the day that permeated their shells, which had grown tougher since the last march. Maybe it was the healthy feeling of conviction. The presence of women of color with trans women and disability advocates, all given equal time as vocal leaders that day, united as women—this was the victory of this year's march. That is different than diversity. It is intersectionality.
Alia Salem, the executive director of the nonprofit Facing Abuse in Community Environments, stepped forward as the clock ticked toward noon. "I want you to be quiet and think about how solidarity is inconvenient," she said. The crowd hushed. When she led the Center for American Islamic Relations in North Texas, Salem regularly spoke before crowds while she quietly dealt with threats on her life. She urged allies to forsake their busy schedules to show up for marginalized groups, both within the sea of women who packed into Pike Park, but also in countries like Palestine where life and death concerns aren't popular discussion topics within girl-power circles.
"I want this to be the most uncomfortable year of your life," she said.
Marsha Jones runs an organization known as the Afiya Center, which advocates for black women and girls who need access to reproductive healthcare. She offered a picture of what discomfort and sacrifice of privilege could produce. She urged well-funded organizations led by white women to share funds with organizations led by black women. This would qualify as progressive, she said. She went one further, challenging all the people who showed up to the march on Saturday to turn out in the same way when a black trans woman is murdered.
Austin, who for much of her adult life stayed neutral as a reporter, said she's heeding the call. She recalled words about action from then brand-new California senator Kamala Harris, which she heard in D.C.
"I believe this is that moment in time for our country when we are collectively being required to look in the mirror and with furrowed brow, as we ask a question: Who are we?" Harris challenged the crowd that day.
A year later and thousands of miles away in Dallas, Neave ventured an answer from the gazebo.
"This is the product of the sacrifice of my mother and all our mothers," she said, speaking of her family's heritage in Pike Park, where we all stood. "We are the heroes that we have been looking for."