The 'Arts Mayor' Is Bringing Home Some Arts Hardware
In between meetings with President Trump and policy discussions at the U.S. Conference of Mayors, Mike Rawlings wins an award.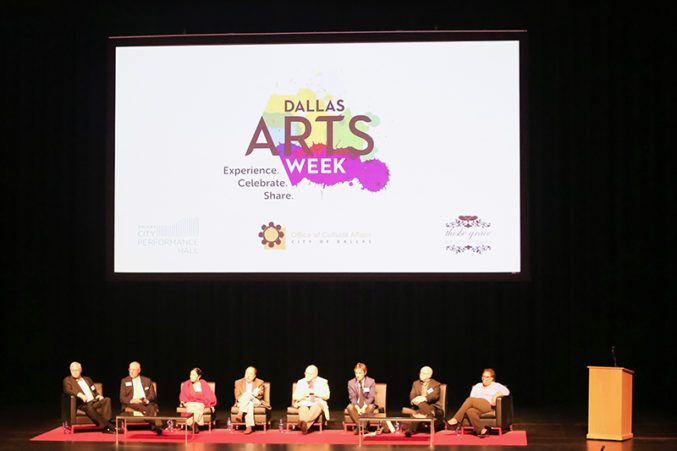 Most of the news coming out of the U.S. Conference of Mayors winter meeting in Washington, D.C., this week has to do with many mayors' decision to boycott a meeting with President Donald Trump because of his antagonism toward "sanctuary cities." Mayor Mike Rawlings was not among those to join the boycott, although he later characterized Trump's comments at the meeting as divisive and unhelpful.
But the nonpartisan conference isn't just about partisan posturing and urban-federal policy discussions. It's also about awards. Rawlings got one, the 2018 National Award for Local Arts Leadership for cities with a population of 100,000 or more. Santa Fe won for small cities.
Justifying the award, a press release cites the expansion of Dallas Arts Week to Dallas Arts Month (coming soon: Dallas Arts Year?) and the the city's ongoing development of a new cultural plan. You can still sound off on that cultural plan at a number of public meetings this month and next. The creation of the Arts District and Rawlings' willingness to call the arts "important" and call himself the "arts mayor" are old news at this point, but still pertinent.
Dutifully, here's a quote from the release.
"I am deeply honored to join the distinguished list of leaders who have received this award from Americans for the Arts," said Rawlings. "The arts lift us up and make life worth living. This really isn't about me. It is truly a team effort, and Dallas would not be the burgeoning international arts destination that it has become in recent years without our residents, artists, arts organizations, businesses and our philanthropic community coming together to elevate the creative industry and our city's cultural vibrancy. I am proud to serve as mayor, and I dedicate this award to them."
This one's for you.