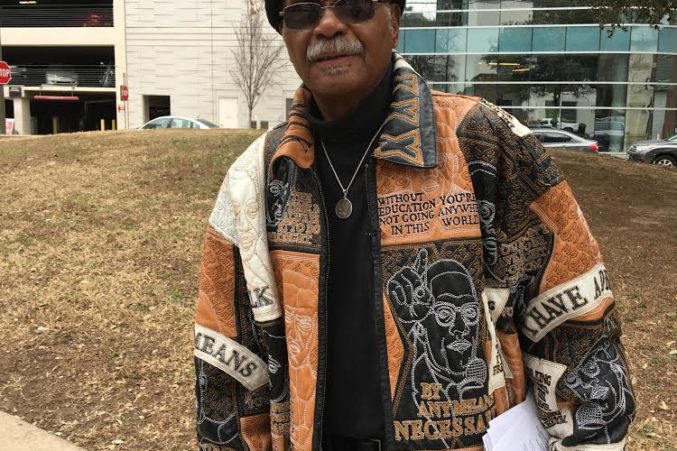 Peter Johnson Just Taped His 95 Theses to the Doors at First Baptist
Sadly, he did not get arrested.
UPDATE (11/22/18) Here's video of Peter taping his theses to the doors of First Baptist.
***
Hoofing it through downtown a bit ago to grab lunch, I ran into the Rev. Peter Johnson, near the corner of St. Paul and San Jacinto streets. He had a sheaf of papers under his arm and a cameraman at his elbow.
"Hey, Peter, what are you up to?" I asked.
"I just taped my 95 theses to the doors of First Baptist," he said, handing me an 8-page stapled copy. "Channel 8 was there, and we were filming, too, until a security guard made me leave."
I looked over at the church — or, rather, at the crazy fountain and St. Paul Cafe. One wonders what Martin Luther would have to say about all that and about Robert Jeffress himself, the senior pastor at First Baptist, the one who scurries to television in defense of every Trump utterance, including his recent "shithole" remark. 
"Did you get every door?" I asked Peter.
"Yup."
"Including the ones to the original sanctuary?"
"Sure did."
"Were you tempted to use nails, like Martin Luther did it? Oh, I guess you needed tape. Too many glass doors."
"I didn't want them to get me for destroying property," Peter said. "I still thought they might arrest me. I told my personal lawyer not to bail me out. Just let me stay in jail. My wife was giving me all kinds of hell this morning."
I think he was a little disappointed that he didn't get to take a ride in the back of a squad car. We parted ways after I promised to write something about what he'd just done. As for his 95 theses, they are a mix of scripture and quotes from Martin Luther King Jr.
"Keep on loving one another as brothers and sisters. Do not forget to show hospitality to strangers, for by so doing some people have shown hospitality to angels without knowing it." —Hebrews 13:1-2

"The soft-minded man always fears change. He feels security in the status quo, and he has an almost morbid fear of the new. For him, the greatest pain is the pain of a new idea." —MLK Jr.
I'm not going to print the other 93 of Peter's theses. Hopefully someone at First Baptist will bring them all to Jeffress and he'll find the time to read them.