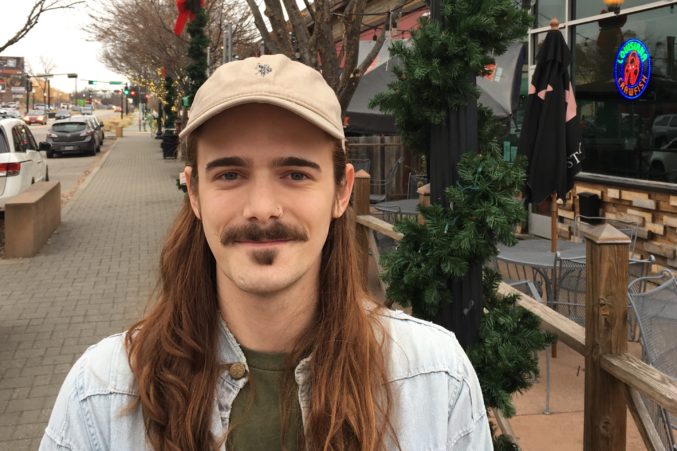 Lower Greenville Revelers Tell Us Their New Year's Resolutions
We asked at random and found that 2018 is the year for self care.
On a cool and overcast Sunday, one week after the new year rang in, we walked Lower Greenville to ask shop clerks and brunchers for their resolutions. We got some interesting answers—there's one involving gall bladder removal, and another, the New York Knicks—and surprisingly only one person provided a weight loss goal. Rather, far and above, the most popular theme of 2018 focused inward, summed up in two little words: self love.
---
Ian Wortham, designer and illustrator, 23: "I want to spend more time on my art and not let my advertising work drain all my creative energy."
---
Anonymous man, works in retail, 29: "Lose 20 pounds."
D Magazine: "How's it going?"
Man: "Well I just had brunch, so…but I think I'll be able to do it."
---
Lily Harvey, shop clerk at Transit Bicycle Co., 28: "To eat healthier, to get a crafty hobby, and now I'm a Knicks fan."
D Magazine: "Oh, that was a resolution, to be a fan of the New York Knicks? Did you do research to decide?"
Lily: "Kind of. My brother lives in New York and also Ansel Elgort, the actor from Baby Driver, is into them. And they're playing tonight against the Mavs, so I felt like this was a good time."
---
"Just J.J.," server at Louie's, 22: "I don't really have a resolution anymore. The only one I had was to get my gall bladder out. I had pains until the first week of December, and then they just stopped. I was eating a lot of meat, a lot of fried foods—the fair had just passed. Now I'm basically a pescatarian, and I really don't eat many fats. Since then I've actually lost 12 pounds. So getting my gall bladder out was my resolution, but now it's just living the good life."
---
Joseph Canida, barista at The Merchant, 22: "To practice manifesting positivity. But my biggest one is to advance my writing career. I really want a poem published in a magazine. My long term goal is a novel, so I'm just starting with that stepping stone."
---
Lora Blackstone, formerly worked in marketing at a design firm and in floral design at Corner Market, 24: "I'm moving to Houston and looking for a job, so it's a whole fresh start. I think my resolution when I move is to focus on living with purpose in the small daily things, even if my new job and new life doesn't feel all put together right away—giving myself grace to figure it out slowly and not stress out."
---
Cheslea Stallings, works in insurance, 28: "Go to bed earlier. I've been staying up way too late for no reason. Just internet surfing."
---
Jacob Dougles, shop clerk at Good Records, 33: "I thought about it, but I just try to be better all of the time. Not just like, 'Oh, it's the end; I better start over again.' Are you going to put who said this and where?"
D Magazine: "It's up to you."
Jacob: "Where is this going? My parole officer is going to be pissed."
D Magazine: "Why?"
Jacob: "Just kidding, I don't have a parole officer. I was going to say 'smoke more pot,' but you probably can't print that."
D Magazine: "I could if you're OK with it."
Jacob: "I don't care. The other one sounds better."
D Magazine: "I could put this whole conversation in there. Can I take your picture?"
Jacob: "OK, I'm trying to look as creepy as possible. Is it working?"
D Magazine: [Asks for full name and age.]
Jacob: "This is a lot of information. Do you need my social security, too? Cash register? Anything else?"
D Magazine: "Are you in a band?"
Jacob: "I play guitar in Squarewheel. Kind of sounds like early Rolling Stones. Rock band. We've played quite bit at Three Links, Double Wide. There's this place up in McKinney called Hank's that we played at. All over. Where is this going to be again?"
D Magazine: "On our site. Dmagazine.com."
Jacob: "OK. Hopefully this will get me a raise."
---
Jasleen Kaur, SMU student, 22: "Make better grades. I'm going to study harder. It's just getting out of bed and staying motivated."
---
Emely Garcia, student, 17: "Mine is to accept myself more for who I am."
Cary Garcia, accountant, 23: "Mine is to call people out on their ignorant comments."
D Magazine: "Online?"
Cary: "Yeah. My boyfriend is going through chemotherapy, and you see a lot of people with ignorant comments when it comes to chemo. You have some people saying, 'Don't do it; it's going to kill you.' A lot of opinions. It's ridiculous. One person called him a walking dead man."
D Magazine: "I hope he's not friends with that person anymore."
Cary: "Oh no. And I'm at the point where I'm not taking anyone's bullshit."
---
Jeremy Dumont, choreographer, 32: "Just be true to myself. Not be so selfless, and be more selfish with my time. That sounds really shitty to say. I'm the asshole who's like, 'I want to be more selfish!'"
---
Sandra Nguyen, student, 20: "Care less about others, I think. You know, focus more on myself."
---
Connor Rodriguez, law enforcement in San Antonio, 30: "Ride a whole lot. I'm hoping to hit 25,000 miles this year. I've gone 25,000 miles in two years, so now I'm trying to do it in one. I'm looking to go to California and Phoenix. Anywhere, as long as the funds are in my bank account and I can keep swiping for gas. Last year I went through Nevada and Oklahoma. Nevada is definitely my favorite place to ride so far. There's Mount Charleston—it will be something like 85 degrees at the bottom, but once you get to the peak it's 50 or 40."
---
Sophia Davison, originally from Dallas, currently a student in Rome, Italy, 20: "I spent so much time thinking about it this year and I should have written them down because now I forget, but things about time management. Self love is a big thing. Especially for women, I think it's hard to maintain a sense of self worthiness. So, practicing that daily."
Jose Santos, originally from Honduras, currently a student in Rome, Italy, 20: "It's tradition in my family—you take your bag, your luggage, and you go outside and say, "Happy New Year!" and wish to have more travels this year."
D Magazine: "Is this a cultural thing?"
Jose: "This is my family, specifically."
D Magazine: "Do people ever ask what you are doing with a suitcase?"
Jose: "Oh yeah. People are like, 'What the hell, man? Are you going somewhere with that?' No, it's just tradition for us. It's a very good wish to have. I would rather wish for travel than to go to the gym."