One of Dallas' more unavoidable share bike companies is pledging to rein in the self-regenerating creep of its rental bikes, addressing some of the concerns raised last week in a come-to-Jesus letter sent to the two-wheeled tech startups by City Manager T.C. Broadnax.
Responding to that ultimatum in a memo to the city, LimeBike, whose booger green products have become a familiar presence on Dallas' sidewalks, named some specific measures it will implement. Those include:
Increasing the size of its staff here, presently led by two "Dallas locals" who are "intimately familiar with the city," and ensuring that staff works closely with the city to respond to 311 reports about rental bikes. LimeBike already has a team each devoted Uptown, White Rock, and downtown, with another squad watching Highland Park (which has had it with these bikes), the Village apartment complex, and Greenville Ave.
Not putting any new bikes in circulation, which should please those who feel the bikes are already too much of a good thing.
Changing how the bikes are distributed throughout the city.
Installing a sensor that will let LimeBike know when some chucklehead has knocked over a row of bikes, so that a team can come set them upright.
The memo also, of course, touts some positive numbers about bike share missing from the social media streams of photos of twisted metal and jumbled rental bike chaos. The California-based company says that about 70,000 people in Dallas have used its service since it arrived in August, going for more than 180,000 rides. Almost 40 percent of those rides are coming during rush hour, and about 20 percent begin or end near a DART stop. And, despite a not insignificant amount of bad press, more and more people are using these things: According to LimeBike, the last three Saturdays have set a new record for number of trips in one day. (The company clocked 5,768 rides on Jan. 20.)
Some people may have bristled at a recent LimeBike tweet blaming residents—us—for the avalanche of slime-colored rental bikes on the Katy Trail, seeing it as a blatant display of the arrogance and condescending noblesse oblige common to the worst stereotypes of out-of-touch tech startups whose primary goal is profit, masked by a PR-vetted declaration of an intent to "make the world a better place." I know I sure did! But while LimeBike shouldn't absolve itself of responsibility for eyesore bike messes, yes, it's true that people should not park bikes in trees or set them on fire.
To that end, LimeBike also has two well-produced ads about responsible rental bike use, including a super timely guide to off-path parking riffing on characters from The Matrix. Other public awareness efforts are evidently in the works.
Perhaps most compelling of all, the LimeBike memo notes that it will be sharing data with city transportation planners, which could indeed help them "better understand how residents and visitors are getting around," and ideally spur more bike-friendly infrastructure in a city that badly needs it. That ridership data includes information on areas where the rental bikes are in high demand, illustrated by some interesting little heat maps LimeBike put together. Red marks the paths where the company's bikes are most in use, judged by the origin of trips.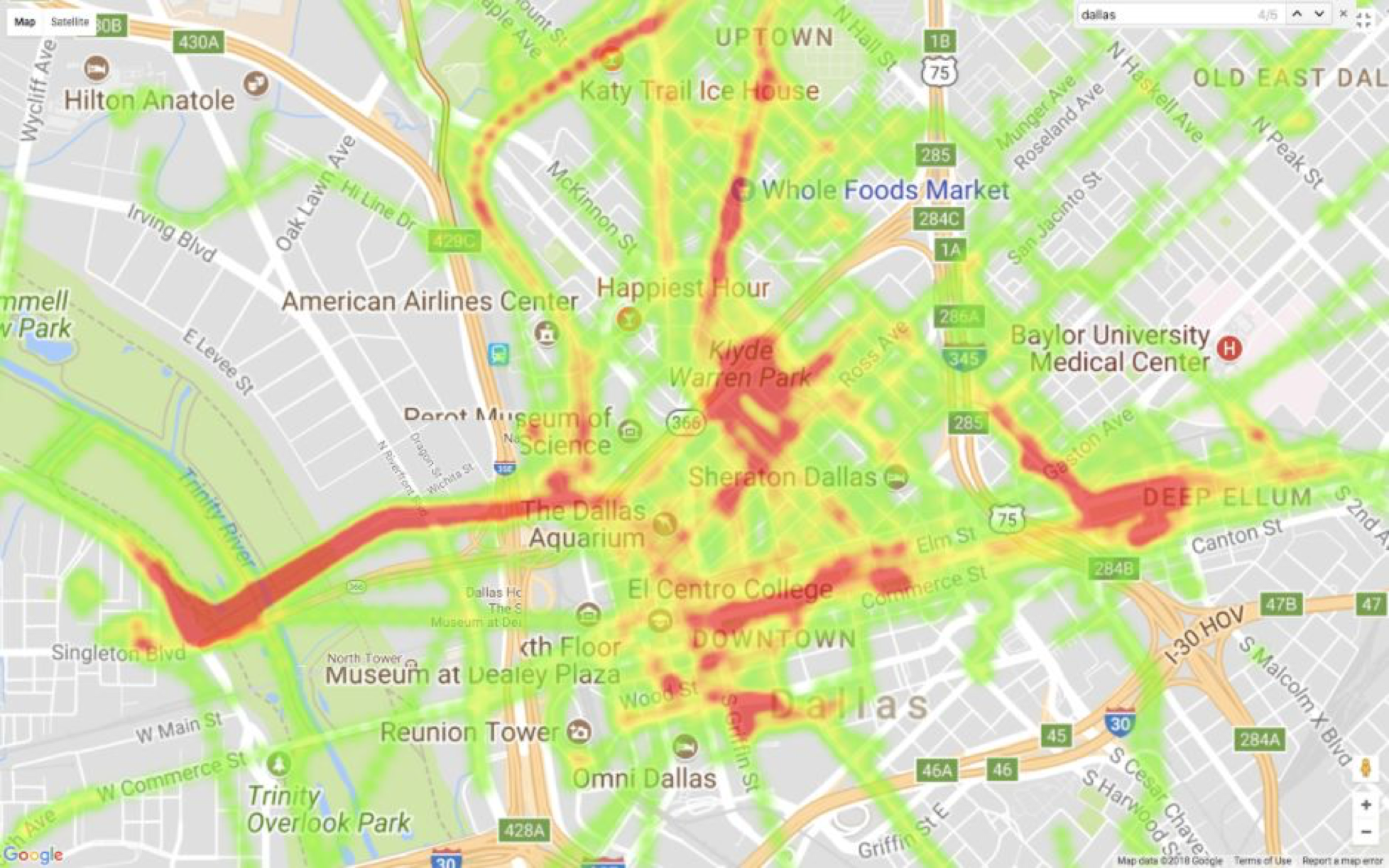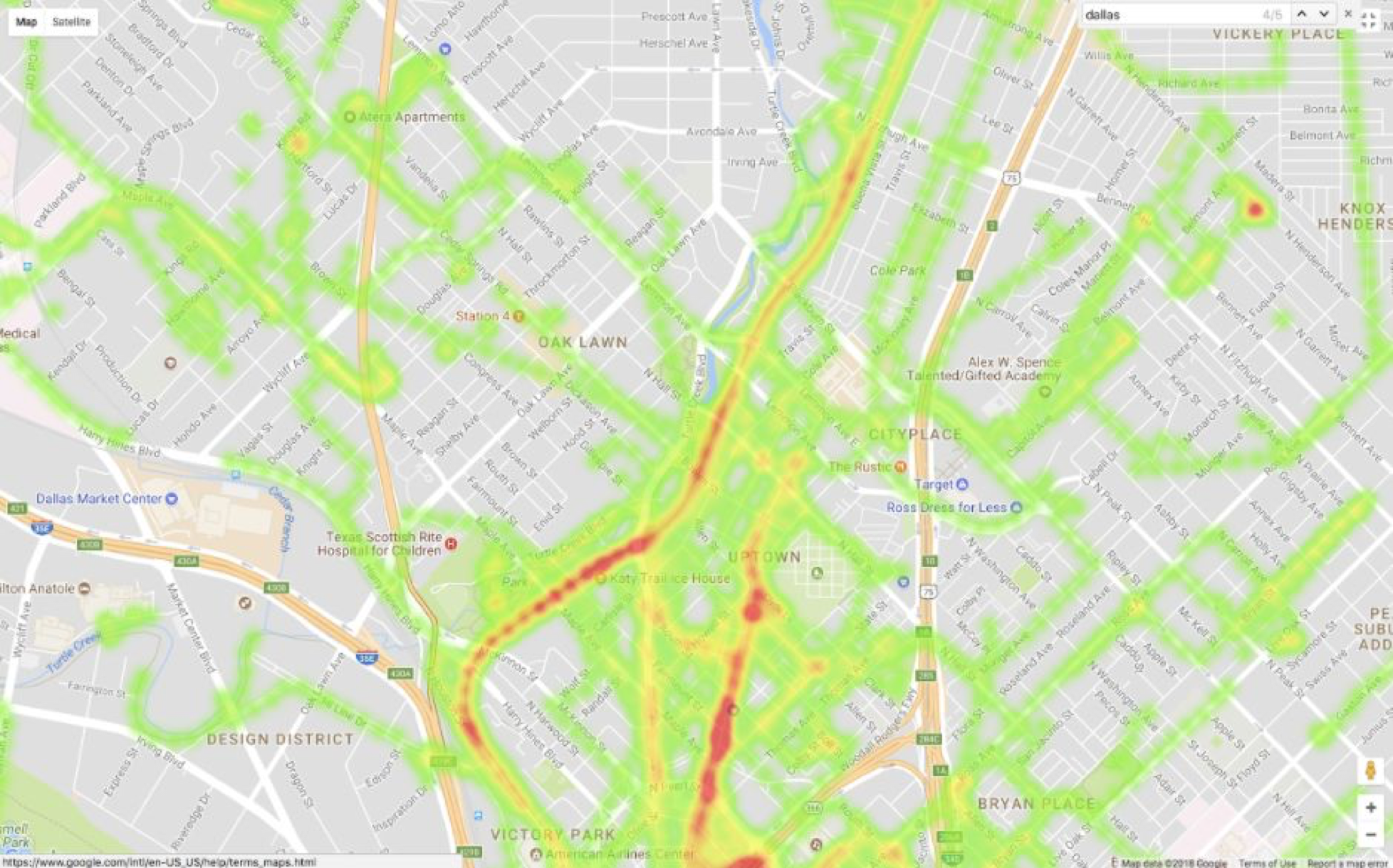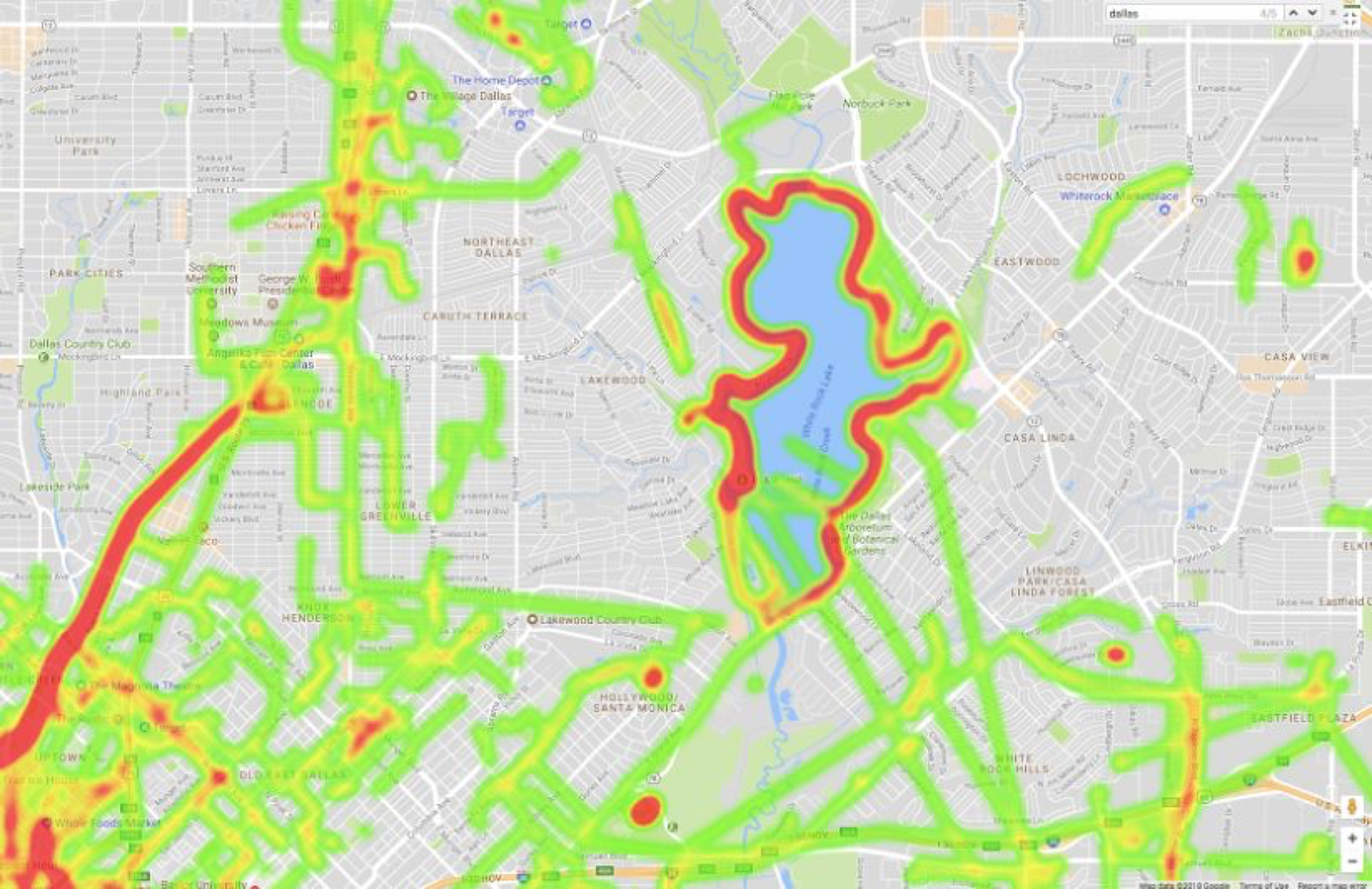 Unsurprisingly, the areas where the most people are riding LimeBikes are also the areas where you tend to hear the most complaints: the Katy Trail, White Rock Lake, Deep Ellum, West Dallas' Trinity Strand Trails and Ron Kirk Pedestrian Bridge, which appears to be a popular place from which to chuck rental bikes into the Trinity River below. I wouldn't mind seeing ridership data outside of the city's core, particularly in communities with a dearth of transit options, but it stands to reason that share bikes will be most used on trails and in more densely developed parts of town.
The city's letter to the bike-share companies laid out some ground rules that amount to a directive to keep the bikes out of the way, and more laws should be in the works after the unregulated trial period got out of hand. In its memo, LimeBike itself asks the city to pursue regulations that would force companies to respond to immediate feedback from 311, limit the number of bikes each company operates, and specify how bikes should be deployed.
Dallas isn't the only city figuring out how to deal with the spread of bike share. In China, where images of bike graveyards that look like something out of Wall-E have served as sobering visions of an unchecked bike-share future, cities are beginning to enforce more strenuous regulations. Seattle just wrapped up a pilot program to come up with its own rules. Sacramento isn't fooling around, and has just developed a particularly robust set of regulations, although it remains to be seen how that goes. Nobody seems to have yet developed an entirely balanced model. Maybe Dallas can be the first.
Get the D Brief Newsletter
Dallas' most important news stories of the week, delivered to your inbox each Sunday.