Law Man Walking: Nature Treks With Bill Holston
We decided to hike the entire length of the Trinity Forest.
December 2 was a perfect hiking day. It was clear, crisp, and dry. Ben and I have hiked in every type of weather. More than once, we've hiked in knee-deep mud. We've started hikes at 6:15 to beat the 100-plus temperatures of August. And we've hiked in ankle-deep snow. So when the forecast calls for a morning with temperatures in the low 50s, climbing to the 70s by midmorning, it's time for an epic hike. Ben suggested this should be the day we hiked the entire length of the Trinity Forest. So we did.
This has been a stressful year, and I long for these times in the woods. Lately we've been challenged by the increasing difficulty of representing our child migrant clients. The work we do has always been hard, but it's particularly difficult at the moment. December 10 is International Human Rights Day. It commemorates the day in 1948 that the United Nations General Assembly adopted the Universal Declaration of Human Rights. Human Rights is our passion at HRI. Finally we've found a fun way to promote human rights. So if you like bacon, beer, or enchiladas, and if you support human rights, DO WE HAVE A DEAL FOR YOU! (OK, if you like bacon and beer but not human rights, we still have a deal for you!) Check it out. Have a great meal and raise money for human rights work.
But back to my stress reliever, the hike. We met and parked our cars at the Gateway Park at I-20 and Dowdy Ferry. This is a great access to the Trinity. It's a nice parking area, with a small pond. There is a paved trail, which allows easy access to McCommas Bluff and the more informal dirt trails in the forest. Ben and Carrie were there, plus our buddies Scott and Jeff. We left a couple cars behind and drove together to the beginning of the hike at Moore Park. We calculated the hike back to the cars would be about 12 or 13 miles. We had done many but not all stretches of this hike in the past. We got on the trail by 7:00. It was a beautiful morning, and as we walked down to the river, we could see the bridges over the Trinity and the downtown skyline.
As the old commercial for Fig Newtons used to claim, "Now's the tricky part." We had hiked much of the parts of our intended route but not the entirety and not the first stretch. That section required a trip through 8-foot-high dead Ragweed, down a powerline easement. Thankfully, it was pretty easy to follow. Next we had to find a spot to cross Cedar Creek. Because it had not been raining, it was possible to find an easy spot to rock hop across. Then we accessed a relatively new paved trail, which we could follow paralleling the Trinity pretty easily. This beginning of the hike added a component of uncertainty and challenge, which just makes urban hiking such an adventure. As we walked through the woods, we heard the haunting song of the White Throated Sparrow.
The next section was my favorite spot, as we paralleled some new wetlands. We saw literally thousands of ducks in these waters. We saw Hooded Mergansers, Blue winged Teal, Wood Ducks, Northern Shovellers, and Pintails. We watched the ducks landing and taking off. I loved seeing some of the ducks taking off and seeming to walk on water as their feet stirred the water as they gained flight. Jeff pointed out one formation that reminded him of watching B-17s in flight. It was truly an awesome thing to see.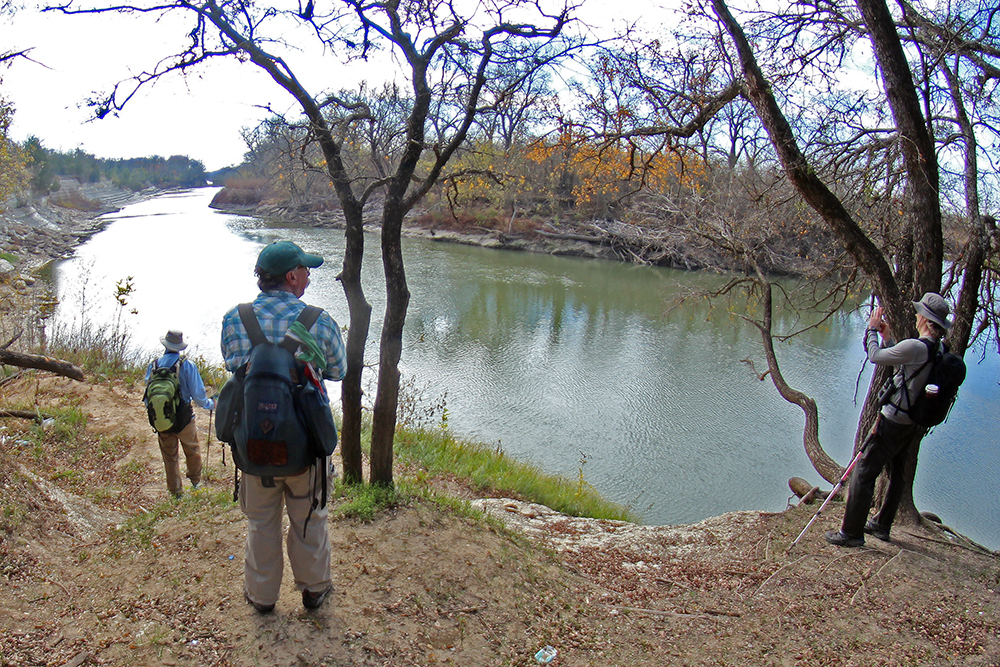 The most tedious part of the hike was a long stretch walking under I-45. There was a lot of traffic noise, and it was therefore not as relaxing. But soon we were back on trails along the Lower Chain of Wetlands. We made our way, seeing some Red Tailed Hawks along the way. Finally we made it to the halfway point, the old Sleepy Hollow Golf Course next to Loop 12. We stopped and had water and snacks at some relatively new picnic tables. This is my favorite thing, talking with this group of truly interesting people. We do talk a lot about the things we see, sharing our knowledge of birds, trees, and plants. But we discuss lots of things. This week we talked about the news concerning the many episodes of sexual assault and harassment, which seem to be flooding our news feeds. I'm pleased to tell you that none of us see the idea of sending unsolicited photos of genitalia to others as a good thing. Come to think of it, I don't think any of us think sending solicited photos of genitalia is a good thing either. Call me a prude.
We started hiking again and hit the paved trial that parallels Lemmon Lake, a spot all of us have hiked many times. We wound up in Joppa Park. It's a great spot, with 100-year-old Post Oaks. Ben pointed out a rare Hickory Tree and we stood around this beautiful hardwood, brilliant yellow in the fall.
We started seeing other people on the trail, including people who were using the new Dallas share bikes. That's fun to see. As we neared the Trinity River Audubon Center, we saw a squadron of Pelicans soaring way overhead. They are magnificent birds.
Then we took a dirt trail that heads all the way over to McCommas Bluff. It's a great trail, through thick woods. The Red Oaks and Flaming Sumac still had some nice fall color. It's a walk that reminds me of my home state of Alabama and its beautiful fall colors.
We paused at McCommas Bluff, one of the prettiest spots on the North Texas Trinity River, a spot with a rich history. We sat, hydrated, and then pressed on, toward our cars. We followed the paved trail for about a mile and then walked back to the cars along a dirt trail favored by equestrians. There are several beautiful large Burr Oaks here, and Ben and Carrie saw a Barred Owl on that section of the trail. We finished back at our cars at about 12:30. It had taken about five hours to hike the entire length of what is our local hardwood bottomland forest. As far as any of us know, we were the first people who've done this entire walk. That added to the fun and adventure. Ben's calculations were right; it was about 13 miles. I'd earned the nap that I'd later take.
I still meet people who say there's nowhere to hike here. I continue to reply, No, we're not Oregon. But we have some beautiful spots. They offer nature, remoteness, and challenge. Take some time to explore. You'll love our city just a little more if you do.