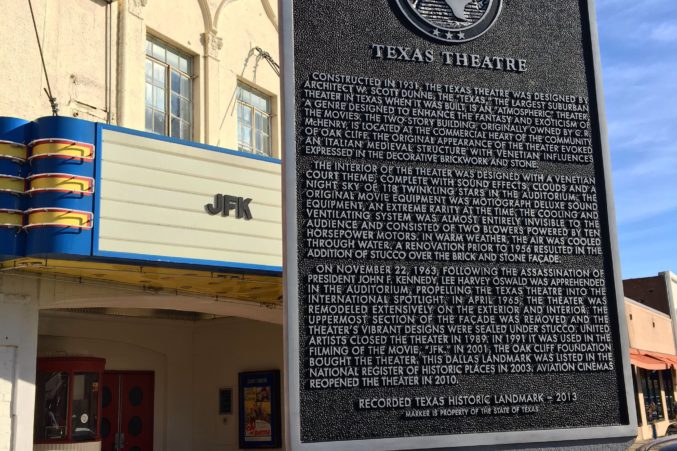 The Texas Theatre's New Plaque Is Good for Historical Accuracy, JFK Conspiracy Theories
'On November 22, 1963, following the assassination of President John F. Kennedy, Lee Harvey Oswald was apprehended in the auditorium.'
On the anniversary of its most infamous historical day, the Texas Theatre has a new state landmark plaque, with new wording that should appease both sticklers for historical accuracy and JFK assassination conspiracy theorists. The theater has been a Texas landmark since 2013, and already had a plaque that noted the Nov. 22, 1963 apprehension of Lee Harvey Oswald "for the assassination of President John F. Kennedy."
The Texas Historical Commission, however, recently dropped off a new marker, which has been installed in front of the movie theater and reads as follows (relevant changes bolded):
Constructed in 1931, the Texas Theatre was designed by architect W. Scott Dunne. The "Texas," the largest suburban theater in Texas when it was built, is an "atmospheric" theater, a genre designed to enhance the fantasy and exoticism of the movies. The two-story building, originally owned by C.R. McHenry, is located at the commercial heart of the community of Oak Cliff. The original appearance of the theater evoked an Italian medieval structure with Venetian influences expressed in the decorative brickwork and stone.

The interior of the theater was designed with a Venetian court theme, complete with sound effects, clouds and a night sky of 118 twinkling stars in the auditorium. The original movie equipment was Motograph Deluxe Sound equipment, an extreme rarity at the time. The cooling and ventilating system was almost entirely invisible to the audience and consisted of two blowers powered by ten horsepower motors. In warm weather, the air was cooled through water. A renovation prior to 1956 resulted in the addition of stucco over the brick and stone facade.

On November 22, 1963, following the assassination of President John F. Kennedy, Lee Harvey Oswald was apprehended in the auditorium, propelling the Texas Theatre into the international spotlight. In April 1965, the theater was remodeled extensively on the exterior and interior. The uppermost section of the facade was removed and the theater's vibrant designs were sealed under stucco. United Artists closed the theater in 1989. In 1991 it was used in the filming of the movie, "JFK." In 2001, the Oak Cliff Foundation bought the theater. This Dallas landmark was listed in the National Register of Historic Places in 2003. Aviation Cinemas reopened the theater in 2010.
The new wording, "following the assassination," clears up a misconception reinforced by the previous plaque, that Oswald was arrested for Kennedy's assassination. Really, Oswald was apprehended in connection with the death of Dallas police officer J.D. Tippit, shot nearby in Oak Cliff just before Oswald ducked into the theater. Oswald was only connected to Kennedy later. This new plaque also indirectly makes the identity of Kennedy's assassin ambiguous, which should please those conspiracy theorists who insist the truth is still out there, 54 years on.
Today the theater's playing the same matinee double feature that Lee Harvey Oswald briefly sat in on before his arrest. The films, War Is Hell and Cry of Battle, are unremarkable on their own, but the context sure is compelling. Tonight the theater screens Oliver Stone's 1991 feature JFK.
Thanks to the @TxHistComm for delivering our new Texas State landmark plaque in time for the JFK anniversary! #propertyoftexas pic.twitter.com/P38avLqNgH

— TexasTheatre (@TexasTheatre) November 22, 2017