On Saturday I took part in the inaugural Dallas Bike Ride, along with about 3,000 other riders. I am declaring the event a huge success, with two caveats.
First, the good stuff: the 20-mile ride began and ended at City Hall. Especially considering this was the event's inaugural year, I found the whole thing well-organized and a pleasure to participate in. My group of four riders all agreed that we plan to do it again next year, the main reason being that it is so dang fun to ride on Dallas city streets that have been cleared of cars. That's the big selling point of the ride. You can check out the route we rode here. In full disclosure, I didn't pay the entry fee ($60 standard, $70 VIP), but I didn't understand going into the thing why it was so expensive. The very awesome Muenster Bike Rally, for comparison, costs about half that. Well, up in Muenster, they don't shut down Main Street and four bridges over the Trinity River. It took a lot of cops to make this thing happen.
When else would you be able to ride up the Sylvan Bridge with only two-wheeled vehicles around you? You know how Will Smith had the streets all to himself in I Am Legend? It felt kinda like that, only with fewer flesh-eating zombies. At the top of the Sylvan Bridge, I stopped and took this picture: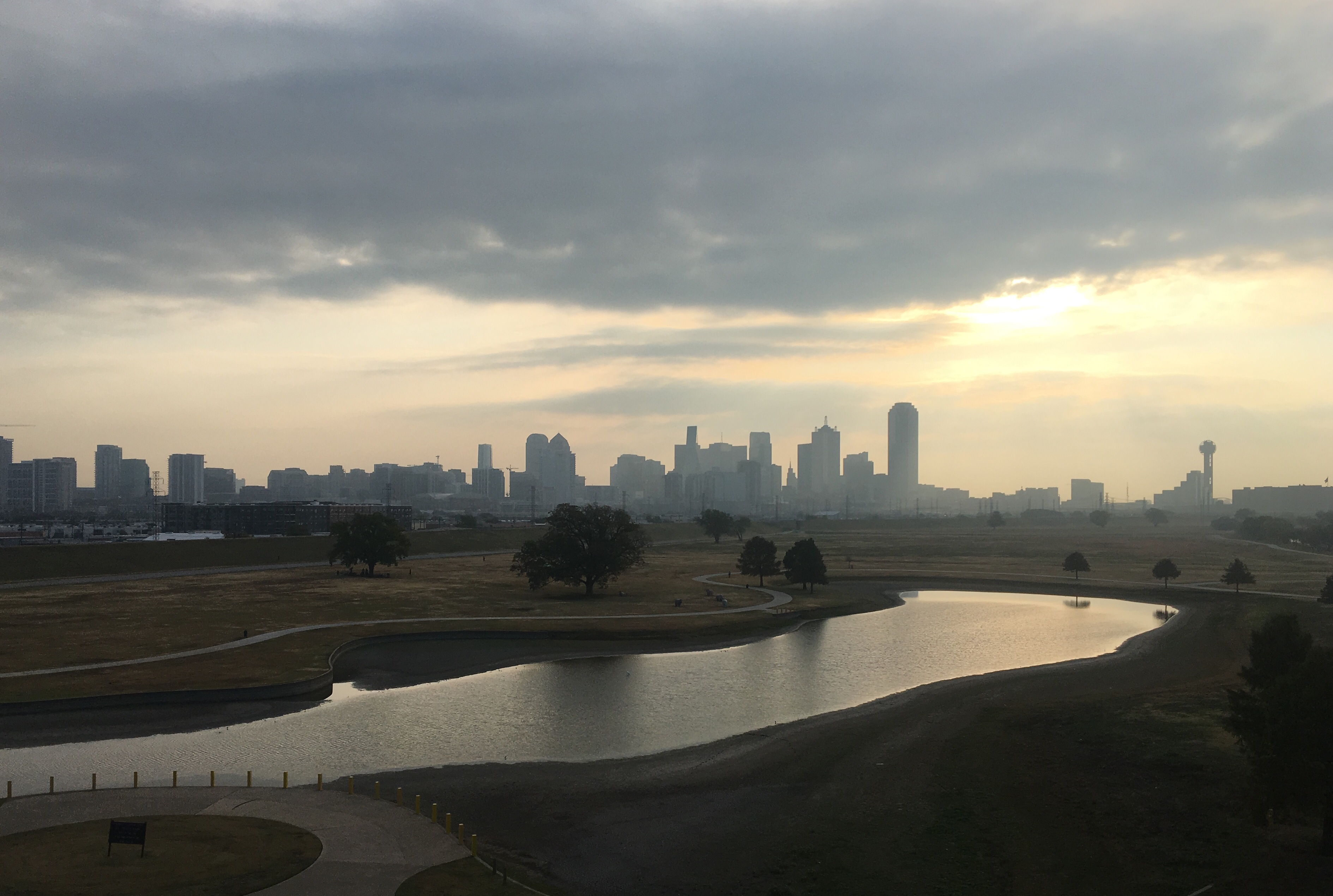 Later, after we'd crossed the Trinity again, riding down Riverfront, I spotted Dallas County Judge Clay Jenkins on his hybrid. We pedaled together for a couple miles — past the jail, over the Commerce Bridge — as we talked about tearing down I-345 and passing the county's new cite-and-release ordinance. This was the first bike ride I've been on where someone told me our conversation was off the record. I left him in my dust as we headed up the hill by Smoke. That part is on the record, real hard. (If you think Dallas doesn't have any topography, do this ride next year.)
At the conclusion of the ride, back at City Hall Plaza, I ran into Councilman Philip Kingston, a riding buddy of Jenkins'. "How'd you do?" I asked him. He looked over his shoulder and said, "I'm the fastest elected official." Kingston doesn't suffer from a lack of confidence, but I'm inclined to certify his speed claim as not fake news. Phillip Jones, head of the CVB and a serious cyclist, finished way at the front of the pack, but he's not elected. Before the ride, he announced to everyone at the start line that he wants to see the event eventually draw 10,000 riders. Which brings us to my two caveats.
Caveat No. 1: If you want 10,000 people to ride 20 miles, you have to serve them beer when they're done. This is non-negotiable. Beer is one of the reasons the Muenster ride is such a blast. It ends at a German Fest. After the ride, my group went to Braindead in Deep Ellum, where they were getting ready for their annual Festicle, at which no fewer than 40 brewers would pour their stuff. Not 40 beers, 40 brewers. We've got too many great places in Dallas not to have those brewers participate in the Dallas Bike Ride.
Caveat No. 2: As I said, I loved being able to ride in the streets without cars. At every intersection where a cop was holding up traffic, I took pleasure in seeing the frustration in the faces of the drivers who had to sit there and let us pass. But here's the thing: one of those drivers was our dining critic, Eve Hill-Agnus. She told me this morning how unhelpful the cops were to motorists. Trying to drive from Oak Cliff to downtown for a yoga class at 10 a.m., she got turned away at four bridges and one freeway entrance, forcing her to wander aimlessly and arrive late to her class. She talked to four cops; not one of them could offer her a way to get around the riders. Their only advice was to come back after 1 o'clock, when the ride would be finished. Eve's point — and I agree with it — is that we here in Dallas don't need to engender any more animosity toward cyclists than already exists. There will be some inconvenience for drivers, sure. But there has to be a better way to warn them about the ride ahead of time and then help them navigate it on the day of.
Otherwise, the Dallas Bike Ride was a banger. See you next year.
Get the D Brief Newsletter
Dallas' most important news stories of the week, delivered to your inbox each Sunday.