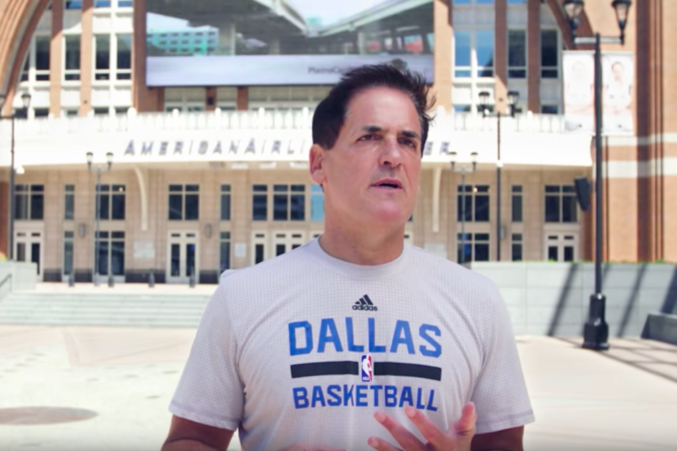 Mark Cuban 2020 Watch: What Do the Mavs Owner and Steve Bannon Talk About?
The Mavericks owner has reportedly been talking with President Trump's former chief strategist about a future run for the White House.
The Daily Beast reported today on Mavericks owner and simulated stair climber Mark Cuban's chatty relationship with Steve Bannon, the former chief strategist of President Donald Trump and chief of the far-right conservative website Breitbart. It confirms what has been plainly obvious, that Cuban is thinking about—or at least wants us to think he's thinking about—a presidential run in 2020, and regurgitates something TMZ covered last month, when Bannon told the gossip news site that Cuban should run as a Democrat.
Cuban, rolling today on Twitter soliciting hot takes on "tribalism in our country," says that Bannon has only encouraged him to run as a Democrat indirectly, via media interviews, and that most of their conversations have been limited to incomplete sentences in text messages. (Which makes sense. Among the many things we learned in a BuzzFeed feature that connected Breitbart to white nationalist ideas and included a cameo appearance by white supremacists at a Dallas bar: Bannon texts like a teenager with a short attention span.) Unclear what Cuban and Bannon discussed meeting in person at a New York City hotel two weeks after Trump's election last year.
Most stories about Cuban's 2020 odds position him as an independent centrist, mentioning his social liberalism along with his more conservative and libertarian policy ideas. Cuban, for example, isn't likely to support any kind of bathroom bill. But the Shark Tank host is apparently a devotee of Ayn Rand (also a favorite of U.S. House Speaker Paul Ryan), the late writer whose Objectivist philosophy idealizes extreme individual self-interest and idolizes wealthy self-made capitalists in the vein of, say, a Mark Cuban.
If Cuban were to run as a Democrat, those Randian beliefs may struggle to connect with the party's more progressive base, particularly a Bernie Sanders wing unafraid of throwing around the s-word of American politics. Then again, Trump for a time didn't seem like the most natural fit for the Republican Party. Cuban has his celebrity, and his fortune, which may be more valuable than policy coherence or party affiliation.
With his Twitter talk of the pitfalls of "tribalism" and the implication that he could bring about every politician's favorite buzzword, "unity," Cuban seems to think his appeal crosses the aisle—Nobody ever accused him of being humble. Without having any idea what his phonebook looks like, it's easy to imagine the Mavs owner trading misspelled text messages and emojis with operatives whose politics are as left as Bannon's are right.
But what does Bannon see in Cuban? Another potential celebrity-turned-politician battering ram to force his own conservative agenda into the upper echelons of power, one that could prove particularly useful if, as Bannon has speculated, Trump doesn't run for a second term? An independent candidate that, like a Ralph Nader or Ross Perot, could siphon off enough partisan votes to swing the balance between the Republican and Democrat in a general election? Maybe he just sees a kindred spirit: a canny media manipulator with grandiose ambitions and money to burn.